Michelle Hrynyk
Michelle Hrynyk who lives at Tehkummah on Manitoulin is a person who loves people. Michelle has performed weddings with handfasting vows for over two decades. She is an expert in wedding ceremonies of all kinds. Michelle is a Carleton U grad in English and Religious Studies, and is a interested in all things holistic. If you have questions Michelle can and will help. You are her focus on your wedding day! Michelle would love to listen to your ideas for your wedding vows and help you design a Manitoulin wedding ceremony that will reflect who you are as a couple and will create fond memories worthy of lasting a lifetime. She is happy to work with people who live outside of her region and to travel when necessary.
Request Michelle Hrynyk
Areas served
Barrie Island, Big Lake, Birch Island, Burnt Island, Copper Cliff, Espanola, Evensville, Gore Bay, Honoura Bay, Kagawong, Little Current, Lively, Manitowaning, Massey, McGregor Bay, Meldrum Bay, Michael's Bay, Nairn, Naughton, Sagamok, SerpentRiver, Shesegwaning, Sheguiahdah, Silver Water, South Baymouth, Snowville, Spanish, Spring Bay, Sudbury Tehkummah, Webbwood, Wikwemikong, Willisville, Whitefish River, Whitefish, Elliot Lake, Aundeck Omni Kaning, M'Chigeeng
Reviews
Sean and Alexandra
Thank you, Michelle Hrynyk , for performing our ceremony with just the right amount of both fun and class! Your grace and charm complemented our handfasting perfectly, and the way you included our daughter helped make our family become whole. We had nothing but good to hear from our guests about your officiating, and we've had a number of friends demand your name and number! This was certainly the best day of our lives, made simply perfect by your professional efforts and wonderful attitude! We can never thank you enough!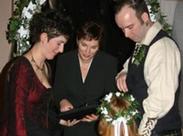 Sonja and Derek
THANK YOU!!! Derek and I want to thank you so much for the magic you spun on our special day. You both respected my spirituality and Derek's very different one - helping us find that balance that made the ceremony uniquely our own. Thank you for letting us write everything from the vows to the content. Your input was a perfect blend of tweaking and editing without you imposing your view like so many others tried. Your vow worship really was the best money we spent - Derek's vows still move me to the core when I see the video and vice versa. We will recommend it to all our friends. The hand fasting was wonderful - we still have the cord, and it will be put in the shadow box, along with the yarn and so much else. Sonja & Derek
Dominique and Steve
Michelle officiated our wedding on September 19th and what a great officiant she is! She is dependable, personable and professional. We live in Kingston, so almost everything had to be done by telephone or through emails. She was always warm, inviting, communicative, and responded quickly. We didn't meet until right before the ceremony yet my husband and I felt comfortable with her immediately. It was obvious that she has done this many times. Her calm and soothing nature brought such a calming energy to our ceremony, and made the entire process so easy. Thank you so much, Michelle. You made our experience truly amazing and we are very grateful for having you as our officiant. Love, Dominique and Steve
Kelsey & Gabriell
Michelle (Hrynyk) was fantastic on our wedding day. She took the time to listen to the needs of my husband and I, and as a result we had a beautiful blended tradition (Pagan) handfasting that we and everyone else at the wedding just loved! It was amazing and unforgettable. I highly recommend her, and I'd like to say thank you once again. Kelsey & Gabriell 07/25/2015
Donna & Murray
Michelle Hrynyk was fantastic. She is very expressive and was great performing or ceremony. Everyone in the All Seasons reservations office was very helpful. If I had any questions they were willing to answer the for me.