Michael Scott
No matter the type of ceremony you choose, Michael has great communication skills allowing him to deliver that special custom wedding ceremony you are looking for. Michael lives in Lindsay and has worked in the public accounting sector for a number of years. He has a B.A. from Trent University. He spends his spare time watercolor painting, playing the guitar, observing the night sky with his telescope, and spending time with his wife and children. We think you will find his diverse, creative background, and warm and caring personality are key traits to provide you with a unique wedding experience, customized to your needs.
Request Michael Scott
Areas served
Beaverton, Bobcaygeon, Bridgenorth, Cannington, Kawartha Lakes, Kirkfield, Lindsay, Little Britain, Oakwood, Peterborough, Port Perry, Sunderland, Woodville
Reviews
Tanya & Michael
Michael Scott was so kind and accommodating. He worked with the groom's father to create a very special ceremony. Michael is easy going, warm, and has a good sense of humour! We would highly recommend him. Office staff were great and responded promptly to any of our questions. Everything was easy to follow and convenient! Thank you so much! We had a fantastic wedding :)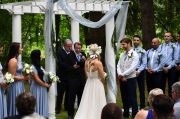 Anita & Josh
We took a gamble by having our ceremony outdoors with no tent, despite a moderate chance of a thunderstorm. It ended up raining very hard during our ceremony and Michael allowed us to continue even though he was getting drenched. Our documents got soaked and we had to use a hair dryer to dry them out. Michael Scott was very kind, funny, and thoughtful throughout the entire process. We would highly recommend him to anyone!
Michelle & Michael
Thank you so much for all you did for our special day. We are forever grateful.