Michael O'Callaghan, B.A., M.A.Th., M.Ed.
'Mike' O'Callaghan is licenced by both the Ontario and Quebec Governments to officiate weddings. Mike works to raising funds for particular projects,in the developing world. He volunteers and helps organize community groups: food bank, meals on wheels, youth in the parish, camp or sport. Mike visit those who are sick in hospital and works to become involved in activities for the residents in homes for the elderly, etc. He has worked in Africa and is involved with social development projects in the Dominican Republic. He has coached and held various administrative positions in soccer, in Ontario and Quebec for many years. Caring, thoughtful and a dedicated professional, he finds it an honour to be part of your wedding ceremony and is willing to make your union uniquely yours. Based on his past and present living experience, he is also much at ease preparing and officiating multi-cultural, English and bilingual (English / French) ceremonies. Please note that Mike is only accepting and performing weddings until the end of 2018.
Request Michael O'Callaghan
Areas served
Cantley, Chelsea, Tenaga, Kirks Ferry, Larrimac, Farm Point, Gatineau, Aylmer, Hull, Gatineau, Buckingham, Masson Angers, Luskville, MacKenzie King Estate, Quyon, Wakefield, Cumberland, Ottawa , Gloucester, Kanata, Nepean, Orleans, Greely, Manotick, North Gower, Metcalfe, Stittsville, Vanier, Hull
Reviews
Leslie and Chris
We would like to thank Michael O'Callaghan so much for taking part in our outdoor baseball theme wedding and for helping make the day very special for us. Michael's assistance leading up the wedding was amazing. He put our minds at ease by personalizing our ceremony to match our needs and the theme of our wedding. He was extremely friendly and warm, not only with us, but with everyone involved in our wedding. We received many compliments from guests about the uniqueness of our ceremony and Michael's delivery. And, we truly appreciate that he wore an umpire uniform in order to fit in with our baseball theme!! We were thoroughly happy with the services provided by All Seasons and Michael O'Callaghan and will gladly recommend them to family and friends.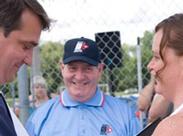 Marianne and Brian
We just wanted to let you know that our August 6 wedding at Strathmere was wonderful. We had Mike O'Callaghan thru your services, and he was just great. He was so friendly and personable and really hard working, making sure we were completely happy with our ceremony. He was a pleasure to work with and made everyone feel at ease. We really enjoyed meeting him through All Seasons.
Neil and Susan
We were married in August at the Experimental Farm, and very pleased with the assistance and guidance offered by your organization. Thank you for a day that we will never forget. We would also like to thank Michael O'Callaghan, who officiated at our wedding. He seemed more like one of the family and we have given his name, and All Seasons to family members planning on following our lead. Once again, thank you very much.
Marc-Andre and Kanako
I would recommend the services of Mr. Michael O'Callaghan. Mr. O'Callaghan exceeded our expectations and gave us a wonderful experience. He helped us with a bilingual ceremony, with translations, gave us personnal attention and is a very warm person. He was always available by e-mail and telephone. Thank you Michael.
Lucie & Pat
Hello Mike, Since our ceremony, we keep getting very positive comments from everyone – they were all amazed to see a wedding ceremony very original and unique and you helped make it that way. They were also amazed to see how easily you made it in both official languages (English and French), as well as a touch of Gaelic (they thought your Gaelic touch was sweet), it was very much appreciated on all sides. It touched everyone's heart. You truly made our ceremony a real fairytale event and we thank you so much for everything, we really appreciate it.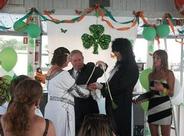 Stephanie & Troy
We had the most amazing and stress-free experience with All Seasons - and with Michael O'Callaghan (our officiant) in particular. He was the kindest man we've ever met, and went above and beyond what we expected for our wedding. We would recommend him and All Seasons to anyone and everyone, and have already started to do so!
Amy & Tim
Michael O'Callaghan went above and beyond our expectations. Everyone was so happy with him and the ceremony. We would recommend him to anyone looking for a professional yet very friendly officiant. He was the perfect person to marry us and we so very much appreciated the French, English and Gaelic he was able to add in.
Clo & Phil
Bonjour Mike, We wanted to thank you for the wonderful support you provided us for our wedding. While we really appreciated your collaboration from the beginning, we were especially impressed with the way you officiated during our wedding ceremony. Many of our guests have told us that you knew how to take charge of the room in order for the bride, groom and guests to fully understand the ceremony and the roles of each other. Nos invités francophones et anglophones ont été impressionnés par la cérémonie du mariage, par le déroulement de l'événement, mais surtout pour la qualité de la présentation et pour le bilinguisme de la cérémonie. Plusieurs de nos proches ont mentionné le fait que ton expérience était évidente de la façon dont tu as su prendre charge de la salle (et des nombreux invités!) de façon professionnelle et respectueuse. La cérémonie des roses avec les enfants - et le bouquet qui en est ressorti - est sans doute ce qui a le plus touché nos invités, et nous tenions à remercier Mike pour nous avoir permis de réaliser cette cérémonie "with a personal twist". ;-) Nous garderons un excellent souvenir de notre collaboration avec Mike et l'équipe de All Seasons Wedding, et nous vous ferons de la publicité aussi souvent que possible! Merci encore de nous avoir permis de vivre un si bel événement!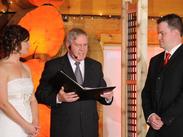 Laurie and Adam
Mike O'Callaghan was a phenomenal officiant! We have had many compliments about our choice of vows (given to us by Mike) and his wonderful personality. He was very professional and made everything run smoothly. I'd definitely recommend him to others. Thanks Mike!!!
Stephen & Mary
It would be difficult to overstate our appreciation for Michael O'Callaghan's contribution to our wedding. From helping with designing of the ceremony, to ensuring that all the necessary documentation as in order, Michael removed all the stress that would typically accompany a marriage ceremony. Michael was thoughtful, patient,, and remarkably professional throughout the entire process. I would not hesitate in recommending him to any friends or family in need of an officiant for their wedding.
Tiffany & Scott
Mike O'Callaghan was absolutely amazing! He put as completely at ease and offered fantastic advice based on his many years as an officiant. We could not have imagined our day without him and cannot recommend his services enough. Thank you a million times over!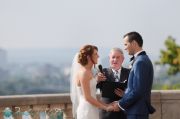 Megan & Justin
Mike O'Callaghan exceeded our expectations! He was friendly and very personable! We really helped make our special day perfect. Mike actually officiated the weddings of both my sister as well as my cousin! I was referred and will gladly continue to do so.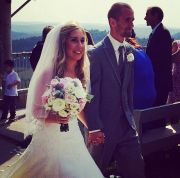 Orietta & Ruben
Mike O'Callaghan exceeded our expectations; he was so well prepared and experienced. He asked all the right questions to make sure we avoided any unexpected hurdles. We greatly appreciate how detail-oriented and attentive he was to all off our values and wishes. The All Seasons staff was friendly and professional with each interaction we had with them. From the initial inquiry to the deposit payment, we were satisfied with the high quality service we received. We would definitely recommend Mike and the All Seasons organization to all couples planning their wedding day! Hi Mike, We are so very grateful and delighted by everything you did to make our spiritual wedding ceremony come to life! It was a great honour and blessing to have you officiate our wedding; it reinforced our conviction that we had chosen the right person to stand by and for us. The ceremony was our favourite part of the whole day and it would not have been the same without your contribution. Thank you also for your kind words and well wishes! All the best,
Erdine & Michael
We would like to express our sincere appreciation for the professional and accommodating manner in which Mike O'Callaghan conducted the ceremony for the Young-Whittle marriage. We all agreed we could not have made a better choice. Once again our entire small group was completely impressed with Mike's performance.
Brigitte & Rodney
M. O'Callaghan nous a guidé tout au long des préparatifs du mariage. Il a toujours été très gentil, patient et très professionnel avec nous. Nous avons eu un service impeccable de votre compagnie. M. O'Callaghan merci d'avoir fait de cette célébration un moment mémorable, remplie d'amour et de joie.
Chelsey & Curtis
Michael O'Callaghan went above and beyond our expectations! August 25th, 2018