Marty Brown
Marty was recently voted the 'Most Popular Officiant in North Bay' at the prestigious Wedding Industry Experts Awards. He is a very popular officiant so reserve early. Marty is very involved in the community life of North Bay and area. He is Past President of the Nipissing Rotary Club. Marty is a former member of the Board of Nipissing University and a long time Volunteer at the North Bay Capitol Centre. Marty is proud to have been a member of the North Bay Regional Multi Faith Committee for many years. He will be pleased to meet with you and plan the wedding service you desire. Marty is receptive to planning a non–denominational or spiritual ceremony and comfortable including your cultural or religious customs. He looks forward to making your wedding day a very special occasion.
Request Marty Brown
Areas served
North Bay, Feronia, Redbridge, Corbeil, Bonfield, Astorville, Callander
Reviews
Janet and Jason
Marty Brown did a wonderful job with our ceremony. Jason and I are very pleased with everything and would highly recommend Marty to others. He took the time to meet with us and help us develop a ceremony we would all be excited about. Marty took the time to come to our rehearsal and iron out all the details before the big day. And on our wedding day the ceremony was awesome. Thanks so much Marty!
Deborah and Peter
Marty Brown was wonderful. Our ceremony was performed exactly as we had wanted. Everyone there expressed how beautiful it was. We Wanted that day to be relaxed, fun and casual and marty was a big part in making that happen. Ourselves and our guests would definitely refer your services to others. Thank you
Kathy & Rick
Marty Brown had done such a wonderful job for us. We couldn't have asked for a nicer more wonderful person to make our day special. Thank you so much Marty! The office was great. We had a little mix up with another company and your office was great in helping us. Thanks so much for making our day so special. We had tons of comments about how beautiful our marriage was. Anyone thinking on doing their wedding with an officiant, please talk to All Seasons Weddings, our wedding was fabulous!!
Roselyn & Corey
Marty Brown certainly meet all of our expectations. He is smart, funny, honest and l was glad to have him marry us! I enjoyed Marty's personality and everything about him made our day that more enjoyable! Glad to have met him and l am glad he was there for us!
Esther & Ian
Marty Brown was friendly and personable. Very helpful and tailored the ceremony to complement us as a couple. Marty successfully integrated elements of a Jewish service into the ceremony making it understandable and significant for all present, whether Jewish or not. The reservations office responded to all our questions promptly and helpfully.
Evelyn & Sava
Marty Brown was wonderful. We were really last minute with our wedding plans, and unfortunately the ceremony plan took a back seat to sorting out other logistics for our wedding. When we realized how behind we were - we went through a moment of panic and anxiety - which Marty alleviated from the moment we met him! He has a great personality - warm, welcoming, and genuine, and provided us with a great ceremony script template, which we were able to personalize as desired. He is both professional and good-humoured and upon our first meeting with him we knew our wedding ceremony was in good hands! Your office staff is great. Professional and quick to respond to emails. We really appreciated Marty's wonderful personality. We had a small and intimate outdoor wedding, and wanted to make sure the officiant's personality fit right in with our small group. Marty is good-humoured,relaxed and professional. We really appreciate his warm and welcoming personality and could not have wished for a better officiant to marry us! Thank you, Marty!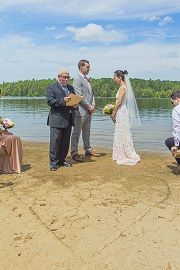 Ashley & Mike
Marty Brown was amazing. A total joy to work with. He made our day perfect. I'd recommend him to every couple.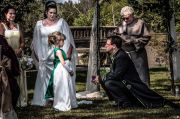 Jillian & Cory
The whole process was very easy. Any time I had a question, it was answered very quickly. Marty Brown was wonderful. He performed our marriage ceremony beautifully.