Marlene Thake
Marlene is a long-time resident of Westport and a former Justice of the Peace there. She has a variety of hobbies including golf in summer and skiing in winter. Marlene is very active in giving back to her community. Marlene is an experienced wedding officiant and will provide her expert guidance and help with your personalized wedding ceremony. Your Wedding Day is truly one of the happiest of times. It would be Marlene's pleasure to make a lasting memory for any couple and their families.
Request Marlene Thake
Areas served
Westport, Township of Rideau Lakes, Newboro, Portland, Elgin, Morton, Perth Road Village, Inverary, Maberly, Perth, Delta Phillipsville, Lombardy, Rideau Ferry
Reviews
Lena & Kevin
Marlene Thake was great! Thank you so much for being apart of our day. We felt a personal connection with her, which made the Ceremony that much memorable.
Kendell & Chris
Marlene Thake was wonderful. She was more than happy to work with us to create a unique experience that encompassed our wedding vision.
Karli & Matthew
Marlene Thake did a superb job and looked the part perfectly. Thanks to one and all for helping make the wedding a success.
Imogen & Shaun
Marlene (Thake) was a wonderful officiant. She worked with us to make our ceremony just as we wanted and was a friendly, kind and calming presence on the day. Imogen & Shaun, July 2018
Chris & Jill
Marlene Thake was awesome and very accommodating as we had an unconventional wedding and she was just perfect!!! Thank you for everything ! Chris & Jill July 2019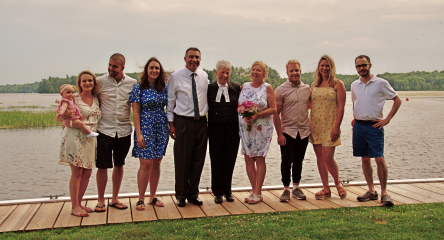 Chris & Catherine
Marlene Thake was lovely and everything went smoothly. She was very thorough and knowledgeable. Our guests enjoyed talking with her before the ceremony immensely. Thank you for everything! Chris & Catherine August 2019