Margaret McDonald
Margaret McDonald is this year's recipient of the prestigious Wedding Industry Experts Award as voted by her peers as Canada's most popular Wedding Officiant for the Kingston area. Margaret was born and raised in Kingston and continues to live there with her husband and two daughters. After being a kidney donor for her nephew in 2009, she extended her pastoral field to include activities dealing with the Kidney Foundation as well as the Transplant Advocacy Association. Although always a glass half-full individual, Margaret feels the transplant experience has really made her a 'celebrate life' kind of gal. What better way to do that than to share with couples their joy on the happiest day of their lives. She is energetic and sincere and has a great sense of humour. Margaret would make your ceremony everything you want it to be.
Request Margaret McDonald
Areas served
Kingston, Battersea, Harrowsmith, Verona, Sharbot Lake, Sydenham, Westport, Hartington, Inverary, Joyceville, Lansdowne, Marysville, Newburgh, Selby, Odessa, Parham, Perth Road, Seeleys Bay, Napanee, Shannonville, Stella, Tamworth, Wolfe Island, Yarker, Amherst Island, Arden, Bath, Camden East, Centreville, Elginburg, Enterprise, Godfrey, Glenburnie, Gananoque
Reviews
Ray & Peter
Margaret McDonald was wonderful. Marg and I first met while my fiance was still in England and I made the decision that she would be the perfect person to officiate at our wedding. I personalized our ceremony with help from All Seasons and from Marg and we received many compliments from our guests. Marg is friendly, respectful, professional and very helpful. Above all, she is very caring and she has a great sense of humour. We both thank Marg from the bottom of our hearts for making our special day so perfect and truly special.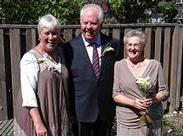 Molly & Chris
Margaret McDonald was wonderful - absolutely accommodating, friendly and warm. She was exactly what we were hoping to find in an officiant and she did an awesome job.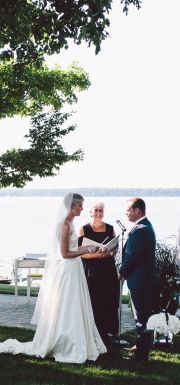 Dwayne & Scott
Margaret McDonald exceeded our expectations! Even before the wedding she made every effort to provide us with guidance about what to expect, what she needed from us, and how the ceremony would be conducted. The day of the ceremony, she was dressed beautifully and conducted the ceremony professionally and in a manner that was genuine, friendly, and open. All of our guests commented how much they thought the Officiant looked and how she interacted with our guests. We have nothing but favourable things to say about Margaret. She was super duper! We would not hesitate in recommending All Seasons Weddings to others. The staff were very professional and helped us to navigate unfamiliar territory. Bravo to Margaret and to All Seasons Weddings.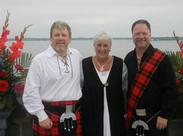 Jesse & Corissa
Marg McDonald was wonderful! She made us feel at ease with the very first contact. She was sensitive to our needs - and our non-traditional ceremony plans. We would highly recommend Marg to anyone who needs an officiant in the Kingston area. Thank you!!
Scott & Pauline
Marg McDonald was absolutely wonderful. She put us at ease and helped us through the entire process. Marg even met us where we were staying to discuss the ceremony and process beforehand do that we were all on the same page on the wedding day. We couldn't have asked for a more special ceremony. Thank you, Marg!!!
Dan & Stacy
My wife and I loved Margaret McDonald. Not only did we love her, but both our families loved her as well. We would highly recommend her!
Joan & Stephen
Hi Marg, Thank you so much for officiating our wedding. You are so gifted at putting people at ease. Your warm professional sincere and caring manner made the service perfect. We are so happy that you were able to share this very special time with us. You were wonderful - engaging, efficient. We really felt that you cared about us and we were thrilled with the reading and the vows.We will remember you with great fondness.
Shelby & Willie
Margaret McDonald was fabulous with a great personality, she was so supportive and just a lovely person! Everyone got back to me ASAP and answered my numerous questions quickly and professionally! Thank you for making my day amazing!!!!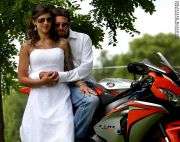 Katie & Oskar
Margaret McDonald was a joy to meet and helped calm our nerves and offer advice during our pre-wedding meeting. She was on time, well dressed at the ceremony. Margaret was wonderful to work with and really kept us calm during the ceremony.
Carolyn & Kevin
Margaret met with us before and was absolutely wonderful the day of! Thank you so much for everything - the ceremony was our favorite part - felt like it was just the two of us and Margaret. Everything was perfect :)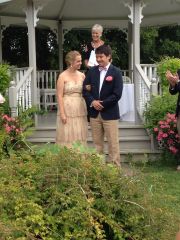 Jackie & Fred
Margaret McDonald was perfect from the moment we meet her, she is very personal and you could feel the passion she has for her responsibility. Her delivery of the service and the message within it was well received by everyone in attendance.All comments were positive and we would not hesitate to recommend Margaret and your services .. Thank you for making our wedding perfect Margaret.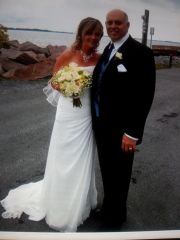 Sean & Kaleigh
Margaret McDonald was beyond exceptional in every respect. She provided wonderful insight and feedback -- making it very easy to make our day just that much more special. She was wonderfully dressed, spoke perfectly, and captured exactly what we had always hoped for in our ceremony. I cannot speak highly enough for her. Thank you Margaret! Perfect Day!
Mitch & Hanh
Margaret McDonald was amazing. She was met with us prior to the wedding day and walked us through all the stuff we needed to do and know. Margaret was very confident during the ceremony and everyone came to us after we got married and informed us of how amazing a job Margaret did. I would highly recommend referring Margaret to others. I will most definitely use her again for my second wedding! JK. :)
Deborah & Mark
From the moment we met with Margaret McDonald, we knew that she was the right person for our wedding. Was our office staff friendly and helpful? We have actually recommended you to other people, as well as told others of your service!! Margaret's smile, her welcome and enthusiasm for our wedding theme was so comforting for all of us. She loves Halloween (and every holiday) and joined in our excitement for that type of ceremony. As well, she conducted herself in a very professional manner, making sure that all our needs were addressed regarding our ceremony and exchanging our vows. She also assisted with my many questions regarding the paperwork that I need to file with the province for our wedding certificate. We had a lot of positive feedback from our friends! As a matter of fact a couple of them took your web address for future use. You are very lucky to have an officiant as dedicated as Margaret, she truly is a gem!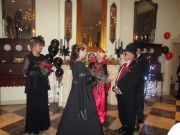 Tiffany & David
Margaret McDonald went above and beyond our expectations to make our special day unforgettable. She is warm, caring, compassionate, professional and has a wonderful sense of humor. Margaret was very generous with her time, meeting with us more than once, promptly returning emails, easing our fears, answering our questions and helping us design the perfect ceremony. We would highly recommend Margaret to anyone seeking a wedding officiant. Email and phone communication was prompt, helpful and friendly. Website was easy to navigate and informative. We plan to renew our vows with her in the future.
Manon & John
Margaret McDonald was very proffesional and highly personable. Classy but not stuffy! We and our guests loved her.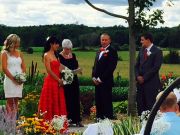 Tristan & David
Margaret McDonald was spectacular - prepared and helpful. she really made us feel at ease about the whole process. It was a joy to have Marg with us on our special day. Without a doubt. We LOVED Marg and we also loved having the security of a back-up just in case.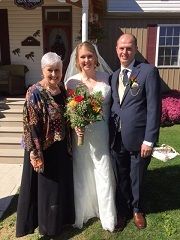 Mickayla & Mason
Margaret McDonald was amazing! She did everything she could to make the day exactly what we envisioned it to be. She was sincere and loving with her readings and she made everyone feel welcome and comfortable. We were so grateful to have Margaret be apart of our special day. She was very professional and personable. Both Mason and I would highly recommend using Margaret and All Seasons for your wedding ceremony!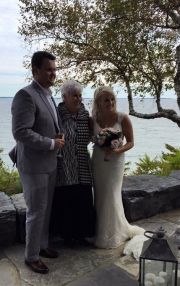 Paul & Sarah
Margaret McDonald was absolutely outstanding!! She performed the ceremony with grace. Our guests commented positively on the quality and the elegance of the ceremony. Thank you Margaret for making our day even more special!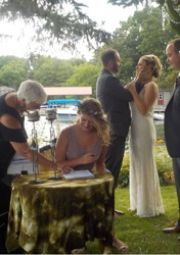 Jessica & Lindsay
Hi Margaret, I hope this email finds you well – today marks Lindsay and my first wedding anniversary and we just wanted to check in and see how you were doing, and thank you for being such a big part of our special day. This past year has been filled with craziness, as life threw us lots of curveballs – we had a few deaths in the family, adopted another furry four legged daughter (a boxer husky mix named Murdoch – who has kept us busy to day the least) and had a very busy year at both our works – but like you said in your speech during our ceremony – together we can get through it all. And we have, and it's made our bond stronger than ever. Lindsay and I think about you often, and always look for you when we go to the playhouse, you are a wonderful person, with such a special spirit, and we wanted to let you know that you left an imprint on us on our wedding day, and we have carried it with us since. We hope that your year has been filled with happiness, love and laughter. As we celebrate today, know that we not only are celebrating each other, but all the people that made our day so special – people like you! Truly,
Dan & Steph
I had the pleasure of knowing Marg, for several years prior to getting married. Without a doubt I had no other person in mind to officiate our wedding. She presents herself with such professionalism, but also very sincere and caring individual. Our wedding was an absolute dream come true, she made everyone feel at easy, through her calm manner and constant support. I am so happy she was able to be apart of our special day, it would have not been the same without Marg. Thank you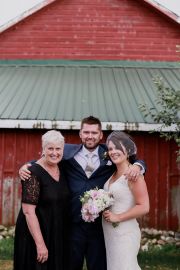 Candice & Nathan
Margaret McDonald was a dream to work with. She responded right away to my initial email inquiry and showed a genuine interest in performing our wedding ceremony. She met with us in person and I immediately felt comfortable with her and trusted her with the most important part of our day. She helped me make sure that I had included everything that legally needed to be included in the ceremony and even helped me out with some special announcements that I had left out. On the day of the wedding, I arrived at the venue and she was standing at the front, looking very professional and she nailed the ceremony! It was everything I could have wanted and I owe a lot of that to her!
Emily and Daniel
Margaret was wonderful, she made our wedding day very special and she was super helpful through the entire process. I highly recommend Margaret as an officiant for all weddings! We have already recommended All Seasons Weddings.
Dan & Tanya
Margaret McDonald exceeded our expectations! Even before the wedding, she made every effort to provide us with information about what to expect, what she needed from us, and how the ceremony would be conducted. The day of the ceremony, she was dressed beautifully and conducted the ceremony professionally and in a manner that was genuine, friendly, and open. We have nothing but wonderful things to say about Margaret. She was amazing. We would not hesitate in recommending Margaret and All Seasons Weddings to others. August 2018.

Jacqueline & Rob
We are so thankful to have met Margaret McDonald! She was recommended to us by our venue at the Perth Manor, and we are so glad she was available to officiate our special day. She was kind, funny and really knew what she was doing. We met prior to our wedding and got to know each other. It is very obvious Margaret loves what she does! Thank you Margaret for making our day so special :-)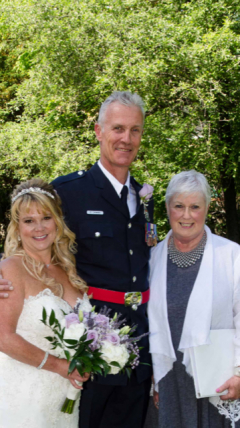 Dave & Tania
Margaret McDonald was incredible! She listened to all the details we wanted in our ceremony and she did it perfectly. I would highly highly recommend Margaret. She was very quick to respond to emails and answered all of our questions and made us feel at ease throughout the whole process! Dave & Tania June 2019
Jeremy & Jodie
Margaret McDonald was fantastic! We met with her before the wedding and she made suggestions for a reading. We agreed it would fit in nicely and incorporated it in the ceremony. Margaret is punctual ,friendly ,spoke clearly and at a good pace so everyone at our small gathering could hear. Thank you Margaret, our day was wonderful. Jeremy & Jodie September 2019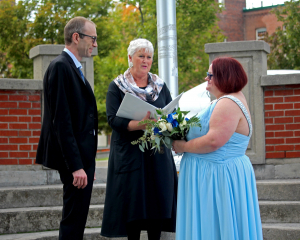 Jennifer & Wendy
My wife and I used All Seasons Wedding for our officiant. The service and the officiant were excellent. It was a real comfort knowing that there was a back-up officiant if needed. Our officiant, Margaret McDonald, was wonderful! We received many compliments about her from our wedding guests. We found her to be very warm, friendly, professional and accommodating. We had some last-minute changes, and she rolled with it. Would highly recommend both All Seasons Wedding Service and Marg. Jennifer & Wendy Sept 2019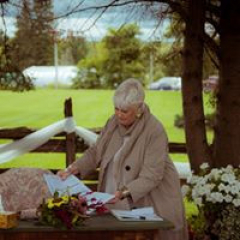 Tyler & Melanie
Margaret McDonald is so friendly! It was very easy communicating with her and she responds to emails very quick (which is amazing when you are already stressed out with the wedding planning). Absolutely loved her! Tyler & Melanie September 2019
Melissa & Ben
Margaret McDonald was absolutely amazing. She was organized, punctual, gave constructive and positive feedback during our meetings and we keep getting compliments from our guests regarding how great rapport, control and personality she had during the ceremony. I would 100% recommend. She was well worth the money and travel fee as we live out of her district. Thank you so so much!! Melissa & Ben October 2019
Mark & Karen
Marg McDonald is a lovely person. She officiated our wedding and is so caring. She really made my wife and I feel at ease on our wedding day. The reading she recommended during our ceremony fit the occasion wonderfully. Mark & Karen November 2018
Melissa & Mike
Margaret McDonald was wonderful to work with! She was not only great with our ceremony the day of, but with all the details leading up to our big day. She was very accommodating with meetings, speedy with answering any emails/questions we had, and made us feel at ease with the whole process. It was clear when meeting with Margaret, that she was very passionate about her work, which made it an easy choice for her to be the one to conduct our ceremony. Melissa & Mike October 2019
Christopher & Emily
We hired Margaret McDonald to officiate our wedding this past summer and we couldn't have been happier with everything. Margaret met with us before the wedding and was so helpful and communicative. She was so professional and lovely during our ceremony, we would happily recommend her to anyone! Christopher & Emily Aug 2019