Marg Graham
Marg is orginally from the Port Hope area, where she remained and settled with her partner along with their favourite dog, Juno. She is a people person who believes that your spiritual, traditional or same gender wedding ceremony is about taking your story and creating a memorable moment for both of you. Marg is the mother of two adult children and two new grandsons. Marg enjoys performing wedding ceremonies and seeing the closeness and joy it brings to the couple, their families and friends. She does her best to stay healthy and fit (Juno helps) and enjoys teaching Aqua Fit classes to seniors.
Request Marg Graham
Areas served
Port Hope, Cobourg, Garden Hill, Bewdley, Colborne, Grafton, Camborne, Newtonville, Newcastle, Gores Landing, Harwood, Roseneath.
Reviews
We are happy to report that Marg (Graham) was amazing. She contacted us to help with preparations, selection of the service and with official documentation. She was friendly and professional. She arrived on time for both our meeting and for the service. I would highly recommend Marg as your officiant. Thanks for making our day special. Lyn & D'Arcy 10/14/2016
Brenda and Glenn
Marg Graham met with us at our home where we were having our outdoor ceremony. Marg gave us options for the ceremony and suggestions without judgement. Marg reviewed with us what would happen the day of our wedding and still attended our rehearsal. As we struggled with the order of events and vows, Marg put together a couple of suggestions which gave us a starting point to work with. That was very much appreciated as it made our ceremony much easier to plan while keeping it personalized. With Marg's help, we had the perfect ceremony for us.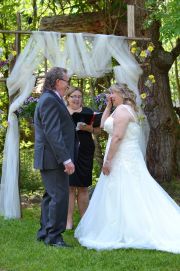 Amanda & Andrew
Marg (Graham) was wonderful to work with from start to finish! She responded to emails promptly, provided excellent advice and was completely open to our ideas and wishes. She made the entire process so easy on us, with everything else to coordinate it was very helpful to be able to trust Marg with the preparation of the ceremony. We had many compliments from guests about the ceremony and we thank Marg for making it a truly beautiful moment for us!
Wanda and Rick
It's a very small world. I knew Marg (Graham) a number of years ago, and was so happy to see that she was a wedding officiant. Marg was very helpful and answered our many questions. She was sincere and professional. Our guests all commented on how lovely our ceremony was. She made our perfect day even better! Thank you for everything Marg!!! Wanda and Rick July 2018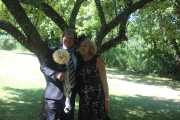 Lindsay & Derek
We are so happy with how professional and personable Marg Graham was. She really tried to understand what was important to us for our ceremony, guided us through the process, and helped us personalize it. We are so thrilled with how smoothly the ceremony went thanks to her. Thank you for everything Marg! Lindsay & Derek June 23rd, 2018
Adam & Lauren-Ann
As Lauren & Adam are a special needs couple, as were their maid of honour and best man, she took extra time to make sure they had everything signed and didn't make them feel rushed at all. She came early and chatted with us and with Adam and his best man. She walked us through it all with such grace and confidence. The bride and groom were very happy and so were us parents!! Adam & Lauren-Ann September 2019