Maeve Armstrong-Harris
Maeve joined our team in 2003. She trained as a registered nurse and serves as a spiritual director in London. She believes in the inclusion of all persons regardless of gender, sexual orientation, race, color or creed. She is an experienced marathoner, holds a black belt in Karate and loves crossfit. Maeve is experienced in facilitating traditional and non traditional ceremonies in a variety of settings. Her sense of humour, warmth, flexibility and compassion will put you immediately at ease as you enter into your sacred union together.
Request Maeve Armstrong-Harris
Areas served
London, areas north of London, Ailsa Craig, Lucan, Birr, Denfield
Reviews
Nynke & Gord
Maeve Armstrong Harris was instrumental in making our wedding a huge success and a cherished memory. From the time we first met with her, she was able to assist us in ensuring our personalities and preferences played a significant part of the ceremony. She offered timely and thoughtful suggestions, facilitated a ceremony that was unique and included our family in the most respectful way, and was accommodating and gracious regarding our location and some additional things we wished included. Maeve is a wonderful officiant, and our wedding memories are so special because she facilitated it all with a unique level professionalism combined with a precious personal touch. Thanks Maeve!
Angela & Oliver
Maeve Armstrong-Harris was wonderful. She was friendly, open-minded, helpful, and has a great sense of humour. She made a real effort to get to know us as a couple and made some helpful suggestions for how we may modify the ceremony to suit our needs (e.g., having my husband walk down the aisle with his parents before the bridesmaids entered, because we had expressed that we didn't like the traditional focus on the bride being "given away"). We heard many positive comments from guests on the wonderful job that Maeve did.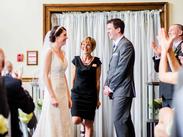 Julie & Ron
Maeve Armstrong-Harris exceeded our expectations!! Maeve made our ceremony very personalized and adjusted her schedule to accommodate our last minute wedding request.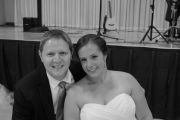 Chris & Natalie
Maeve Armstrong-Harris went above and beyond what we expected. Her advice concerning the ceremony was perfect. She guided us though the ceremony in a calm manner. We had so many compliments about her at the wedding. She did an amazing job and my wife and I could not have been happier with how things worked out.
Erika & Kevin
Maeve Armstrong-Harris superseded our expectations and brought terrific energy to every aspect of the preparation and ceremony. Our guests commented about how warm and genuine she was. You have a real treasure in Maeve. What a delightful and numinous woman.
Penny & Frederic
Maeve Armstrong-Harris was an excellent Officiant. Very friendly and helpful. She made us feel very comfortable and relaxed. We would recommend her to anyone. Thank you.
Brittany & Matthew
Maeve Armstrong-Harris exceeded our expectations! She was on time and completely prepared! She really helped keep things moving and made everyone feel very comfortable! Maeve was lovely to work with! She was very flexible around our schedules which was extremely helpful!!!
Leanne & Matthew
Maeve Armstrong-Harris not only met our expectations, she exceeded our expectations! Maeve did an amazing job as or wedding officiant. You hear all the time that the officiant can make our break the ceremony, and Maeve definitely made our ceremony. We had lots of comments after saying it was the best ceremony they have been to in a long time. Maeve listened to all our our wishes and really helped make our ceremony personal. She helped make it feel small and intimate even with 120+ people. Thank you again Maeve, we appreciate everything you have done!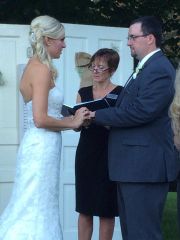 Diane and Dean
Hi Maeve, Dean and I just wanted to thank you again for helping us to make our wedding so much fun. I know it was a bit unconventional :) but I don't think we could have found a better person for the job! Your sense of humour and warmth is a wonderful combination - you made us feel that we were being married by a friend. Happy Days ahead, Maeve.
Nicole & Andros & Bruce
Maeve Armstrong was such a delight to have in our wedding celebration. She is funny, genuine and knows how to make your special day feel that much more authentic & beautiful. I would highly recommend Maeve's services, i would also recommend doing a rehearsal. I am the type of person to be super relaxed and go with the flow & usually wouldn't but it was so worth it. Her advice, her presence, and her energy helped us feel more confident, excited & also relaxed for our big day following. Thank you Maeve, i would like to extend my gratitude & love to you! It was the best day ever. P.s this wonderful lady isn't afraid of Dogs so if you want your fur baby a part of the ceremony she will approve!!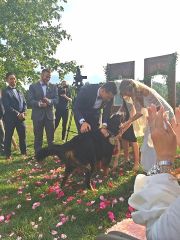 Alissa and Matt
Maeve Armstrong-Harris was exactly what we had hoped for our ceremony, and even better! She is kind, friendly, open minded and has a great sense of humour! Our meeting before the wedding was just wonderful, leaving us very relaxed before the big day. Our ceremony was beautiful and personal – a great way to start our wedding (and marriage!). We heard from many of our guests what an excellent job she did! Thank you so much Maeve!
Kristen & Ellen
Maeve (Armstrong-Harris) is an incredibly warm, kind and sweet person/officiant. We could not have found a better fit! Our ceremony went perfectly - with a little bit of humour, a little bit of seriousness and a whole lot of love. Maeve calmed our nerves and reminded us to slow down and enjoy every moment. Ellen and I are still smiling ear to ear and continue to receive compliments on how amazing the ceremony went. We love, love, love Maeve and would highly recommend her if you want the best! Maeve, a huge THANK YOU! You're a wonder. Kristen & Ellen Dec 16th, 2017
Courtney & Cory
Maeve (Armstrong-Harris) was absolutely amazing to work with!! I can't say enough good things about her. I'm not usually comfortable with being in front of people or anything like that but she made me feel completely at ease. She was truly a blessing for me and made this experience so much more enjoyable. After meeting her just once I felt like she was a long time friend. I've heard so many comments from my family about how amazing the officiant was. I just wanted to thank her and All Seasons Weddings for helping us create good memories for our wedding! I would recommend her without hesitation. Courtney & Cory May 4th, 2018