Lynne Dagg
Lynne was recently voted by her peers as the 'Most Popular Wedding Officiant in Parry Sound' at the prestigious international Wedding Industry Experts 2016 Awards. Lynne has recently returned to live in her home town of Parry Sound. She is a warm, friendly and understanding person who connects easily with people and is truly interested in everyone's well- being and happiness. She is a graduate of Laurentian University, and is an active community volunteer with many hobbies and interests. As a people-oriented human being, she firmly believes that the concept of 'love and togetherness' is a very important foundation for a fulfilling life. Whether you want a ceremony that is spiritual, non–denominational or religious, please consider Lynne as an experienced officiant who will take a very active and helping part in "Your Special Day".
Request Lynne Dagg
Areas served
Parry Sound, Nobel, Carling, Waubamik, McKellar, Orrville, Mactier, Rosseau, Dunchurch, Pointe au Baril, Bayfield Inlet
Reviews
Sarah & Norman
Lynne Dagg was amazing! When we met her the first time I knew we made a great choice. She was very friendly and understanding of what we wanted. The ceremony went off with out a hitch. I would recommend her for every wedding!! I just wanted to thank this service! Since we wanted a non religious wedding I found it hard to find someone to marry us without hassel. You guys made it easy and everyone was happy with the service!
Sherry-Lynn and Regan
We want to thank Lynne Dagg so much for officiating our wedding ceremony. From our very first meeting she was friendly, funny, and very informative and she put us completely at ease. On our wedding day it was just like having a family friend perform the ceremony. Lynne even went with the flow when the groom forgot his reading - a funny moment for sure, but we compromised and shared our reading and Lynne went right along without missing a beat! The pictures certainly turned out great. We cannot thank All Seasons Weddings and Lynne Dagg enough for making our wedding exactly what we envisioned.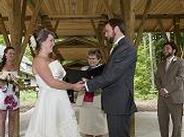 Theresa & Parry
Lynne Dagg was very professional courtious, friendly, happy and efficient. She is a wonderful lady who was a pleasure to have as our officiant. Lynne was great she included everything that was special to us and made our day successful.
Katelynn & Cameron
Lynne Dagg was wonderful! She was very prompt in her communications with us, organized a great first meeting and we really connected. We felt like she truly understood us, and what type of ceremony we wanted (and she nailed it)! Thank you, Lynn!
Katie & Tyler
Lynne Dagg was fantastic. Our ceremony was beautiful and perfect.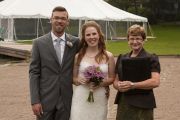 Krista & Chad
Lynne Dagg was so kind and personable. Felt like we had a long time family friend to marry us!
Laura and Mike
Hi Lynne, We wanted to write a quick note to express our gratitude to you for acting as officiant at our wedding! We, along with both of our families, are so very happy that we found you and had you at our wedding! The ceremony was just as we had hoped and the day was perfect. Thank you! We are so happy that we found Lynne Dagg to officiate our wedding. She was exactly what we were hoping for and we could not have been happier with how the ceremony went. Lynne is a very warm and welcoming person. From our initial call with her, to our first in-person meeting, right up to the performance of the ceremony, she felt like a close family friend. Our main goal for the wedding was to have it be very personal and meaningful to our family and friends, without great emphasis on religious or other external values. Lynne's warmth and openness was a perfect fit. Many guests came up to us afterwards to express how great Lynne was and how lovely the ceremony was. We have no hesitation in recommending Lynne for anyone who is considering her as officiant for their own wedding. If you are looking for an officiant who is diligent, dedicated, timely in communications, and a wonderful warm and friendly person, look no further than Lynne Dagg. Thanks again and hope your weekend was great!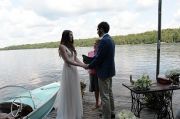 Sonya and Phil
Hi Lynne, We just wanted to write to you and tell you how much we appreciated having you officiate our perfect day yesterday! It was so wonderful to meet you and we hope our paths cross again in the future. We couldn't have hoped for a more special person to marry us. All our best today & always! Love Sonya & Phil :)
Nathan & Lindsay
Nathan and I just wanted to thank you again!! You were the perfect fit for our Wedding Ceremony and helped to make it extra special for us. You were calm, cheery and professional and just a joy to talk with. Our parents, family and friends are still talking about it.....and likely will be for the next little while!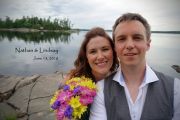 Care & Ange
Lynne Dagg, Ange and I meant to email you much sooner than today but we have finally just settled back into normal life lol! We just wanted to thank you SO much for everything you did for us on our wedding day! Everything went so smoothly and working with you was one of the best decisions we made.