Louise Burns
A Wedding Ceremony is a celebration and expression of love. I reside in Kitchener and I am available to perform a traditional, spiritual or non-denominational ceremony of your choice. My intention will be to explore and help you give meaning to your personalized wedding ceremony. Together we will create the ceremony to reflect who you are as individuals and the relationship and expression of love you will share with family and friends. My passion for unique, special, fun, and memorable wedding ceremonies started several decades ago for my own ceremony with my partner and children. I will provide the support essential to reflect all your wishes and provide you with a lasting memory.
Request Louise Burns
Areas served
Acton, Ayr, Baden, Breslau, Campbellville, Cambridge, Elmira, Elora, Fergus, Guelph, Paris, Kitchener, Mary Hill, New Hamburg, Puslinch, Rockwood, St.Agatha, St.Clements, St.Jacob, Shakespeare, Tavistock, Waterloo
Reviews
Sara & Michael
Working with Louise was a dream. From day one, she worked with us intimately to get to know us and craft our ceremony so that it fit us as a couple perfectly. Her kindness and compassion for her job shined through beautifully. She had amazing suggestions for how to structure our ceremony, but she also listened to our needs and preferences and incorporated them seamlessly. She was very easy to communicate with throughout the process. On our wedding day she officiated the ceremony with a full heart that touched us, as well as our guests, very deeply. She did so much to make this amazing time in our lives very special!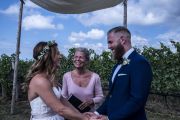 Jackie and Jonesty
Louise was amazing!! My wife and I feel we made the best choice. She was so very helpful and kind. She made our ceremony extra special.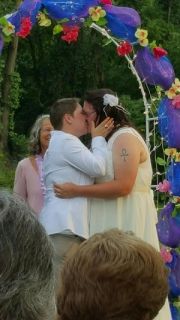 Christine and Jack
Thank you so much Louise Burns for making our union/reunion as special as you did. Reflecting back on this unpredictable day(the weather was wild)…we would not have had it any other way. Amongst all the ciaos there was a magical moment of "letting go" that propelled us into such a beautiful sharing. Your lead into our ceremony was kind and sincere and you captured our mighty families attention with your words and your presence. Jack and I are married now and we are so very happy that it was you that sealed our love with this commitment." Have a beautiful day Natasha,