Lorraine Cowan
I love what I do, and with an extensive background in public speaking and creative writing, it would be my privilege to help you celebrate your special day in Quebec or Ontario with a non-denominational or spiritual wedding ceremony. I am a Certified Life Cycle Celebrant® having successfully studied and graduated from the Celebrate Foundation and Institute with with certifications in Weddings, Vow Renewals, Baby Welcoming-Naming's and End of Life Ceremonies. I am comfortable speaking French should you wish to consider an English or bilingual ceremony. I look forward to working with you to create a ceremony that meets your unique needs.
Request Lorraine Cowan
Areas served
QC - Brossard, Candiac, Chateauguay, Delson, Dorion, Greenfield Park, Laprairie, Lasalle, Longueuil, Mercier, Pointe-Claire, Sainte Anne de Belle ON-Alexandria, Hawkesbury, Lancaster, Vankleek Hill
Reviews
Cattleya & Armin
We are very happy that Lorraine Cowan was part of our wedding ceremony in Montreal. Even though we live in the U.S., she made it easy to communicate with her via email and Skype to not only plan the ceremony, but also for her to get to know us. She helped us create a personalized ceremony that shared our story as a couple and incorporated both traditional and nontraditional elements. During the ceremony, we appreciated how welcoming she was to our guests and thoughtful to us, even coming prepared with tissues for a crying bride and a beautifully printed copy of the ceremony as a memento. Lorraine is now firmly a part of the happy memories we have of that day. We had done much research before deciding on a wedding officiant service. The level of professionalism we received from All Seasons in both phone calls and e-mails was the deciding factor. We felt that we were dealing with a far more professional service than other providers we spoke with.
Carla & James
Hi Lorraine, James and I wanted to thank you for the beautiful ceremony. Everyone loved it. You did a great job and we found it was perfect :-)
Katie and Justin
It was a pleasure having Lorraine Cowan as our wedding officiant. She was always on time, happy, ready to help with every detail and very organized. My husband and I highly recommend her services! Thank again Lorraine for everything you did to make our wedding day as perfect as it was :) Katie and Justin
Caroline and Eric
We just wanted to say a big thank you to Lorraine (Cowan) for helping us make our wedding day so special! If not for her I don't think our day would have gone the way it did. Not to mention the majority of the guests told me that ours was the best ceremony they have ever witnessed! Thank you again!!! Caroline and Eric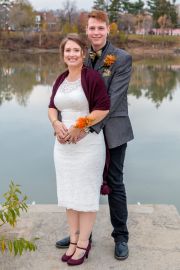 Cora & David
Lorraine Cowan was amazing! You can really tell she enjoys her role. Her energy and flexibility was appreciated for our special day. Would highly recommend Lorraine.
Tina & Jay
Lorraine Cowan performed the service beautifully and truly made it about Jay and I. She is very welcoming and caring would recommend her to anyone. Thank you so much we had a beautiful day.
Emily & Philippe
Lorraine Cowan was amazing, very friendly and compassionate. She loved hearing about our story and was willing to work hard with us to build whatever ceremony we wanted with plenty of helpful feedback along the way. Loved the service!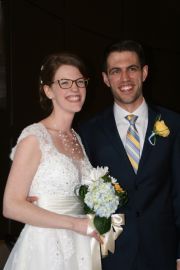 Danielle & Nicolas
It was very easy to find the All Seasons website and contact was effortless. Lorraine was available to me any time to answer all of our questions and she really helped us personalize our ceremony. She brought professionalism and poise to our lovely outdoor ceremony. I would love to have her for future events and will be sure to keep her in my contacts. I've already referred All Seasons Weddings to my friends, as well as Lorriane. My friends have already asked me for her business card! Thanks again so much to All Seasons Weddings and Lorraine Cowan for making our wedding day so special!!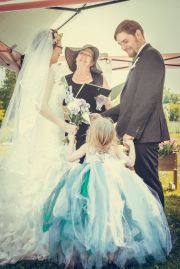 Jaimie & Daniel
Lorraine was absolutely incredible. Before the ceremony her instructions were clear and concise. The planning was efficient and thorough and the ceremony was absolutely AMAZING! She was poised and well spoken. She was funny and inclusive of the entire group and she really executed the vision of what we had planned. The ceremony was more than what I could have hoped for. Thanks so much Lorraine!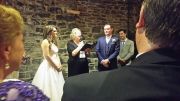 Daniel & John
Lorraine (Cowan) was the perfect officiant. She was completely committed to our vision for our wedding which consisted of a pretty loose concept with a few specific parameters that was reasonably untraditional. We met over skype and exchanged a few emails and she fleshed out our loose ideas into a very beautiful ceremony that we had plenty of time to review and provide comment - we didn't have many to make since it was on point. She reminded us that she could make edits as the ceremony evolved and that it was our day and should be just what we expected and wanted, which we appreciated since it was a little offbeat. She took care of all the legalities, which was helpful since we do not live in Canada. She also made several logistic suggestions that were helpful since we were unfamiliar with the city of Montreal and also with the whole process of getting married. She showed up the day of right on time, very professional but warm, and was in communication throughout the day. Our guests kept repeating to us at the reception how beautiful the ceremony was and how great the officiant had done. You could definitely tell she was an experienced professional in her element and that she loves what she does. We couldn't have had a better wedding officiant. Thanks for everything Lorraine! Daniel & John May 20th, 2017
Stephanie & David
Lorraine (Cowan) was absolutely incredible! She was the perfect match for what my husband and I wanted. She helped us created a beautiful ceremony that included every detail we wanted. She tapped in to our wants and made our day absolutely magical. Stephanie & David 06/10/2017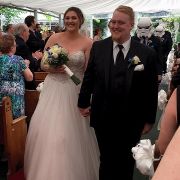 Carmy & Pierre
Lorraine Cowan était superbe et très sympa. All Seasons ont patiemment répondu à toutes nos questions.
Cindy & Lee
Not even sure where to start Lorraine (Cowan) was a fantastic officiant!!! from start to finish she did a wonderful job making sure we were ok and the ceremony was exactly what we wanted. After our ceremony our guest were in shock that she was able to help us have such a great wedding with only a few meetings and phone calls!! Funny and creative with our crazy theme "habs fan" wedding, she had ideas of her own and how to make our kids part of the ceremony. Right from the get go she jumped on board with us and made our wedding perfect !! couldn't ask for a better officiant!!!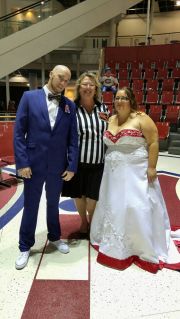 Amanda & Joey
I couldn't have imagined having any other officiant as kind and as friendly as Lorraine Cowan. She made us feel at ease as we all know planning a wedding can sometimes feel hectic. Lorraine gave us a great vibe right from the first time we met and my husband and I would like to thank her for being so easy going and for being such a sweet person! We would certainly recommend her.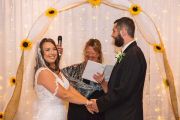 Sarah and Hector
Thank you for everything and for giving us the best ceremony I could have imagined. It was absolutely perfect!
Richère Céleste and Serge
Merci sa été une cérémonie magnifique
Annie
Lorraine (Cowan) was truly a wonderful officiant to deal with! She was easy going and listened to our needs, she suggested the best ways to do our vows since I (the bride) cry waterfalls. Ha ha. Nonetheless, we are very thrilled with her! Highly recommend her!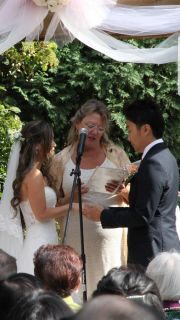 Alan & Jay
Looking back at our amazing wedding we can't think or talk about it without including the lovely Lorraine (Cowan). Your elegant and stylish delivery of our ceremony helped us to relax and feel at ease throughout. Eloquent, poetic and beautifully written and delivered, we could not have hoped for more and we are so happy that we have meet you and have the honor of you marring us. Thank you so much Lorriane your a very special person. Alan and Jay
Christine & Leon
Thank you Lorraine for the incredible officiant service you offered! Our ceremony was truly perfect. We were happy every step of the way. Thank you for your kindness and professionalism. It's a day we will always treasure. Christine & Leon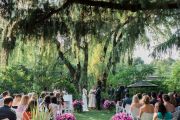 Jeffrey & Lisa
Lorraine Cowan went above and beyond all of our expectations. We could not have asked for a better officiant who made us feel so comfortable and had such beautiful words to say. Thank you so much Lorraine!