Lori Hayes
Lori is located in Selwyn, just outside of Peterborough, and was recently voted by her peers as the 'Most Popular Wedding Officiant in Peterborough' at the prestigious international Wedding Industry Experts 2016 Awards. Lori Hayes is passionate about helping others and wants to be a part of creating the wedding of their dreams. She is experienced in event planning and officiating ceremonies. Her gentle, caring nature allows the couple and their families to be at ease on their special day. She is comfortable performing personalized wedding ceremonies, vow renewals, baptismal and naming ceremonies. Lori is excited to serve those in the Peterborough and surrounding area.
Request Lori Hayes
Areas served
Peterborough, Lakefield, Warsaw, Buckhorn, Omemee, Norwood, Havelock, Orono, Millbrook, Bethany, Hastings, Bailieboro, Fraserville, Keene, Roseneath, Ennismore, Bewdley, Bridgenorth, Pontypool, Janetville, Douro and Cavan.
Reviews
Shaunacy & Christopher
Lori Hayes was wonderful! We could not have been happier to have Lori as our officiant. She was very respective to all our requests and her thoughtful and cheerful personality only added to the warmth and intimacy that we were wishing for in an outdoor wedding. Great experience all around!
Meaghan & Michael
Lori Hayes was awesome to work with. She took all of our needs and suggestions into consideration and put together an amazing ceremony. We are so glad to have worked with Lori, she made our ceremony so special and she was extremely professional. I would recommend Lori and your company to anyone without question.
Sarah & Chaka
Lori Hayes was a perfect fit. She was lovely, patient and didn't make us feel pressured in any way. I found the other officiant services I contacted they made me feel stressed and made the whole procedure seem way more complicated than it actually is. Lori's approach was calm and simple, and we really appreciated her demeanor. Weddings can be stressful and we planned ours fairly quicly, so it was important to us to have someone who didn't make us feel guilty or stressed about our decision. The ceremony was simple and perfect. Thanks so much for making our day so special.
Tom & Krista
Lori Hayes was a great officiant! She was extremely well organized, very professional and made us feel comfortable from day one! Lori made the ceremony very easy on us and projected her voice very well during the ceremony to the point where our guests thought she was wearing a mic! She comes highly recommended from us!
Georgia & Oaken
Lori Hayes was fabulous. She met with us in person before our wedding and supported all of the personal touches we added to the ceremony. Whenever we had questions, Lori got back to us promptly. At the ceremony Lori was professional and friendly. She did a great job.
Rob & Tracey
Lori Hayes was wonderful! At first we were a little hesitant but after meeting Lori and talking with her, we knew that NO ONE could ever do what she did. You should be very pleased to have an officiant of her quality and professionalism. We will be renewing our vows every 5 years or so and will indeed us Lori again and we have told everyone we know who are deciding to marry and referred Lori to EVERYONE!
Alana & Ray
Lori Hayes was awesome! She met all our expectations and then some. The ceremony we created with her was exactly what we wanted. The wedding day itself was perfect and I think having an organized and efficient officiant like Lori made that all possible. All our emails were answered promptly and they were a great help. Finding our officiant on All Seasons Weddings was the very first thing we did after figuring out where it was we wanted to get married. The officiant profiles are nicely laid out so brides and grooms-to-be can easily find that right fit. Any questions or concerns are answered quite promptly and the price is right too!
Jamie & Ryan
Lory Hayes was amazing! She was so friendly and professional. She lead our rehearsal on only 2 days' notice, and made sure that we were 100% comfortable before we finished. I've had several friends say they were married by Lori as well and they all had nothing but praise. As stressful as weddings can be, Lori made us feel calm and relaxed throughout. It was a perfect day and we couldn't have asked for anything more! Thank you for sharing in our magical day!!
Roberta & Jeremy
Loris Hayes really just pays that little bit of extra attention that makes you feel like you're not "just a client". Lori was so wonderful. She really was just one of the many perfect things about our day. She is genuine and exudes this sort of friendliness that is calming, reassuring, and like a bright light. Cannot thank her enough
Ashley & Andrew
Lori Hayes was amazing from day one and a pleasure to work with. She made everything so effortless, which is what everyone needs on their wedding day. Thanks again so much!!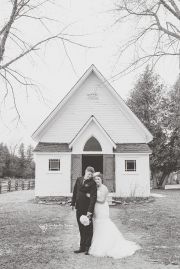 Stephanie & Greg
Lori Hayes was fantastic!! Big thanks to Lori who was so nice, easy going and a pleasure to work with! She made our day even more special! I will be recommending for sure in the future! Best regards ;)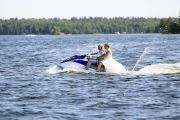 Danielle & Troy
Right from day one Lori Hayes has been nothing but helpful. She worked with my husband and I on our script and helped with anything we needed.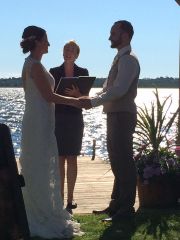 Craig & Victoria
Lori Hayes was just amazing, she made our ceremony one to remember! It all came together perfectly and she was a great fit ,not only with ourselves but with our kids also. Thank you so much Lori! Craig & Victoria May 2019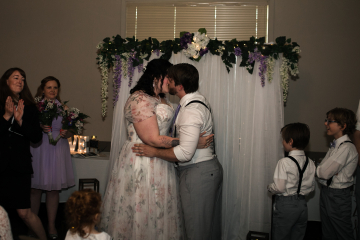 Scott & Jennifer
Lori Hayes, was absolutely amazing . She is extremely knowledgeable and helpful . She quick to respond to emails. The day of our wedding she keep both my husband and I calm and organized, she worked with the venue and out other vendors to ensure everything ran smoothly. We can thank Lori enough for everything she has done for us. Scott & Jennifer June 2019