Len Kahn
Len is not available for 2019 weddings. Len who lives in Guelph is a creative and compassionate person with strong public speaking and presentation skills. He is honoured to assist those seeking a unique, alternative or individualized way to solemnize their wedding vows. Len's goal is to be a caring and responsive facilitator, helping to make each couple's wedding day not only memorable, but spiritual and in their own 'voice'. Len's Jewish upbringing, marriage into a Catholic family, travels and education give him a wide perspective on different cultures and lifestyles. He is delighted to perform non–denominational, spiritual and interfaith marriages.
Request Len Kahn
Areas served
Guelph, Kitchener, Waterloo, Milton, Fergus, Elora, Elmira, Campbellville, Brookville, Carlyle
Reviews
Brit & Roger
Thank you so much!! Everything was so smooth getting our officiant and Len Kahn was wonderful on our wedding day! He was very professional, but also warm and friendly - he helped me calm my nerves while I was up there! I would definitely recommend him for anyone's wedding who wants their day to be special, memorable and stress free! Thanks again Len!
Kristy & Wes
Len Kahn was so welcoming, incredibly friendly and made us feel like family. We would absolutely recommend him to anyone we knew that was getting married. Any questions we had were answered, and any communication was friendly and fast. A friend recommended All Seasons to us, and we would definitely pass on the good word. Thank you!
Julie & Ben
Len Kahn went above and beyond made everyone feel relaxed and every at the wedding commented on how nice the service was. We combined two religions, Jewish and Anglican, and Len helped us incorporate both into the service. Thanks for making our day the best it could possibly be. We are thrilled to have met Len and have him officiate our wedding. Thanks for the memories.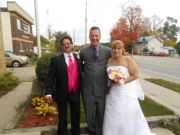 Jacquie & Bob
Thank you so much for helping us find Len (Kahn). With the trouble we had with our first officiant, Len stepped in eagerly. With only a few weeks to go before our wedding, he was professional, timely and ensured the transition was seamless. He was very much on top of everything and we felt completely safe leaving the ceremony in his hands. He took the time to learn a little bit about Bob and myself so the ceremony could be personable. We had requested a ceremony that was a little non-traditional in the sense of it being light-hearted, fun yet emotional. He took our wishes and ran with them. We are so pleased and grateful to Len for helping make our day so special.
Jen & Dexter
Len Kahn was amazing! Our original officiant had to cancel only a few weeks before our wedding and Len stepped in and took all of our worries and stress away. We met with him before the ceremony and trusted him right away. Many of our guests commented on what a great job he did. Thanks Len for making our day special and memorable!
Erlene & David
Len Kaht gave us lots of information in regards to the ceremony. He has a wonderful presence and a few of our guests thought we knew him personally. Thank you so very much Len