Leigh Cooney
Leigh knows how hard it is to find a wedding Officiant who will provide you with a unique wedding ceremony you and your guests will always remember affectionately. This is why Leigh will work with you to discover what makes you an individual, so that your ceremony is reflective of your interests, beliefs, and background, while universal enough to appeal to everyone. Leigh was born in Ireland, but has lived with his family in Canada for most of his life. He now lives in beautiful Stratford with his wife and daughter. Not only is he a dedicated full-time dad, he is also a professional artist, and looks forward to bringing this sense of creativity to your big day.
Request Leigh Cooney
Areas served
Stratford
Reviews
Dan & Lyn
We specifically chose Leigh Cooney from the list of officiants you have listed on your site. We made arrangements to discuss our plans with him and all went so smoothly from there on in it was incredible. Leigh was most flexible with our ideas about a unique kind of day. He is a kind, intelligent and compassionate kind of person and that was truly evident in his helping us prepare for our May 15 wedding. While we knew we could count on him to help make our day special, our guests also commented on his amazing qualities. We would highly recommend Leigh to anyone looking for an officiant who is extraordinary in his role. Thanks Leigh!
Sylvia & Jonathan
Leigh Cooney was so friendly and put us at ease the moment we met him! The ceremony was perfect and everyone so complimentary - can't get any better than that! The staff was very helpful. I would definitely recommend Leigh to family and friends! Keep up the good work!
Elyshia & Johnathan
Leigh Cooney was very profesional and friendly, he did an excelent job, not the slightest complaint! Everything was very simple with quick response. We and our daughter are very pleased! Thankyou
Jennifer & Adam
We couldn't be happier about our decision to use Leigh Cooney as our officiant on our wedding day. Leigh was extremely kind and professional, but best of all he was personable and down to earth. Our ceremony was unique and heartfelt. We have received countless compliments about Leigh and our ceremony being "the most beautiful and personal ceremony we have ever had the privilege of attending." He meticulously catered each message to the whole-heartedness of our vision. Every person present was moved by his words and heartfelt delivery. Leigh offered us a ceremony that was unique and an honest breath of fresh air. Our ceremony was a very special and meaningful part of our day, and Leigh took the time to create a perfect and unforgettable moment....even better than we had imagined it to be! Thank you so much, Leigh! We know you will make many future weddings memorable and meaningful!
Victoria & John
Leigh Cooney exceeded our expectations! He was very professional and helpful. He provided us with a great ceremony script. We made some minor cuts and adjustments to it and he delivered it most excellently. It reflected our personalities and was the perfect balance of professional, intimate and humour deliverance. Our guests' attention was captured during the ceremony. We had immediate rave revues from everyone. Our guests commented that everything Leigh said was "us to a T" and he and the ceremony was the best they'd heard. We had perfect weather, sunny and 19 for our wedding at Golf's by the river. When Leigh mentioned the Honour of our deceased parents a very noticeable, warm breeze swept through. Several guests mentioned it!! It brings tears to my eyes. How'd he do that??! Thank you Leigh, it was great.
Robert & Kaylen
We specifically chose Leigh Cooney because "kind" was often a sentiment to describe Leigh. From our first meeting, we knew Leigh was the perfect officiant for us. Off the bat, he was light hearted and kind, cutting any semblance of discomfort. We had quite a few interfaith family issues going into the wedding. After meeting with Leigh, we felt like our ceremony was in great hands. He shared some of the not-so-great experiences from his own wedding, which made us feel like he understood exactly where we were coming from. He was also very flexible about tailoring the ceremony to what was meaningful to us. Many guests complimented us specifically on our ceremony after the wedding. We wholeheartedly recommend Leigh as a wedding officiant!
Tanya & Rastko
Leigh Cooney surpassed our expectations as an officiant. He was incredibly personable and accommodating from the moment we met. He offered gentle guidance to help up draft our ceremony script but we always felt like it was personal and not overly scripted. We feel that our values were truly represented at our wedding and we received so many compliments from guests on our ceremony and officiant in particular. We couldn't be happier with our choice to include Leigh in our special day. Everything was logistically clear from the time we chose All Seasons Thank you again to John and the staff at All Seasons for making this part of our wedding planning so seamless. A special thank you to Leigh for officiating our wedding and being a part of our marriage. We truly feel like we had a friend marry us and will look back with fond memories.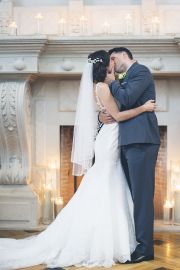 Jessica & Patrick
Leigh Cooney was exceptional. We was everything we had hoped for. He suited us and our personalities perfectly and couldn't have asked for a better fit. Everyone in attendance loved his ceremony. Very unique. The reservations staff were very helpful and accommodating. I would definitely recommend this company to friends getting married. It's better to find someone that suits you and your partoner then to have some one choose for you. Very personable and memorable. Makes your day special and unforgettable when you find that special someone .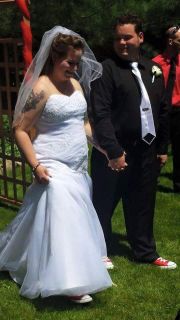 Kristina & Timothy
Leigh Cooney was an amazing and friendly officiant who truly understood what we wanted in our ceremony. He was a great source of information and helped calm our stresses. He was prompt in answering any questions we had. We highly recommend him to our friends and family. Thank you!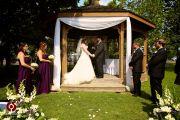 Sarah & Ted
Leigh Cooney was a perfect match for us, he was patient and kind. I would most definitely refer him to anyone!!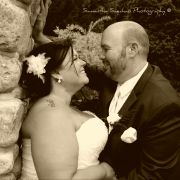 Brian & Dawn
The first time I met Leigh Cooney, I knew he was perfect! Being a couple over 50, we only wished for a very informal and comfortable ceremony. Leigh hit it! There was tears and laughter. We asked if our pug could be part of the wedding (as she is part of the family) and he made it even more special by wearing a pug shirt! Still wish to know where he got it! Everyone asked where we found him, this was one of their favourite weddings they have been to! Anyone who is lucky enough to get Leigh Cooney as an officiant will be pleased. He was professional and personable, and met all our wishes. Thank you so much Leigh and All Seasons for such a special day! Thank you all for making our special day! You all helped very much, everyone enjoyed them very much. We will pass All Seasons on to anyone. Being in our 50s, we are sure to have the young ones asking, since it was one of their favourite weddings. Again thank you very much!