Larry Lepack
Larry was recently voted by his peers as the 'Most Popular Wedding Officiant in Renfrew' at the prestigious international Wedding Industry Experts Awards. Larry and his wife live in Renfrew, ON. You will find him a caring, people-oriented person who is honest and dedicated to helping couples with their wedding ceremony. Larry is a father and grandfather, and he himself has been married 37 years. As a Designated Minister he was educated at Canadore College, North Bay, ON, he went on to spend a long and distinguished career helping others. Larry's hobbies include a good round of golf, curling, cooking and fishing. Larry is licenced in Ontario and Quebec and brings to the table a lot of life experiences to help couples celebrate your special day, your way! He is one of our most requested officiants in Eastern Ontario.
Request Larry Lepack
Areas served
Arnprior, Cobden, Haley Station, Pakenham, White Lake, Calabogie, Burnstown, Douglas, Eganville, Braeside, Dacre, Mount St. Patrick, Fitzroy Harbour, Renfrew County, Campbells Bay, Shawville, Horton, Pembroke, Mcnab- Braeside, Beachburg, Forester Falls
Reviews
Patricia & Claude
Our wedding was just what we hoped for. Thank you for your service. Larry Lepack did a wonderful job. Planning my wedding wasnt easy since it was 10 hours from where I live but finding All Seasons made my planning so much easier Thank you so much! Take care. I will definitely pass the good word forward.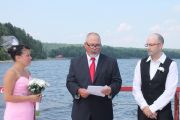 Tanya & Mike
Larry Lepack was awesome - and funny :) Thank-you!!
Sean and Allison
Hey Larry, Both Allison and I were beyond impressed with the wedding ceremony. We got compliments from everyone about how great it was. Even my extremely Roman catholic grandma was impressed!! Thank you so much again, and we will be referring you to anyone we can send your way! Thanks again,
Emily & Mike
Larry Lepack was fantastic, he was lovely to work with and made the ceremony component to our day memorable and in line with our vision.
April & Trent
Larry Lepack was an amazing officiant. He was very friendly and professional. Larry made sure that everything ran smoothly and we are so greatful that we had him to marry us. Larry was very helpful and I would recommend Larry's services to anyone. Larry exceeded out expectations as an Officiant.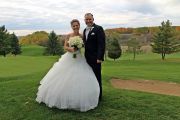 Paula & Pierre
Larry Lepack was wonderful!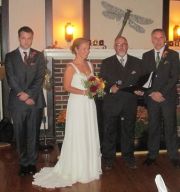 Tara & Warren
Larry Lepack was simply wonderful. He was genuine, friendly and professional. He made us both feel at ease very quickly. He was supportive and helpful during our planning meeting and our service turned out to be absolutely perfect for us. Larry is an all around lovely person that we were lucky to meet and who we would definitely recommend to others!
Jess and Adam
" Even though we were unable to meet Larry face to face before the ceremony; we felt very comfortable and natural with him as our officiant. He was calm and cool when it mattered and he made us laugh before our emotions could get the best of us. Overall he was very professional, passionate about his role in our day, and an absolute pleasure to work with! We would absolutely recommend him to friends and family."
Jason and Sara
Larry Lepack was simply amazing to work with, from the phone calls months before our wedding, to our pre wedding meeting in person, and of course on our wedding day, he was truly fantastic and helped make our day a perfect one! Larry had many suggestions that we would have not thought of on our own. Sara and I cannot thank him enough! I would highly recommend Mr. Lepack.
Kira and Mike
Our wedding would not have been the same without you Thank you for the endless love and support you have shown us throughout the years Much Love and Appreciation
Robyn & Ben
We got married on July 31 at Wilderness Tours. Larry was an amazing, kind, approachable, and professional officiant. I would recommend his services to anybody. He made himself available when we needed him, and went above and beyond mailing our certificates out and explaining how everything worked. I frankly can't believe how well priced he was for the level of service we received.
Erika & Patrick
On behalf of Patrick and I, thank you for officianting our wedding. You were an extremely professional and accommodating officiant who executed our ceremony flawlessly. We will definitely be recommending your services to family and friends. Thank you again and all the best.
Jessica & Kévin
We would like to thank you for helping us in one of the biggest days in our lives. We could not have asked for a better celebrant than Mr. Lepack. He provided an excellent service and we are very happy with the results. Thank you, Jessica & Kévin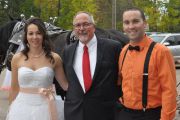 Hallie & Kenny
Hi Larry (Lepack), Thank you so much for everything!! You made our wedding special and a day we will never forget! Thank you for everything you have done for our ceremony it was perfect! You are truly an amazing officiant! Thank you for the wishes :) Hallie & Kenny 09/24/2016
Trish & Jason
Both of us wish to extend a heartfelt "Thank you!" to Larry (Lepack) for agreeing to officiate our wedding. Right from the beginning we felt completely at ease with him in guiding us on our journey. Professional, polite, funny and extremely helpful, Larry contributed in a big way in helping to create the perfect ceremony for us. We cannot say enough about how great Larry was and will recommend him to anyone in the area searching for "the right" officiant! THANK YOU! ~Trish & Jason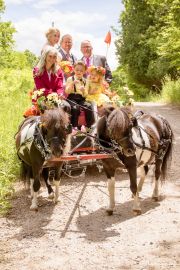 Ali & Ed
On 20 May 2017 Larry Lepack officiated our wedding. Larry spoke so eloquently and with so much love and affection. He captivated our guests and they hung onto his every word. He was very professional, kind, laid back, calm and certainly organized. Larry was also extremely helpful leading up to the wedding and was always available if we had questions or if we wanted to change something. He was also very helpful when writing our own vows. He made the process less stressful with being open and understanding and he was also very flexible and we cannot thank him enough for allowing our best friend to assist him in the officiating. My husband and I could not have asked for a more perfect wedding and we owe that largely to the amazing job Larry did. Without a doubt we would recommend Larry Lepack to anyone who is looking for an officiant. He is a genuine soul and my husband and I are lucky to have him part of our day. Thank you Larry from the bottom of our hearts! Ali & Ed
Karrie & Evan
Larry Lepack immediately put us at ease and had all the answers to the many questions we had. He listened to what we wanted so he could deliver the most amazing ceremony and we couldn't have been happier with the outcome. He even had the tissues ready when happy tears flowed. Even our family and friends have been gushing about how the ceremony was so us and how friendly Larry was even after the ceremony was finished. We couldn't be happier with how our married life began with lots of smiles and laughter! Thanks again Larry. Your awesomeness totally shined through in everything you did 😊 Karrie & Evan Nov 2018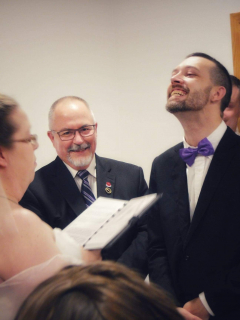 Kelly & Adam
Larry Lepack was absolutely fantastic! He was well prepared, spoke clearly, and was funny! I would definitely recommend him to anyone. He made the ceremony part of the night feel special and magical. He worked with us to ensure that the ceremony was exactly what we wanted. Again, I can't recommend him highly enough. Kelly & Adam Dec 2018