Kim McCrory
Kim was born and raised in Cobourg, and now calls Roncesvalles Village in Toronto home. She loves being part of the All Seasons Wedding team, and working with couples and performing their meaningful and memorable ceremonies. Kim holds a Bachelors of Arts in Global Development Studies from Queen's University, a Bachelors of Education in experiential, outdoor education from Lakehead University, and a Masters of Social Work from the University of Toronto. She is open minded and energetic, and is happiest when outdoors, (her favourite wedding location), exploring and surrounded by friends. Needless to say, Kim would be overjoyed to conduct your wedding ceremony in the location of your choice.
Request Kim McCrory
Areas served
Toronto, Roncesvalles, High Park, Downtown Toronto, Little Italy, Annex, Liberty Village, Beaches, Rosedale, Leslieville, North York, Etobicoke, Scarborough, Oakville
Reviews
Brad & Adrian
Kim McCrory was absolutely wonderful. She helped us plan a ceremony that received a lot of rave reviews from our family and friends. She was always there to help guide us during the legal process of getting married. We were both extremely happy that she was a part of our day and I would highly recommend her to anyone.
Roxana & Cesare
We had an extremely positive experience with All Seasons and more specifically with Kim. I was amazed at how easy it was to find the right person for us using the descriptions provided of each officiant, how easy it was to pay and the immediate communication from staff. Kim did a great job of choosing a text for our vows about love. We enjoyed it and were happy to be officiated within the intimacy of our own home. Thank you All Seasons.
Torie & Reed
Kim McCrory is a fantastic officiant, very easy to work with and made the wedding run smoothly and effortlessly! August 11th, 2018
Caroline & Scott
Kim McCrory went above and beyond our expectations. She was lovely and friendly and very helpful. I wanted the person to marry us to feel like it was being performed by a friend and that's exactly what we got. She was like a friend with the professionalism of a pro. August 25th, 2018
Gregory & Stefanie
Kim McCrory was so lovely in person and incredibly helpful throughout the process! She went out of her way to be present for all of our questions and to offer us as much information as possible. We got along with her right away. At our intimate ceremony, she struck the perfect chord of friendliness, ease, and warmth. Highly recommend working with Kim! [September, 2018]
Lina & Zaid
We met with Kim McCrory in our pre-wedding meeting and she came so well prepared. She offered great suggestions and was able to incorporate our ideas seemlessly. With the personal touches we were able to add in to our wedding, people can't stop talking about it. [September, 2018]
Amy & Kenneth
Kim McCrory is a true gem. She has a wonderful personality and ease about her that made the whole process as stress-free as humanly possible. And on our big day, she was on point. She was helpful, vibrant and didn't miss a beat. Kim was so comfortable and warm during the ceremony, that more than one of our guests assumed she was one of our friends – and we heard many more glowing comments from our guests. Thanks again Kim! Amy & Kenneth Oct 2018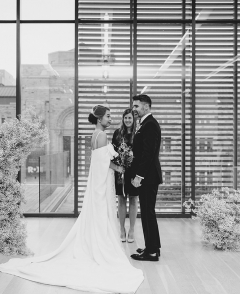 Michaela & Nicole
We are so thankful that Kim McCrory was able to officiate our ceremony! It was a small ceremony with just my wife and I, but Kim made it just as special as a big wedding. She cared about what each of us wanted for the day and took the time to get to know us. I highly recommend having Kim officiate your wedding. She is sweet, thoughtful, and funny! Thank you Kim! Michaela & Nicole May 2019
Michael & Michelle
Kim McCrory surpassed our expectations. She was always available when we needed her or had questions. We rewrote our vows; non-traditional, Kim agreed to say what we had chosen and made it fun for all of the guests. Kim was friendly and all of our guests enjoyed her presence. We would highly recommend Kim for future events! Michael & Michelle August 2019