Kerry Fong-Jean, BA
Kerry lives in the Glebe in Ottawa and loves the natural beauty of Dows Lake and the parks and paths as well as the kindness of the community. She has previously held careers as a Primary School Teacher, Flight Attendant, B & B Owner/Operator, Senior's aide, and she is a Reiki practitioner, Reflexologist and Certified Celebrant . You won't find a warmer people person who goes out of her way to help others in any way she can. She loves nature and would be pleased to conduct your spiritual, interfaith or same-sex wedding ceremony in a garden, forest, or cottage setting if that appeals to you. She looks forward to creating the day of your dreams with you.
Request Kerry Fong-Jean
Areas served
Ottawa, Orleans, Kanata, Stittsville, Nepean
Reviews
Lindsay and Alana
Our wedding would not have gone so well without the genuine guidance and support that Kerry (Fong-Jean) offered us. We knew right away that she was the perfect officiant for our wedding since she made us feel at ease and this is what we were looking for on our special day. Kerry is one of those people who everyone can relate to and has a natural way of making people feel comfortable in her presence. Throughout the planning phase, Kerry was very organized, professional, and willing to help us in any way she could. So many of our friends and family had wonderful things to say about Kerry. Once you meet Kerry you will know exactly what we mean. Thank you, Kerry! Lindsay and Alana April 30th, 2016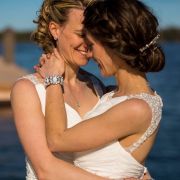 Connie & Julian
Kerry Fong-Jean did a great job. Many of our guests remarked how fantastic or ceremony was. Thanks very much
Sarah & Eric
Kerry Fong-Jean was wonderful and was willing to take a boat trip across a lake to perform our ceremony in the perfect place for us! Thank you Kerry!
Breanne & Ryan
Kerry was the perfect officiant. She was extremely easy going, positive, encouraging, and flexible. She encouraged bringing a positive energy to the day. The week before the wedding when we met, I had come down with a cold. Kerry came back that evening with oil of oregano for me. So sweet and extremely kind. Additionally, on the day of the wedding there was water on our dock where we were getting married. We asked if she would do the ceremony bare foot and she did. :)
Alyse & Alex
Kerry Fong-Jean was very warm and personable. She demonstrated a quiet leadership during the rehearsal and was instrumental making this process go very smoothly. Kerry was a very welcomed addition to the wedding ceremony and we could not have asked for a more efficient and welcoming officiant. We were thrilled to have Kerry as our officiant and would highly recommend her to everyone!
Ashley & David
So many of our guests came up to us in the night saying how much they enjoyed our ceremony. How Kerry was great at engaging everyone and keeping our nerves in check. We brought our own ceremony wording to use and Kerry did an amazing job with it. Very very impressed.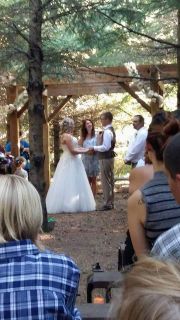 Courtney & Matthew
Kerry Fong-Jean was amazing. She made our day that much more beautiful.