Kathleen Baird
Kathleen is one of our experienced Wedding Officiants, helping couples with many different types of weddings in the Toronto area. She has been an Officiant for Wiccan, Christian, Buddhist, Muslim, same-sex, non-denominational and spiritual wedding ceremonies. These wedding ceremonies were held in Country Clubs, backyards and basements, Hotel Meeting Rooms, Provincial Parks and Convention Centers. Kathleen is very flexible at helping you choose the kind of ceremony to fit your image of the wedding of your dreams. She loves travel (bungee-jumping in New Zealand, Caribbean cruises, hot air ballooning in Australia) and meeting new people. She would love to meet YOU to help you with your special wedding day.
Request Kathleen Baird
Areas served
Toronto, Concord, Georgetown, Vaughan, Etobicoke Mississauga, Brampton, Oakville, Bolton, Woodbridge, Kleinburg, Port Credit
Reviews
Eva (Mother of the Bride)
Kathleen Baird I wanted to thank you for the absolutely beautiful and spiritual wedding ceremony you preformed on Sunday. I had a bad case of nerves and exhaustion, but the moment that you lit the incense, a perfect calm floated over the garden and a tremendous feeling of well being came over not only me, but everyone present. In your own magical way, you were able to symbolize the profound love that exists between these kids... to make all of us really see it. Butterflies not only hovered over their heads, but one actually landed on the Apache Wedding Blessing as I read it. The old black dog Midnight lay contentedly between them and barked at the end of the ceremony. It was the most moving and the most beautiful wedding ceremony that I have ever been to and everyone else kept telling me the same.
Robert & Raphaela
We were very happy with all that Kathleen Baird did, not only with her suggestions before the event but also with her punctuality and total professional demeanor. From our initial contact with All Seasons, we were thrilled with all aspects of the staff. Being from what is now commonly referred to as "old school", it certainly was refreshing to deal with a staff that was not just out to make a sale, but also to get a customer! We would refer All Seasons without hesitation. Our thanks could not be more strongly stated for the excellent job the Kathleen did to help us have the ceremony we wanted. It all went very smoothly and we couldn't be happier. Thank you all for your professionalism and assistance.
Maggie & Shane
Kathleen Baird was lovely, accommodating and intuitive, and drew on her wealth of experience and insight to create a ceremony that was intimate and memorable. Truly a pleasure! All Seasons bent over backwards to accommodate us and were helpful and courteous throughout.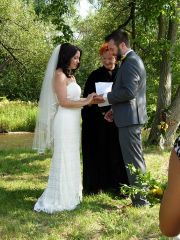 Antonios and Nikoletta
Kathleen is a bright ,warm, focused,serious,professional with a beautiful smile! We are very happy that Kathleen performed our ceremony as she is an expert and has wiccan-pagan knowledge! Her presence and the way that she performed our ceremony made us and our guest to enjoy and live fully this unique moment of our life! Kathleen is authentic!! Thank you!
Patricia & Peter
Kathi Baird was amazing. We wanted a short but meaningful ceremony and that is exactly what she provided us. She was professional, arrived early and took the stress off of us. Your services cater to anyone getting married. We would definitely recommend All Seasons to others. Our guests and parents commented on how well done our ceremony was. Thank you so much to Kathi. Who was available for any questions leading up to our day. She made the ceremony organized and run so smoothly
Tracy & Fabian
Kathleen Baird was very friendly and accommodating!! She answered all our questions and customized the ceremony to our wishes. On our wedding day she was very professional and made us feel comfortable. We were confident that the service would go smoothly and it did!! Thank you Kathleen!!!!!
Alison & David
Kathleen Baird was amazing! Very attentive to our needs and the ceremony was so beautiful!! You helped me find the perfect officiant for our wedding and everyone was very responsive.