Karen MacPherson Clark
Karen welcomes the creativity of couples for developing their "personal memory moments" for their wedding day as a symbol of their commitment to the relationship. She is one of our most requested wedding officiants and is quickly becoming affectionately known as "The Lady of Weddings" with All Seasons Weddings. Karen delights in the diversity of others beliefs, Karen looks forward to sharing this very special and cherished time with you as you express your love for each other. Formerly in the educational field, Karen's career is that of an Energy Therapist utilizing Reiki, Bio Genesis and EFT, to help bring calming healing to mind, body and soul. She loves being a member of Toastmasters, singing and going on walks with her husband. Carpe diem!
Request Karen MacPherson Clark
Areas served
Fergus, Elora, Belwood, East Garafraxa, Orangeville, Hillsburgh, Eden Mills, Rockwood, Ponsonby, Eramosa, Guelph, Arkell, Maryhill, Breslau, Rosendale, Bloomingdale, Maryhill, Ariss, St. Jacobs, Elmira, Conestogo,Floradale, Mount Forest, Arthur, Grand Valley, Kitchener, Waterloo
Reviews
Bunny and Rodney
Hi Karen (MacPherson Clark) We couldn't be happier with our decision to have you as our wedding officiant and felt an immediate connection with you from our first meeting. After the wedding, so many friends and family commented on how lovely you made it for us. It felt comfortable and fun but still formal and professional. You truly have a gift Karen and we are grateful to have our path cross with yours on such a special occasion. Many many thanks.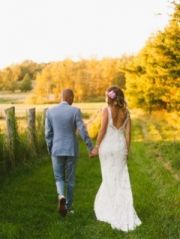 Henna and Kyle
We have nothing but good things to say about Karen. She was our wedding officiant in May when we got married in Breadalbane inn in Fergus. Me and my husband Kyle wanted a simple but very memorable wedding and Karen really delivered that. My parents (in Europe) couldn't be there but Karen came up with the idea of having them part of the wedding via Skype. We had an IPad on the table so my family could see the ceremony. Thank you again Karen for being part of our special day!!! Could not have asked for anything more!. - Henna and Kyle -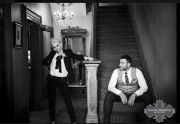 Mac and Bev
Karen (MacPherson Clark), Thank you so much for sharing our day with us on Saturday, the wedding ceremony was beautiful, and you did such a great job. Thank you for making me feel so calm. Thank you again!!!!
Erin and Christian
Hi Karen (MacPherson Clark), Thank you so much for being a truly wonderful officiant on our wedding day. Your kindness, resourcefulness and calming nature were much appreciated. Christian told me how great it was to have you up there with him reminding him to breath :) With your help and guidance, we were able to create the perfect wedding ceremony. It is a day that neither of us will ever forget. Thank you for making it truly memorable.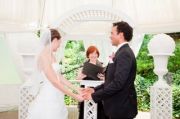 Wayne and Lori
After meeting Karen MacPherson Clark we knew for sure she was the one we wanted to marry us. She was friendly and upbeat... and after we explained that we wanted to have a redneck/cowboy wedding that was to be fun and light hearted, she enthusiastically jumped right in! She showed up on the wedding day compete with jeans and a cowboy hat! Our vows were to be cute and funny, not serious, with no religious tones. She delivered on that as well! She had the guests stand... and then holler out a good "Yeh Ha!" She even brought a rope for the bride to "lasso" the groom with. To sum it up... we were delighted with Karen and would heartily recommend her to anyone wanting an open minded person to wed them, a person that is very willing to provide this service the way they want their day to be. Our deepest thanks to Karen and our kindest regards always.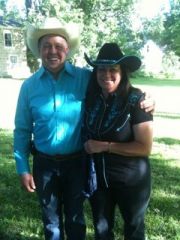 Kayla & Scott
Karen MacPherson Clark was so helpful. She was always willing to answer last minute questions. She made the whole process fun and exciting. During the ceremony she was so relaxed and made the whole day so light. Thank you Karen for making our ceremony fun relaxing. Us laughing during our vows will definitely be a memory we will keep forever!
Jen and Tyler
Tyler and I got married this past Thanksgiving weekend. When we found out Karen(MacPherson-Clark) was an officiant we thought she would be the perfect person to marry us as she had known us since we were kids. Karen was so sweet to deal with. She made us feel so comfortable and made the process a breeze. Together we came up with the perfect ceremony for us, I couldn't have been happier. Our day was perfect, there was nothing I would have changed. Our dreams came true that day and we are so glad Karen was a part of it. We will be sure to recommend Karen to any of our friends or family getting married in the future. Thanks again Karen. Love the happy couple, Jen & Tyler
George & Jennifer
Jen and I were extremely pleased with the services provided by Karen (MacPherson-Clark). From our first meeting to the wedding day itself , Karen put us at ease and offered great advise and suggestions for the wedding ceremony. We wanted a stress free, laid back approach to our wedding day - and Karen provided this throughout the whole process ending in a beautiful, special day in an intimate setting outside at the Elora Gorge. Thank you Karen~! George & Jennifer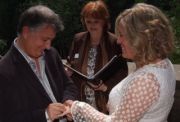 Rhonda and Michael
Karen was a pleasure to work with and we would highly recommend her to anyone. We had lots of unusual requests for our ceremony and Karen rolled with each one of them! She made the process simple and fun, and her easy-going nature made our wonderful wedding day even more perfect. She was exactly what we were looking for in an Officiant and we couldn't have been happier. Thank you so much Karen!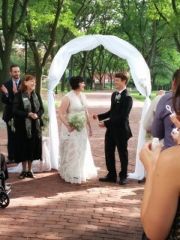 Jackie and Scott
"We were hoping to find an Officiant that would be flexible, warm, open, and fun. We were so happy to have Karen help us with our wedding ceremony! She was absolutely wonderful! She was everything we were looking for and more! From our first time connecting to our beautiful wedding day, Karen was knowledgeable and helpful. She made planning our ceremony so easy and stress free. We are so happy that Karen could be part of our day! Family and friends who attended our wedding all made lovely comments about our ceremony and most of them were brought to tears! Karen took the time to get to know both of us and worked in our 'Story' and humour. Thank you again for all you have done for us and for joining us on our special day!"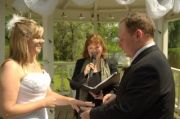 Gary and Beryl
We chose Karen to officiate at our wedding on 13 July 2014. We were very happy with the service she provided, giving us many options and yet willing to give advice when needed. Our wedding was very small and casual and Karen's presence complemented the mood. She was friendly and charming in a quiet, non-intrusive way. Many guests commented on what a perfect job she did. We would recommend Karen as a great Officiant to anyone planning a wedding.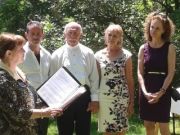 Heather and Kris
Thank you for making our wedding ceremony so special and memorable. You were able to capture our love for each other in words we could not describe ourselves. We were so happy to have met you and loved having you be a part of our special day.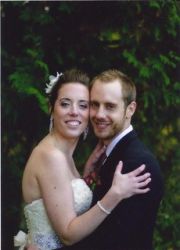 Djurdjica & Jeff
Thank you All Seasons Wedding for connecting us with Karen MacPherson Clark ! Karen was wonderful and made our day very special. She did exactly what we asked for and hoped for Thank you very much Karen
Laura & Oskar
Karen (MacPherson-Clark), the ceremony was done so beautifully. I chose well when I chose you. I heard so many words of praise about you. Thank you so much for helping to make our day as meaningful and filled with love as we wanted it. Thank you again so very much!
Derek & Caitlin
We enjoyed working with Karen (MacPherson-Clark) for our July 2015 wedding. She was very accommodating and open to our ideas about having a simple yet unique wedding ceremony. Karen was a pleasure to work with and we would highly recommend her to anyone. Thank you! Derek & Caitlin Photo provided by: love sprouts photography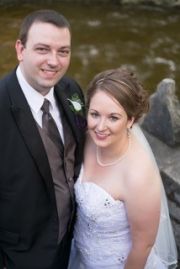 Nicole and Jordan
Hi Karen (MacPherson Clark), Our wedding day went seamlessly thanks to you. Everyone enjoyed the day with a sweet and simple ceremony that was filled with emotion and love. You put us at ease and made sure the ceremony went off without of hitch - except of course, ensuring we got hitched! We were extremely happy with you and would definitely recommend her! The entire process from the initial meeting to saying "I do" was seamless and enjoyable. Thank you for everything! Nicole and Jordan Aug 22nd, 2015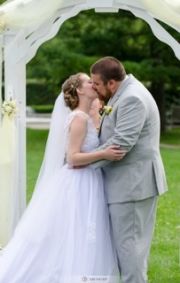 Josh and Becky
We decided to use Karen (MacPherson Clark) as our wedding officiant after reading over all her information and other couples reviews. We are very glad that we did because working with Karen was fun. She made the process of picking a ceremony smooth, easy, and something that was completely ours. It was perfect for our outdoor wedding. Our day was perfect and wouldn't have been the same without Karen 's ideas and her presence. Karen it has truly been a pleasure working with you. Josh and Becky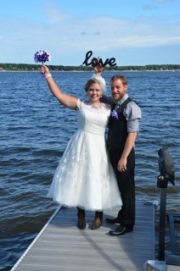 Djurdjica&Jeff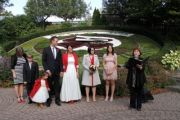 Janet and Chris
Dear Future Brides and Grooms to be: My husband Chris and I recently got married on Sept 12th, 2015. Karen came very highly recommended to us by a well known couple in town and also by means of social media. Our first meeting with Karen was very impressive. She was very calm and professional. We aren`t very religious people but Karen made us feel completely comfortable with our choices. She suggested some fun ways to keep things personal and interesting by incorporating running, our favorite hobby, into our ceremony. Karen has a very loving attitude towards her job as wedding officiant, and I am confident she will make your day as special as she made ours.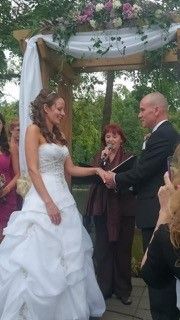 Sean & Erica
It is our sincere pleasure to recommend Karen McPherson Clark from All Seasons Weddings. Karen was our wedding officiant for our legal ceremony held in Elora Ontario in January 2016. Karen was professional and a pleasure to work with. She was incredibly efficient and made us feel comfortable and informed during the entire process leading up to the wedding and of course on the day of. I would highly recommend Karen and All Seasons Weddings, for any official wedding needs without hesitation.
Blair and Clayton
Hi Karen, I just wanted to say how amazing you were to work with! You are very professional and fun at the same time. It was nice that you gave us a lot of freedom with how we wanted our ceremony to go. It was of course also pretty awesome that you knew Clayton and some of our wedding party when they were younger too :) that made it even more special. We both felt very comfortable meeting and talking to you about our wedding. Thank you for the great work and making our wedding so special ❤️
Poorva and Endre
"We were married near Fergus in the summer of 2015, and had the pleasure of Karen officiate at our wedding. Karen, thank you so much for your patience and last minute support for helping us create a ceremony that was wonderful and unique. We wanted an intimate and inclusive ceremony where all of our family and friends could get an opportunity to support our marriage - and with Karen's help, we were able to create just that. We had guests walk up to us and share how moved they were with the sand ceremony and the readings on the value of marriage. Thank you so much for guiding our community together!"
Nicole & Sean
Karen (MacPherson Clark) helped us plan the perfect ceremony for our August 2016 wedding at the Aberfoyle Mill. From our first meeting to the day of the wedding Karen was a pleasure to work with and made sure everything ran smoothly. We were both a little nervous but Karen was able to put us at ease and made us laugh while delivering an intimate and laid back ceremony. Many of our guests commented on what a beautiful ceremony it was and how Karen made everyone feel included. We would highly recommend Karen to anyone looking to get married. Thanks again Karen for helping to make our wedding day special!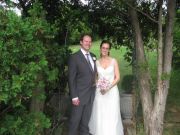 Jenna and Jeff
Karen, Thank you so much for performing our non-traditional, customized ceremony. It meant a lot to us to have a ceremony that best represented our true selves and we definitely did that! Thank you! Jenna & Jeff Patrick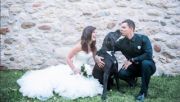 Kathleen and Christian
"Karen was a wonderful officiant. Planning the perfect ceremony – especially when looking for something out of the box – can sometimes feel overwhelming. Karen was instrumental in guiding us through the process and ensuring all of our needs were met! Thank you for helping us create such a special day."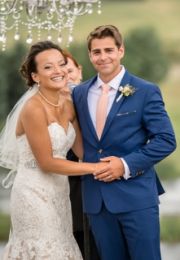 Elizabeth and Terry
Hi Karen, Thank you so very much for marrying Terry and I. Your service was so lovely, natural, and sincere. I am so glad I found you :) My apologies for not saying good bye I was caught up with pictures and guests. Thank you for being you and contributing to making our wedding so special and memorable. Warmest Regards, Elizabeth and Terry Xo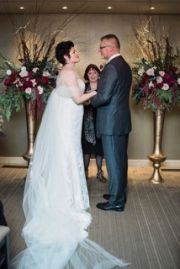 Candice and Zach
Karen, thank you so much for writing such a beautiful ceremony for us. You put our ideas together seamlessly and we cannot thank you enough. Candice and Zach
Meghan and Dwayne
Karen (MacPherson Clark) was a great choice for Dwayne and I. She tailored the ceremony to us and made the entire process very easy and stress free. It was a great day and one that we will remember always. And Karen was a big part of that! Meghan and Dwayne
Elizabeth and Terry
Karen (MacPherson Clark) is such a wonderfully warm, respectful, and caring woman. Karen provided us helpful information to create our wedding ceremony and guided us through the process leading up to the wedding day. Karen is versatile and can accommodate any style of wedding you want to create. On our wedding day Karen showed up full of warmth and smiles. She made us feel so comfortable and genuinely enjoyed marrying us and sharing in our sacred celebration. She provided Terry and I with a ceremony that was loving, natural, personable, and reflected our personalities. We trusted Karen immensely. Elizabeth and Terry
Dani and Kevin
Karen MacPherson was absolutely amazing to deal with! She was bubbly and fun and fit in well with us so nicely! She made our day that much more special! :)
Eve and Nick
Hi there Karen, Now that the dust has settled a little bit, Nick and I wanted to thank you from the bottom of our hearts for making our wedding day so unbelievably special. Not only did you help us out in a pinch, you did it with such poise. You made us feel so comfortable, which allowed us to be our true selves during our wedding ceremony. Evidence of this is shown in the beautiful photo that we have attached for you. We could not have asked for a better day. We really hope to run into you sometime soon. Thank you so much again. Sincerely, Eve & Nick Serafini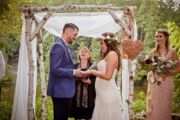 Quintin and Heather
Karen (MacPherson-Clark) is a fantastic Officiant that works very hard to really customize your wedding ceremony to which ever way suits you best. She supports all of your ideas and needs, and will answer any questions you may have. She is extremely articulate and is genuinely excited to be part of your special day! Thank you so much for making our wedding absolutely personal and amazing!
Peter & Alex
We couldn't have been happier with the way our big day turned out. We would recommend Karen (MacPherson Clark) as an officiant.
Samantha & Dave
We have recommended your services to everyone we know that is engaged! Thank you so much for making our day so wonderful, we will forever be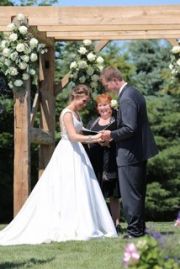 Karen (MacPherson-Clark) was such a pleasure to work with. From our first phone call, we knew that she would be the perfect fit for our day. She gave us the information we needed to really create our own ceremony, which we wanted to be light hearted and full of humour. Many people commented that they felt like we had known Karen for a long time, because she is so warm and genuinely sincere. Thank you Karen for helping us with a perfect ceremony. It was by far our favourite part of the day!!
Ashley and Matthew
My husband and I were lucky enough to have Karen (MacPherson Clark) officiate our wedding on June 9th, 2018 at Hockley Valley Resort. When I first contacted All Seasons Weddings, they replied promptly and with enthusiasm. I was provided with Karen's name and contact information, and we set up a time to meet. Since we lived in Sudbury, Karen accommodated us via FaceTime. I had also spoke with a few other officiants from other companies, however, as soon as I heard Karens sweet voice and saw her smiling face, I knew she was the one we were looking for to marry us. She was flexible and accommodating throughout the whole process. She provided us with an outline for the ceremony, and then helped us to adapt it to our style. We were stuck on which readings to have for our ceremony and she had many suggestions to choose from. She met us at the resort the Friday evening prior to the wedding for a rehearsal, and she made it fun and light hearted. The day of, she was there well a head of time, and welcomed our guests before we arrived. We had many compliments on the ceremony, which was simple, romantic, and fun. We would definitely recommend Karen!! Thank you so much again!! Ashley and Matthew