Karen Bass
I live in Azilda, but I serve the whole Sudbury area. On your special special day, together, I'll help you create a ceremony that speaks about you, about your relationship and about the love you have for each other. Every couple is important and I want your non-denominational or spiritual wedding ceremony to be exactly as you hoped. I am experienced working in public with a strong voice and people tell me I have a gentle sense of humour. I would be honoured to be a part of your great day.
Request Karen Bass
Areas served
Azilda, Blezard Valley, Capreol, Chelmsford , Coniston, Copper Cliff, Dowling, Estaire, Falconbridge, Garson, Hanmer, Levack, Lively, Naughton, Onaping, Skead, Sudbury, Val Caron, Val Therese, Valley East, Wahnapitae, Whitefish
Reviews
Paul & Carole
The new hubby and I would like to thank you again. What a great wedding day we had and it was a big thanks to you performing our beautiful ceremony. This memory will last a life time and we are going to a happy couple for 60 more years to come. Just writing this us making me cry. We couldn't have asked for a better wedding officiant. With all our happiness
Chelsea & Denis
Karen Bass was kind and warm and wonderful. This whole process has been easy and worry free. Karen was so wonderful!
Brennen and Stacey
Hey Karen (Bass)! I wanted to thank you again for the awesome ceremony. You really were a big part of what made the night awesome. And for that, we will always be grateful. Brennen and Stacey 01/30/2016
Laurel & Richard
Karen Bass was a breath of fresh air, we truly enjoyed her sense of humour and her perfect words, Thank you Karen... you made a special day a lttle more special.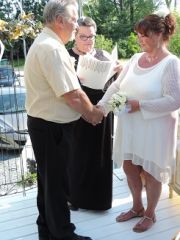 Arlene & Mike
Karen Basswas absolutely fantastic. She was there before we arrived and explained everything thoroughly. What a wonderful person with a personality that meshed with ours
Stacey & Glen
Karen Bass was fantastic. We couldn't have asked for anyone better! She was very helpful and made us less nervous when we got up to the altar! Couldn't have asked for a better day!