Joel-Jean Beauchemin
Joel-Jean is a young, dedicated and personable individual and professional who is currently living in Limoges. He is a strong communicator in both official languages. Most of all he is very creative, has excellent interpersonal skills, and laughs easily. He is also a professional actor, host, facilitator, and stage person, and he draws upon his creative talents and passion in that artistic realm as he goes about his daily life. He has university degrees in communications, theater arts (incl. arts management) and organizational development and analysis. Finally, Joel-Jean is also a part-time professor at a community college. He would be more than pleased to help make your special day a memorable one!
Request Joel-Jean Beauchemin
Areas served
Ottawa (Central), Ottawa (East), Limoges, Embrun, Vars, Orleans, Navan, Rockland, Crysler, Russell, Bourget, Hammond, Casselman, St-Isidore, Plantagenet, Maxville, Carlsbad Springs
Reviews
Chantale et Eric
Je te remercie énormément Joel-Jean! Tu étais exceptionel et justement ce que nous recherchions. Merci encore mille fois''
Olayou et André
'Bonjour Joel-Jean! Merci à toi pour cette belle cérémonie. Tu as plus que su répondre à nos attentes! D'ailleurs, nous avons reçu tellement de compliments pour toi! Tout le monde a aimé la cérémonie et tout le monde trouvait que tu étais vraiment bon. Ils ont tous aimé ton sens d'humour et ton professionalisme. Merci Encore!
Malaika & Luc
Joel-Jean Beauchemin was extremely informative and helpful when it came to preparing our ceremony! We had great meetings with him in person and via skype! We would definitely recommend him! Thank you for providing such great service!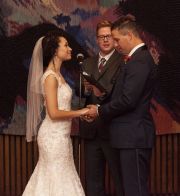 John & Ismenia
Hi JJ, We would like to thank you for all your help and inspiration in preparing us and conducting our wedding ceremony. You are a wonderful person as well as a super officiant - we are happy to know you :) Again, thank-you for everything. Sincerely, John & Ismenia
Jessie & Morgan
Hi JJ ! Thank you so much for being a part of our special day. You did an absolutely amazing job! Jessie & Morgan
Emilie & Steve
Hello JJ, Thank you so very much for everything! You were such a hit. Everyone said how much they loved you. We had an spectacular day. Love, Emilie & Steve Aug 22nd, 2015
Marc & Sheryl
We would like to thank Joel-Jean (Beauchemin) for performing our wedding ceremony. He was very pleasant to deal with and he made the preparation to our wedding more enjoyable. We appreciate his enthusiasm and professionalism. Thank you for all your help. Marc & Sheryl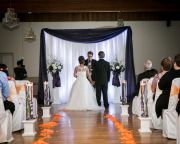 Cynthia & Nicolas
JJ (Beauchemin) was the fantastic officiant for our wedding last Saturday. In the months leading up to the wedding, he took the time to really get to know both of us, helped us create the perfect wedding ceremony and made us feel ready for the big day. He was professional, very well spoken and always had a smile. Everyone loved the ceremony. We will definitely be recommending him to other couples. Thank you JJ.
Jessica & Michel
Joel-Jean Beauchemin etais formidable! Tres professionelle! Il nous a mis a l'aise toute suite en commencant a apprendre a ce connaitre! Je le refererais a nimporte qui! Merci JJ pour tout!
Suzie and Clark
We want to thank you, Joel-Jean Beauchemin for a beautiful wedding ceremony. You made us feel at ease and were very professional. You were very helpful with suggestion for our ceremony. You were very wonderful and a great person to work with. We would highly recommend you to any couple looking for an Officiant. Thank you JJ for making our special day go so smoothly!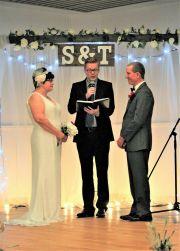 Mike and Anne
Joel-Jean was the perfect officiant for our wedding and exceeded all of our expectations in every way. Joel-Jean possesses an engaging personality, a natural passion and enthusiasm for his role as officiant and a true desire to ensure that we had the exact ceremony that we were hoping for. His ability to listen attentively and to provide thoughtful guidance and assistance as needed allowed us to feel confident that everything was going to be perfect…and it was. Our ceremony was very small with just us and our 4 daughters (not an easy job for him I'm certain) yet Joel-Jean was able to "fit right in" and create an incredible, moving experience that we will remember always. Mike and Anne