Jenna Jacklin
Jenna is this year's recipient of the prestigious Wedding Industry Experts Award as voted by her peers, as Canada's most popular new Wedding Officiant in Sudbury. "Love doesn't make the world go round, it makes life worthwhile" (Franklin P. Jones). Jenna believes that uniting two people in love is an honour. She has a passion for creating memorable ceremonies which can incorporate each couples unique style. She can best be described as open-minded, funny, kind-hearted and fun-loving. Whether you are looking to incorporate humour or romance into your ceremony, Jenna can help you create the ceremony of your dreams. Experienced with traditional, contemporary, intimate or formal weddings, Jenna can help you customize your wedding day to suit the needs of you and your partner.
Request Jenna Jacklin
Areas served
Capreol, Hanmer, Val Caron, Valley East, Azilda, Chelmsford, Garson, Lively, Copper Cliff, Sudbury, Levack, Onaping, Dowling, Val Therese.
Reviews
Kylie & Andre
Jenna Jacklin is fantastic! She was warm and friendly right away and made us both feel very at ease. She was exactly the personality I was looking for. I'm 100% satisfied and would have no problem suggesting All Seasons and Jenna's services to anyone I know looking to get married. This whole process was very seamless. It was the ONLY thing in all this planning that didn't cause me a headache. Thank you very much for everything!
Matt and Melissa
Jenna Jacklin was a wonderful officiant on our wedding day! She was such a pleasure to work with and made us feel at ease at all times. She is very professional and at the same time, very easy-going. Her bubbly and energetic personality was a huge hit with our family and friends. Many people commented on the excellent job she did. I would recommned Jenna to anyone getting married in the future! She is amazing! Thank you Jenna for making our day so speical and memorable. You really set the tone for the ceremony we wanted!
Nikole & Mark
Jenna Jacklin did more than meet our expectations. She helped us develop the flow of the ceremony and suggested various options to make everything seamless. Given the fact that the ceremony was a surprise to our guests, Jenna played the part very well and even got family and friends to help build our aisle out of pumpkins! I am so, so happy that Jenna was with us on our big day. From all the help that she gave us to her interaction with our families, she was a jewel! The office staff was great. I had actually put down the wrong year when I asked to have Jenna as our officiant and the office staff got on it right away after I called to ensure we got everything booked in a timely manner. Everybody thought our ceremony was lovely and appreciated that it wasn't the traditional wedding vows and traditions. I have already referred All Seasons to 3 friends!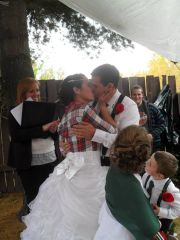 Martine & Brian
Jenna was very professional, patient, friendly and funny. We enjoyed having her as our officiant. Could not have done it without her :) Our wedding day was originally booked for July, but We had to move it up to April. Your staff was able to roll with the punches, and still make me a very happy bride. Thank you :) Thank you for being a dependable company. Greatly appreciated.
Sarah & Justin
Jenna Jacklin was excellent! She surpassed our expectations - she was very thoughtful, helpful and exactly the type of person we were looking for! We had to change our wedding date early on in the planning process - the office staff were very accommodating. Jenna really helped to complete our day! We absolutely loved her and will recommend her to others!
Sara & Joel
Jenna Jacklin was amazing and offered so much great advice and suggestions. She came to our rehearsal and really helped us map out what we should do. Our friends have already hired Jenna for their wedding in October :) We would definitely recommend her
Melissa & Lester
We were very pleased with Jenna Jacklin. She was very helpful and open to any suggestions we made. On our wedding day Jenna was able to help us keep everything on schedule and running on time, which was a HUGE help to me. I would highly recommend Jenna to anyone.
Renee & Yves
Jenna Jacklin was an amazing officiant!! We could not have asked for more from her. She was always there to answer all of our questions and helped us customize our ceremony to our liking. A big thank you!!!
Danica & Jean-Marc
Over and beyond met our expectations. Jenna Jacklin was fantastic and she really grasped what type of people we were and incorporate that light upbeat feeling into our ceremony.
Jessica & Paul
Jenna Jacklin made us feel instantly at ease at our planning meeting. She is very personable and down-to-earth. She did an excellent job at the ceremony and she looked great - we couldn't have asked for better. We're sorry we didn't get a chance to say thank you after the ceremony, but we want you to know how much we appreciated your help! People are always looking for suggestions for officiants on social media. I will be sure to promote Jenna to anyone and everyone.
Natalie & Chris
We loved working with Jenna Jacklin. She replied to emails quickly, gave us great ideas and allowed flexibility and personality in our ceremony. She answered our questions and was very patient and professional. However, we loved her cheerful personality and easy going attitude. Thank you so much, Jenna. You made our ceremony unforgettable!
Stephanie & James
Jenna Jacklin certainly exceeded our expectations! She is very kind and funny and informative. Everything went exactly how she said it would! Very friendly and easy to work with. Made my job easy :) Already have referred to others. Plus people at the ceremony were inquiring about Jenna afterwards as well. We had so many compliments on how well the ceremony went and how different it was. Jenna had put together a great start for us. We are so very happy with our choice to get an officiant to marry us. We feel we got lucky with Jenna! Thank you again!