Jeffrey Dale
Jeffrey lives in Milverton. He believes that each and every wedding is firmly about the celebration of life between two people that truly love each other. Jeffrey believes that your ceremony should be inspired by what makes you a couple, what makes you individuals on a journey to join as one. As a life-long learner and seeker Jeffrey has worked in community education, theater and spirituality. He is a graduate of Algonquin College (Diploma) and the University of Guelph (Bachelors and Masters). Jeffrey's core belief is that all people belong in an inclusive, understanding, and compassionate world. Jeffery is only available for weddings until the end of December 2018.
Request Jeffrey Dale
Areas served
Stratford, Milverton, Millbank, St. Mary's, Sebringville, Shakespeare, Atwood, Mitchell, Tavistock, Brunner, Newton, Listowel, Gowanstown, Palmerston, Clinton, Brussels, Blyth, Belgrave, Exeter, Kinburn, Ethel, Brussels, Gorrie, Kirkton, Seaforth, Wroxter, Waterloo, Kitchener, Elmira, Wellesley, New Hamburg, St. Jacob's, Elora, Arthur, Minto, Mount Forest, Wallenstein, St. Clements, Drayton, Wingham, Breslau
Reviews
Kristine & Lisa
Jeffrey Dale was fantastic! He was easy to get in contact with, easy to talk to, willing to listen and make suggestions on what we wanted for our ceremony. Everyone was very helpful and accommodating. Jeffrey was fantastic! He made us feel comfortable, we had the ability to create and change our own ceremony and he was early and prepared on our big day. His delivery of the ceremony was great and he compromised when the mic no longer worked :) Thank you Jeffrey for being so kind, warm hearted, and compassionate on our big day!!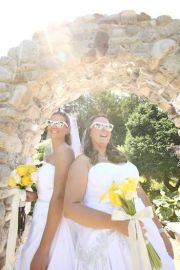 Cary & Luke
Jeffrey Dale was simply wonderful to work with. We set up a time to "FaceTime" prior to traveling to Canada so that we could go over all of the arrangements in advance. He offered great suggestions and walked us through the entire process. Very accommodating indeed. Although I don't remember her name, the young lady that processed my credit card deposit was very friendly when we spoke on the phone.You made things effortless and we really liked the biographies you had for all of your officiants, it made selecting Jeffrey very easy.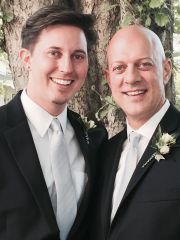 Paul & Josh
Jeffrey Dale was fantastic in every respect, and was a pleasure to deal with throughout the planning process. He infused the ceremony with warmth and humour. We could not have selected a better officiant for our wedding.
Jenelle & Mason
We were quite nervous with emotions and Jeffrey Dale made us feel so at ease. He has a great personality and all of our guests commented on how wonderful he was. We are very happy that we had Jeffrey as our officiant. He was the perfect choice and we cannot thank him enough! We would definitely recommend Jeffrey again and we already have.