Janice Pow
Janice, who lives in Delhi, wants you to feel comfortable. This is your wedding day and she will help to fulfill your vision. If you want traditional or something unconventional and distinctive, she will respect your vision and help produce a result that is a unique celebration of your love. She believes that love should be celebrated regardless of gender, culture or religion. Janice has lived in Norfolk most of her life. She will bring to your day interpersonal skills that are warm and friendly. Janice has a great sense of humour. Janice will embrace your wedding vision and bring an ease that is contagious and joyful for your wedding day.
Request Janice Pow
Areas served
Delhi, Simcoe, Brantford, Waterford, Port Dover, Port Ryerse, Port Rowan, Tillsonburg, Woodstock, Langton, Scotland, Ingersoll, Long Point, Springford, Otterville
Reviews
Josh and Amanda
Janice smith went above and beyond our expectations of an officiant which helped make our day what we wanted. From the first time we met her we knew she was perfect for performing our wedding ceremony. We would HIGHLY recommend Janice to any and everyone! Josh and Amanda 06/15/13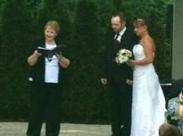 Jaclyn and Adam
We knew from the minute we met Janice that we had made the perfect choice to have her perform our wedding ceremony. She is a genuinely caring and overall fantastic person. We feel so fortunate to have met her and that she could be a part of our special day. We would highly recommend her to anybody.
Kimberly & Eric
Janice Smith was extremely pleasant and very accommodating! Loved her as our officiant!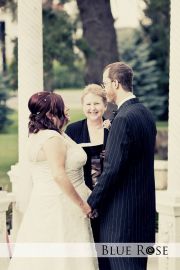 Kelly and Diane
Hi Janice (Smith), Now that we're back to the grind and trying to get everything wrapped up, I wanted to take a moment to thank you from the bottom of my heart. Our ceremony was amazing...because of you. Our friends and family have been asking us where we found you because they loved the service, and have said that you were the best officiant they've ever seen. We couldn't agree more!!! Every step of the way, you shared yourself with us and took the time to get to know who we are. We cannot adequately express just how honoured we feel to have had your touch on our wedding day. If you ever need a reference...or referral we're honoured to help! Again, thank you so much!!
Amanda and Terry
We had such an amazing wedding at Ball's Falls with Janice (Smith). She had so much energy and gusto from the beginning, that she never lost anyone's attention. When she did our reading, she put so much enthusiasm into it she had all our guests laughing. We couldn't have asked for anyone better and we would recommend Janice to everyone looking for a personable, upbeat, caring, accommodating (the list goes on) wedding Officiant. Thank you SO much Janice for making our day that much more special!!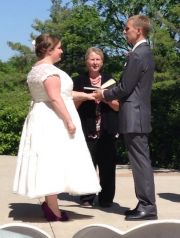 Ally & Jake
Janice Smith went above and beyond! She was a gift from the Goddess Herself! I never could have gotten through the stress of various events surrounding our wedding without her. She is the most wonderful person and we are honored that she married us. We will never forget that magical day! Janice made our ceremony specific to us. Her voice and presence were powerful and spiritual. I am so glad we chose All Seasons and were able to bring this wonderful woman into our lives.
Melissa & Ryan
Janice Smith was fantastic! She worked with us and made our ceremony exactly as we wanted. So many people commented afterwards it was the best ceremony they have been to! Could not have asked for more.
Amanda & Brian
Janice went above and beyond our expectations.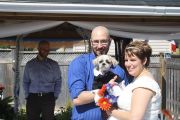 Jacqueline & Nicholas
Janice Smith met and exceeded our expectations. She did a wonderful job personalizing our ceremony and took the time to answer all of our questions.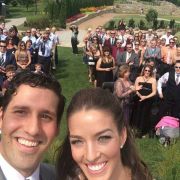 Brittani & Jeremy
Janice married us Saturday July 16 ,2016 . My wedding was everything I dreamed of because of her . My grandma passed away June 8th of this year and I was so sad she could not be there , so I asked Janice to add in a piece about my grandma and she not only did it but she did it with such raw emotion , she was very wonderful and we even booked on very short notice . I would recommend her to everyone I know for their wedding , she truly was a god send in our marriage . I will forever be greatful for her being our officiant . Once again Janice thank you for making our day wonderful !!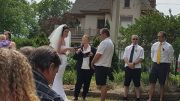 Anna & Ross
Janice is the best! She married us last year on this day and brought such a special element to our ceremony. Leading up to our wedding day, she was helpful and offered great advice, guidance and reassurance. Janice is fun, lighthearted, joyful, kind, eloquent and professional. My cousin was a bridesmaid in our wedding and thought so highly of Janice, that she requested her for her own wedding this coming October. If you're looking for a professional and fantastic officiant with a warm smile and heart, Janice is the one!! Thanks for adding so much joy to our wedding, we're so happy and are filled with gratitude that you officiated our ceremony, Janice!
Gregory & Lauren
Janice Smith was fantastic. She helped us through our nerves and understanding of the process, provided a great rehearsal, and a fantastic ceremony. Everyone thought she did an amazing job. The All Seasons reservations office was very organized and provided good reminders and explanations. The whole process was very easy and Janice was fantastic. I would definitely refer others. It was an overall great experience dealing with your company and Janice. The bio provided for her was extremely accurate and she was exactly what we hoped for.
Sarah & Nicholas
Janice Pow was so AMAZING ! We could not have picked a better officiant ! She is such a wonderful person and very helpful with all the details (the things I did not even think of) ! She is well spoken, funny and easy going ! Everyone at the wedding felt that she was perfect ! I highly recommend her !!!!
Shelly & David
We were really excited to have Janice Pow be part of our joining in Marriage!!! Definitely loved meeting the wonderful person that she is!!! Anytime I had questions, always got very informative answers. Was very helpful and patient. January, 2018
Crystal & Casey
Janice Pow was absolutely wonderful, and exceeded our expectations! November, 2018
Doug & Danielle
Janice Pow was absolutely lovely, everything was better than we could have ever expected! Thank you Janice. Doug & Danielle July 2019