Jacquie Wolgemuth
Jacquie is only available for wedding up until December 15/2018. She is a Spiritual Director who finds the sacred in all life and beliefs. She will work with you to plan your special wedding using the words, symbols, images and people that give meaning to your life. She is equally at home with a spiritual, non–denominational or traditional ceremony. She has a psychology degree from Queen's University and enjoyed working as a counsellor. She is compassionate, caring and willing to spend time helping you to plan a celebration of your dreams. Jacquie is a well-organized details person who can be relied upon to facilitate and perform a ceremony that will run smoothly and help to eliminate your stress. Living in Deep River and having a cottage near Barry's Bay allows Jacquie easy access to officiate at weddings throughout the upper Ottawa Valley. With Jacquie as your officiate, you can be certain of her commitment to make your wedding a special day to cherish always.
Request Jacquie Wolgemuth
Areas served
Deep River, Chalk River, Point Alexander, Rolphton, Stonecliffe, Deux Rivieres, Petawawa, Pembroke, Alice, Cobden, Beachburg, Eganville, Golden Lake, Killaloe, Wilno, Barry's Bay.
Reviews
Julia & Derek
Jacquie Wolgemuth exceeded our expectations! She did an excellent job, she made sure everything went smoothly and helped us stay organized and efficient. I would most definitely refer and recommend your organization.
Karen & Mark
Jacquie Wolgemuth was wonderful. She has a nice clear speaking voice and is friendly and relaxed. We enjoyed working with her and she made the experience very easy. She made sure to keep the vows short and simple to repeat since both my husband and I were nervous/overwhelmed by emotion :-) I cannot imagine anyone else making the process any easier and the cost of your service is extremely reasonable!
Laura & Philip
Jacquie Wolgemuth was so wonderful! Prompt for both our pre-meeting and the wedding, helpful with suggestions, open to any and all changes/additions/subtractions and was so involved with our ceremony she even got emotional. I couldn't be more satisfied with her work and you are lucky to have her!
Jerilee & Mark
I had so many people approach me after the wedding and say it was the most beautiful ceremony they had ever seen. One religious family member said they've never seen a church ceremony as beautiful as our outdoor ceremony. Jacquie Wolgemuth helped us create a ceremony that really did appeal to all family members and ourselves regardless of different beliefs. People commented on Jacquie herself and said she did a wonderful job. Everyone was crying!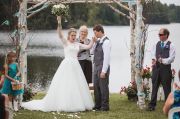 Courtney & Ian
Jacquie Wolgemuth was absolutely wonderful! She was warm and genuine and well-spoken, and I had many of my guests come to me after the ceremony and tell me how great she was. Thank you, Jacquie!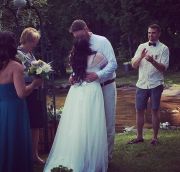 Lisa & Jim
Jacquie Wolgemuth was excellent. She worked with us to create vows and a ceremony that was perfect for us. She was very professional, warm, and the perfect officiant for our low-key wedding/elopement. All Seasons was also excellent. The service was prompt and professional, and they were able to organize our officiant for our 'hiking trail' wedding very efficiently. The overall experience was great and made planning an out-of-town and unconventional wedding very convenient and low-stress. Thank you! Lisa & Jim