Jacoba Barber-Rozema
I live and work in Montreal, and I am honoured to be able to connect with couples at such a special moment in their lives. With my experience in event planning, I know the immense amount of work it requires to pull off a wedding and would love to work closely with couples to make their spiritual, interfaith or same gender wedding ceremony personalized, thoughtful and beautiful. I speak English and French and can perform bilingual ceremonies. I am pursuing my Bachelor of Classical Voice and Opera at McGill, becoming closely attuned to precise listening and emotional awareness, and can provide a charismatic, relaxed, and intimate presence to the proceedings.
Request Jacoba Barber-Rozema
Areas served
Montreal
Reviews
Randa & Aled
Jacoba (Barber-Rozema) was amazing. Both my wife and I wanted to have a fun, playful but also sincere ceremony. Jacoba made it really easy and simple to understand the processes involved, the options we had with the vows and really helped us own and direct the event ourselves, giving us the confidence to write our own vows and tweak the overall ceremony. At all times we felt in safe hands; Jacoba was in control on the day itself and was extremely helpful in orchestrating the most amazing moment of our lives so far. 5 stars, 10/10, can't say enough and can't thank Jacoba enough.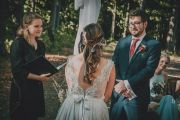 Sarah & MacLean
Jacoba Barber-Rozema went above and beyond to meet our ceremony expectations. It was everything we hoped it would be and she did a wonderful job! Thank you so much, Jacoba for marrying us! It was great to work with you to create vows that suited our beliefs and the sentiments that we wanted to express. It meant a lot to us that you included a passage of your own that you felt reflected the love that my husband and I feel for each other. It was a great ceremony and our guests also loved it!