Jacoba Barber-Rozema
I live and work in Montreal, and I am honoured to be able to connect with couples at such a special moment in their lives. I am an opera singer and closely attuned to precise listening and emotional awareness, and can provide a charismatic, relaxed, and intimate presence to the proceedings. With my experience in event planning, I know the immense amount of work it requires to pull off a wedding and would love to work closely with couples to make their wedding ceremony personalized, thoughtful and beautiful. I speak English and French and can perform bilingual ceremonies. * Please note that Jacoba is only accepting weddings until the end of June 2019.
Request Jacoba Barber-Rozema
Areas served
Montreal
Reviews
Randa & Aled
Jacoba (Barber-Rozema) was amazing. Both my wife and I wanted to have a fun, playful but also sincere ceremony. Jacoba made it really easy and simple to understand the processes involved, the options we had with the vows and really helped us own and direct the event ourselves, giving us the confidence to write our own vows and tweak the overall ceremony. At all times we felt in safe hands; Jacoba was in control on the day itself and was extremely helpful in orchestrating the most amazing moment of our lives so far. 5 stars, 10/10, can't say enough and can't thank Jacoba enough.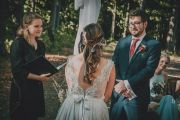 Sarah & MacLean
Jacoba Barber-Rozema went above and beyond to meet our ceremony expectations. It was everything we hoped it would be and she did a wonderful job! Thank you so much, Jacoba for marrying us! It was great to work with you to create vows that suited our beliefs and the sentiments that we wanted to express. It meant a lot to us that you included a passage of your own that you felt reflected the love that my husband and I feel for each other. It was a great ceremony and our guests also loved it!
Anonymous
Jacoba (Barber-Rozema) was the officiant for our wedding and we have nothing but great things to say about her. She was very professional and helpful in guiding us through the process. She was also very flexible by allowing us to fully customize the script and ceremony to make sure that it appropriately reflected us. We had our ceremony in French and English, and Jacoba was able to perfectly transition from one to the other. She was very comfortable and clear while feeling relaxed during the whole ceremony. This definitely helped make the experience as wonderful as it was. We received many compliments on the ceremony and have Jacoba to thank for that. Would definitely recommend her to anyone!
Jeff & Jessica
Jacoba Barber-Rozema was excellent. She helped us put together our ceremony so it was exactly as we wanted. She was very helpful before the ceremony in helping coordinate the music with our DJ, helped us through all the paperwork, and was very quick to respond to any questions. She showed up to the venue early and made sure everything would go smoothly. She was exactly what we wanted in an officiant. Thank you for everything Jacoba! Jeff & Jessica Aug 18th, 2018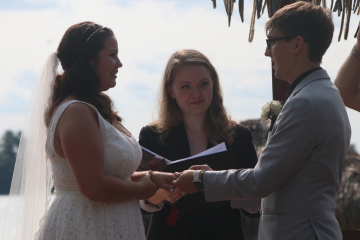 Matthew & Kaitlyn
I would just like to take the time to thank Jacoba (Barber-Rozema) for an extraordinary job. She maintained great contact throughout the entire process and made sure to inform us with all necessary documents and readings. As for the ceremony, just thinking of how beautiful it was brings tears to my eyes, it was above and beyond. She presented gorgeous quotes and added some German for my mother-in-law, which she adored! I can't thank Jacoba enough for how lovely her officiating was! Wishing you all the best. Matthew & Kaitlyn, August 2018.
Veronica and Frank
Jacoba Barber-Rozema was our officiant for our wedding on September 1st 2018 and she was on time and on point. Her kind words during the ceremony resonated with our feelings towards each other. We would also like to thank her for accepting to take part in the traditional Filipino ceremony. Jacoba has an amazing voice. She accepted to use her talent to sing Ave Maria while I was walking down the aisle, which was amazing! It made every step I take feel so surreal. A wedding would be incomplete without the right officiant, and we were very lucky to have Jacoba with us. Thank you Jacoba for the amazing experience! We will never forget it. Love, Veronica and Frank
Olivier & Wayne
Jacoba Barber-Rozema was amazing, very organised, professional and pleasant to work with. I had met another officiant first but after meeting with Jacoba it was clear that she was the right choice for us. She also sang an amazing opera song when we walked down the aisle. It was amazing. Jacoba is very well articulated in English and French which make it very smooth and clear during the ceremony. Thank you for everything Jacoba!! Olivier & Wayne Aug 2018
Kahlan & Maly
My partner and I just had our wedding with Jacoba. She was truly amazing throughout the whole process. She helped us tailor a truly geeky ceremony that we will never forget. I would recommend her to anyone looking for an officiant that really cares about what she does. We were honestly blessed to have her. Regards, Kahlan & Maly Oct 20th, 2018
Amanda & Dominic
When we needed an officiant for our wedding, we turned to All Seasons Wedding. We scanned their selection and the first person we contacted was Jacoba Barber-Rozema. Upon our initial in-person meeting we were greeted with a warm and friendly smile and Jacoba made us feel so at ease! We liked her immediately and knew that someone so calm and confident in her work would be a great choice as an officiant. She made us feel so comfortable and she really took the stress off of us! Jacoba was so easy to get in touch with (by text or e-mail), very informative and she takes care of everything! I highly recommend choosing Jacoba to be part of your special day. A lot of my family and my husbands family talked very highly at what a great officiant Jacoba was!! We were very happy and fortunate to have her be a part of our wedding. :) Oct 2018
Alia and Xavier
We had a small wedding on October 15 and Jacoba Barber-Rozema ensured we had a wonderful wedding ceremony. It was short and sweet. She made great recommendations and listened to what we chose. There were no surprises. It was exactly as we had discussed. If you're looking for someone who will help make your ceremony completely you, I would definitely recommend her. Thank you Jacoba for making our ceremony memorable! Alia and Xavier