Rev Jack Birtch, BA, MDiv
Jack Birtch lives in Grimsby and is a minister with experience. In the wedding industry Jack is known as "a class act," admired by many. His experience as a wedding officiant has taught him to honour and respect the beliefs and circumstances of all couples. A warm caring professional who knows how to make your ceremony very special, with his great delivery. You will not be disappointed!
Request Jack Birtch
Areas served
Hamilton, Burlington, Jordan, Beamsville, St. Catharines, Niagara-on-the-Lake, Niagara Falls, Dunnville, Welland, Port Colborne
Reviews
Olivia and Eric
Hello Jack, I must apologize for the delay of our response to your email. We have just returned from our honeymoon.We are so happy that you felt the expression of love we have for each other through our ceremony and we were able to move you and so many others who were in attendance with us. We would truly like to thank you for your guidance and professionalism through the process.We want to thank you again for sharing this day with us. Much love and many thanks,
Michelle and Sam
Hello Mr. Birtch,We never had a chance to thank you for the wonderful ceremony you performed for our wedding at the Trillium Resort on September 11th. It was exactly what we wanted and we felt your kind words as you spoke them. We received many compliments on the wedding ceremony and people told us it truly reflected us as individuals and as a couple.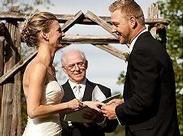 Wendy and Pat
Mr. Birtch I wanted you to know that Pat and I just adored you from the moment we walked in your home and met you. You were so friendly and accommodating. We felt so comfortable with you and all our guests thought you were just fantastic. And I really should thank Debbie in the office for putting up with my constant requests for her to resend emails to me because I kept forgetting where I put them :)
John and Riva
Jack Birtch, you're officiating and simply your presence made our wedding truly unique and special. From the day we met, my husband and I knew you were a warm, caring and good man. Those qualities in you shone through as you made our ceremony the most beautiful and sincere event of our lives.Thank you from the bottom of our hearts.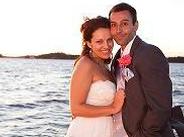 Mr and Mrs McDowell
"Hello Jack, Thank you so much for your kind words. My new husband and I want to thank you from the bottom of our hearts for marrying us. We could not have asked for a better officiant and the fact that you married my brother, his wife and my cousin and her husband, made it a family affair and that much more special. And you absolutely nailed our ceremony better than we could have expected, and have received more than a few compliments on it. We thank you again so very much, Mr. & Mrs. McDowell :)"
Rachel & Benjamin
I have appreciated not only working with Jack Birtch but All Seasons Weddings while choosing an officiant. So much so that I have sent you site address to the friends I know that are engaged and planning outdoor weddings, thank you so much. I am so thankful for how Jack was able to help and encourage our friend as he wrote the ceremony! Thank you!
Paul & Samina
Jack Birtch was absolutely amazing! He is very kind and professional. We had a very small ceremony, not only he personalize it he made us feel like a family! Nothing more could be asked! We are so happy to have you as our officiant and thank you so much for being here on our special day! Highly recommended and much appreciated!
Cassandra & Isaac
Jack Birtch was the perfect fit to our day. He is was perfect on our special day, absolutely perfect! We had compliments from all of our guests on how well the ceremony went, how unique it was, and how well Jack completed the picture. We would 100% recommend Jack Birtch to anyone looking for the top level of professionalism, kindness, humour and humanity. We are so happy we chose him! :)
Amanda & David
Jack Birtch was wonderful. He offered a calming effect on everyone. We had many compliments on our service and on Jack's presentation. In our opinion, he was the ideal officiant and we are extremely pleased with our experience.
Candace & Ryan
Jack Birtch was so friendly and welcoming! Instantly made us feel like we were in the right hands! We can't express enough how thankful we are that Jack married my husband and I! Thank You!!