Hillary Walgate
Hillary moved to the Durham region in the spring of 2013. As well as being a wedding Officiant she is is a Certified Wedding Coordinator and truly understands how important your wedding day is to you. Her goal is to ensure that your wedding ceremony reflects your values, style and your own personal uniqueness. Her friendly and loving personality will make you feel at ease the moment you meet her. In Hillary's spare time, she loves to travel, volunteer in her community, spend time with her family & friends and, of course, anything to do with weddings. If you are looking for someone who will strive to make your ceremony as romantic and magical as it should be, Hillary is the officiant for you! Hillary is expecting baby #3 and is unavailable September and October of 2016.
Request Hillary Walgate
Areas served
Ajax, Bowmanville, Oshawa, Pickering, Whitby, Uxbridge, Scarborough, Blackstock, Brooklin, Burketon, Claremont, Courtice, Newcastle, Scugog
Reviews
Tammy and Florence
Dearest Hillary Walgate, We were very pleased, you were friendly, loving and definitely a people person. You showed yourself in everything you did for us from our first email right up until our amazing, fantastic, wonderful wedding day. When we had questions or a change in time, to adding a rehearsal the day before the wedding, you gladly helped out. Thank you for taking charge at the rehearsal as well, it brought peace of mind having all of the details ironed out - the rehearsal did not take that long but, we all left feeling confident about each of our roles. We will never forget our wedding day, thanks in part because you truly made our day very special and a day that will be hard to surpass in all of our excitement and joy. Again thank you so much for helping us on our day. We would be more than happy to recommend you to everyone we know - they won't be disappointed.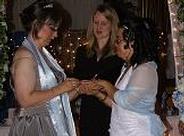 Tina and Brad
Dearest Hillary(Walgate),We were very pleased with your professionalism and everything you did for us from our first meeting right up until our wedding day. You were able to answer all our questions and give helpful suggestions along the way. You truly made our wedding day very special and we knew you would do a fabulous job with our wedding ceremony from the moment we first met you. We would be more than happy to recommend you to everyone we know!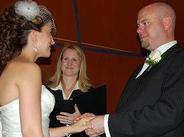 Adam and Andrea
Adam and I just wanted to express our thanks to Hillary Wallgate for making our wedding day so special. We really appreciate all of your ideas and assistance in making our wedding run so smoothly! We had an amazing day that we will never forget. As you could probably tell, walking down the aisle, but with reassuring looks from you and Adam, I started to feel better really fast! All my family and friends commented that you did such a great job with the ceremony. Thank you so much for helping us on our day, especially so soon after giving birth to your daughter. We know it must not be easy leaving her when she's still so little! Again, thank you so much! :)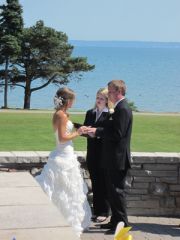 Cheryl & Benny
Hillary Walgate is the perfect combination of fun and helpful. She walked us through the details to prepare for our wedding and kept the wedding day easy for us to manage. Hillary went out of her way to get our guests ready for a group picture. Thanks for all your help Hillary! The wedding wouldn't have gone as smoothly and the process wouldn't have been as fun without you! ~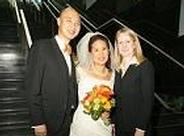 Jeffrey and Hai Van
We would recommend Hillary Walgate without hesitation. Hillary was very co-operative and always happy to take my phone calls. The office staff made a good impression on the phone. Also I remember getting a prompt reply to my initial email asking about your service. The prompt reply is important! We chose your service because you guarantee a replacement officiant to fill in, if our chosen officiant is unable to do the wedding. This is a huge selling point for your service!*
Kristine & Justin
Not only did Hillary Walgate meet our expectations, she far exceeded them. She was very helpful in all aspects, providing us with all the necessary information and really listening to what it was we wanted. Thank you for a wonderful experience!
James & Beverley
Hillary Walgate was awesome. She made our backyard wedding ceremony in Ajax go flawlessly. We wished she could of stayed for the party Thank you so much Hillary for being a fantastic part of our day.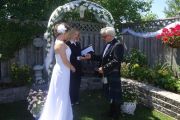 Kyle & Krystina
Kyle and I were married at the 4 Seasons Golf Course in Claremont and Hillary conducted the wedding ceremony perfectly. We couldn't have imagined anything better. From the first time we spoke to Hillary, she understood our vision and helped us make sure it was exactly what we wanted. I loved that Hillary was in our area, this definitely made it easier to contact her and knew that there would not be an issue of timing, since our wedding was on a Friday. Hillary's easy going personality, and professionalism towards her career really shows in the ceremony she provides. Thank you for everything Hillary!!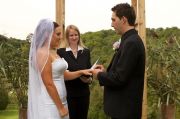 Nicole & Gerard
Dear Hillary, thank you so much for officiating our wedding at The Lake House in Pickering. We were nervous at first because we didn't know you, but you were so easy to deal with and always made us feel very comfortable. We will always treasure the wonderful memories of our ceremony and what an important role you played in our day. Your calmness and ready smile was much appreciated. Many of our guests commented on how lovely the ceremony was, thanks in part to your delivery! We wouldn't hesitate to recommend you! Again, many thanks for being such an important part of our day! Nicole & Gerard
Rick & Carrie
Rick and I want to thank you so much for helping to make our wedding day perfect at Palmer Park in Port Perry. It was a great wedding ceremony and your presence really added to that. We were really happy to have you deliver the service for us. You were so calm and upbeat and endured our sense of humour. Some of the day is a blur to us but the service was not and was so well done. We can't thank you enough it was perfect. We would recommend you in a heart beat. Rick & Carrie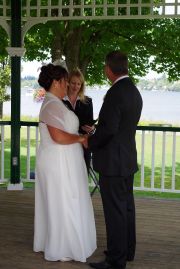 Jessmyn & Joseph
Hillary Walgate was very kind, helpful and easy going! She is a lovely woman and I was so glad to have her apart of our wedding nuptials.
Krista & Chris
I first got in touch with Hillary Walgate on short notice only about a month before my wedding, and she was so accommodating right from the start! Hillary provided such a unique and personal experience from the day we started talking, and even after the wedding. She really did everything she could to make sure everything went as planned, and it was well appreciated. My whole family loved Hillary and what she brought to our special day, it truly was a great choice!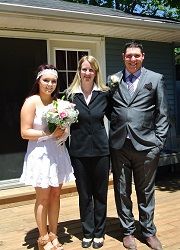 Roz & Jim
Hillary, you did such a fabulous job as our Officiant on our Wedding day at Winchester Golf Club in Brooklin. You carried out the ceremony with perfect delivery. You were warm and personable. As promised, you didn't deviate from the script. When needed, you provided quiet, gentle direction to the participants. We were so pleased and happy with how the ceremony went. Many of our guests commented on how nice the service was and what a terrific job you did. You were a major factor in the success of our beautiful wedding day. Please accept our warmest, sincerest thanks.