Francine Charland
Francine is one of our award winning officiants. She lives in Ottawa, is perfectly bilingual and has over 20 years' experience in public speaking. Francine is comfortable in both a small group setting and large venues . As your wedding officiant, Francine will bring sincere warmth, professionalism, patience, flexibility and a clear understanding that this day is all about creating life long memories for you and your loved ones. Francine's warm and inviting personality makes everyone feel comfortable immediately and she is dedicated to working with couples to create their very special day. Please note that Francine is only accepting weddings until Dec 20th, 2019.
Request Francine Charland
Areas served
Ottawa West, Nepean, Stittsville, Manotick, Richmond, Greely, Metcalfe, Ottawa South, Carp, Kanata, Kars, Kemptville, Kenmore, Carlsbad Springs, Cumberland, Dunrobin, Edwards, Gloucester, Greely, Munster, North Gower, Gatineau; Aylmer Chelsea
Reviews
Gordon & Jennifer
Francine Charland did an excellent job. She went our of her way to make our day special. The process was very easy and the level of service was excellent.
Robert & Yanik
Francine Charland was funny, professional and made the ceremony a wonderful and caring time! We made a few last minute changes and the team was very helpful! Wonderful services, great selection in officiants and on top of all that, make us feel comfortable!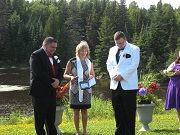 Josee & Mathieu
Francine Charland was very helpful in preparing me for my big day. I would have been lost without her.
Rick & Lorelie
Francine Charland was wonderful. She was easy to communicate with and was very attentive to our wishes and style. We could not have asked for anything more.
Sean & Emma
Francine Charland was absolutely amazing. From the very beginning, Francine left us feeling confident that should would deliver an excellent service. Our ceremony was short, bilingual, funny, emotional and romantic, exactly how we wanted it. We would not hesitation to recommend Francine to other couples. Thank you!
Natasha et Laurent
Très bien organisée! Réponse rapide! Très gentille! Francine Charland nous a permis de ne pas nous stresser avec la cérémonie et a respecté chacun de nos changements! Elle est vraiment bonne et accomodante! Merci!
Shannon & Christopher
Francine Charland was wonderful! I would highly recommend her!
Kate & Will
Francine Charland was friendly and had a wonderful presence during the ceremony. We were totally comfortable with her and she delivered the ceremony beautifully. Also helpful and efficient with the paperwork!
Alain & Jennifer
Francine Charland was exactly who we were looking for in an officiant. She was friendly, professional, and performed the ceremony completely bilingual. We were very pleased. Thank you ! Alain & Jennifer June 2019
Philip & Leah
Francine Charland was an absolutely wonderful officiant. We are so happy that we chose her for our special day. She has a very calm and has a reassuring demeanor. Francine made my husband and I feel very at ease on our wedding day. She was entirely flexible and happy to deliver the ceremony based on our personal preferences. She was extremely professional and organized, and made the process very stress-free. I couldn't say enough good things about her and I'm just so glad we lucked out to have her for our wedding! Philip & Leah August 2019