Faith Gallant
Faith Gallant has been mandated by clergy Support church to conduct Life celebration. She was voted by her peers in the wedding industry as the most popular new wedding officiant in Halifax and across the province in the coveted annual Wedding Expert Awards . Faith's utmost respect for all cultural and spiritual relationships allows her to be professional and personable ensuring your wedding ceremony will be a truly memorable one. A resident of Bedford, NS and a true romantic at heart, Faith vows to conduct a well-spoken wedding ceremony and along with her natural soothing ways, allows you and your partner to focus solely on one another and simply enjoy your day. Her belief and understanding that a couple's wedding ceremony is a sacred one, she always strives to make sure your ceremony is just the way you want it. Trusting Faith to be your guide on your wedding day is ensuring your wedding day will be a day filled with love, amazement, and everything you truly imagine and want it to be.
Request Faith Gallant
Areas served
Beaverbank, Bedford, Black Point, Boutilliers Point, Chester, Dartmouth, Elmsdale, Enfield, Fall River, Glen Haven, Glen Margaret, Halifax, Hubbards, Lake Echo, Mineville, Mt. Uniacke, Peggy's Cove, Pennant, Porters Lake, Portugese Cove, Preston, Prospect, Queensland, Tantallon, Terrance Bay, Upper Sackville, Upper Tantallon, Waverley, Wellington, West Chezzetcook, West Dover, Westphal, Whites Lake, Yankeetown, Fall River
Reviews
Maureen & Les
Faith Gallant was fantastic. She took her role very serious and took the time to explain everything to us. Couldn't have asked for anyone better!! Most definitely we had a lot of favourable comments from those in attendance at our wedding! All in all Faith made our day that extra special!...Thank you so much!
Rosalyn & David
Hi Faith, I just wanted to say Thank You again for performing our wedding on Saturday! You did such a fabulous job!! I was very excited and nervous when I walked in but when you looked at us and started to speak...you were very calming! The services was really beautiful! Several people commented on how nice it was! I have attached one of the early pictures from our photographer for you. Thanks again for making our day so special!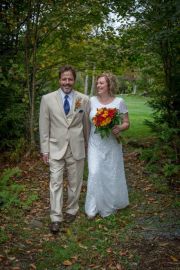 Chad and Koren
Hi Faith, I just wanted to take a minute to thank you again for marrying us! We were very happy with how laid back you were during both the preparation for, and actual event of the wedding. Your positive demeanor and easy-going attitude is exactly what everyone expected from a Maritime officiant and we would be more than happy to offer a referral for you if you would wish. Just say the word! Thanks again!
Denise & Jamie
Faith Gallant was wonderful! Extremely professional, kind and organized. I don't plan on ever needing your services again ;) but I will certainly refer!!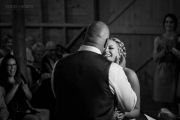 Ralph & Karen
Faith Gallant provided professional guidance and support in assisting us with preparing our wedding ceremony. She was accommodating and flexible when arranging meeting times to finalize our requirements. We were extremely pleased with the performance of the ceremony. Faith put us at ease and made the ceremony a very pleasant and enjoyable experience. We would highly recommend your services and especially Faith. Thank you Faith for making our wedding day so very special.
Carmen & Jake
Faith Gallant exceeded our expectations... we thought she was wonderful! Overall a perfect experience.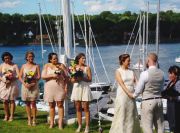 Emilie & Matthew
Faith Gallant was friendly and professional. We had no idea what we wanted for our ceremony but Faith made sure it was a beautiful, love filled and short ceremony which we loved.
Kimberley & Donald
Faith was incredible, calm and made everyone feel at ease. She was well prepared, punctual and very accommodating. She offered suggestions on our script and was open to my suggested changes and wishes to incorporate my own ideas. She certainly made our wedding day special.
Channing & Candace
Faith even came to help with rehearsal :) She was very Friendly, Helpful, Professional, Classy - Very happy with our choice! Happy we choose Faith - Very easy process to go through.