Elinor Whitty
Elinor is a clergy with Clergy Support Memorial Church. On top of that she is an award winning wedding officiant. Her career path has been varied and interesting. A mother of two and grandmother of two, she is committed to family, in whatever form it takes. With her deep experience , she understands the need for a couple to have the perfect day, most especially the ceremony joining them for their life journey together. Elinor's professional and caring ways would be an asset in assisting you with your religious or spiritual wedding ceremony.
Request Elinor Whitty
Areas served
Bayside, Beaverbank, Bedford, Beechville, Belnan, Black Point, Boutilliers Point, Brookside, Cole Harbour, Dartmouth, East Chezzetcook, East Dover, Eastern Passage, Elmsdale, Enfield, Fall River, French Village, Glen Haven, Goffs, Grand Lake, Hacketts Cove, Halifax, Hammonds Plains, Harrietsfield, Hatchet Lake, Head of Chezzetcook, Head of St. Margaret's Bay, Herring Cove, Hillsvale, Hubley, Ketch Harbour, Kinsac, Lake Echo, Lakelands, Lantz, Lawrencetown, Lower Sackville, Middle Sackville, Mineville, Mt. Uniacke, North Preston, Oldham, Pennant, Porters Lake, Portugese Cove, Preston, Prospect, Sambro, Seabright, Seaforth, Shad Bay, Tantallon, Terrance Bay, Timberlea, Upper Lawrencetown, Upper Sackville, Upper Tantallon, Waverley, Wellington, West Chezzetcook, West Dover, Westphal, Whites Lake, Yankeetown
Reviews
Terry & Jason
Elinor Whitty was perfect - relaxed, down-to-earth, very willing and eager to understand who we are and what we wanted from the ceremony, and she put us completely at ease about the whole thing. Not only did she meet our expectations, she far surpassed them. She was extremely personable and professional. The ceremony itself was beautiful, simple, light-hearted yet sincere. A perfect reflection of what we were trying to do. She understood us well, and worked with us very easily to help create the kind of ceremony we were imagining. She was the one part of the entire wedding preparation process that was completely stress-free.
Kim and Mike
Hi Elinor, We want to thank you for your wonderful approach to officiating our beautiful wedding ceremony. It was perfect, exactly what we were hoping for. We've attached a photo for you. Thanks for sharing our lovely day with us.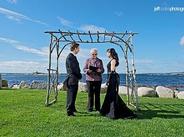 Karen & Jonathan
Elinor Whitty was amazing and was beyond our expectations! We cannot thank Elinor enough for helping us have the wedding of our dreams! She listened to what we wanted for our ceremony and made it perfect! Thank you so much!
Barbara & Eric
Elinor Whitty was wonderful, she did a great job at our ceremony and everything went exactly as we had hoped. Thank you Elinor!
Andrea & Ryan
Elinor Whitty was amazing. She kept in contact right up to the ceremony. Always quick to respond to emails. She was kind and the guests loved her. She made the whole process stress free.
Cynthia & Andrew
Elinor Whitty was the perfect officiant for our wedding. I felt like she worked so well with us to design and execute the ceremony that we wanted. All of our family and friends were very complimentary, noting that the Elinor's officiating style was personalized, sincere, and relaxed so that we were completely at ease and able to concentrate on us. She helped make our wedding day perfect!
Krystal & Matt
Elinor Whitty was fantastic. We wouldn't have wanted anyone else. She helped us to create the ceremony that we wanted and was very personable. Thank you, Elinor, for being a part of our special day!
Anastasia and Andrey
Just wanted to write to you to thank you for the wonderful ceremony, it was truly a joy to have you there!
Nicole & Jason
Elinor Whitty was professional and friendly. She really kept everyone focused during the rehearsal, which was greatly appreciated! Every email we received was polite, professional, and friendly. Your service was easy to use and top notch! Thank you so much for this wonderful experience. Elinor Whitty was a fabulous Officiant and your service was excellent!
Michelle & Jeff
Hi Elinor, Jeff and I just wanted to take a moment to say thank you so much for everything yesterday, and leading up to our big day. It was truly one of the best days of our lives, and we are grateful you were willing to be a part of it. I was particularly very nervous but when I arrived at the alter and focused on the beautiful words you put together for us, it was easy to relax and push through the nerves to see the reason we were there. You made everything so comfortable. Thank you so much fro everything. Michelle & Jeff