Dr. Joanna Sheppard, BPHE; MA; PhD. UofT
Joanna lives in Langley and is excited to be a part of your special day. Being Appointed as Designated Minister of Life Celebrations for Clergy Support Memorial Church, she was recently voted by her peers as the 'Most Popular Wedding Officiant in BC'. As well as being a Minister she teaches at the University of the Fraser Valley. She participates hockey, softball, snowshoeing and hiking. Joanna appreciates the importance of meeting your needs in making your wedding ceremony personal, professional and inclusive for all. Let Joanna help you create the wedding ceremony that you and your guests will always remember. You wont regret it!
Request Joanna Sheppard
Areas served
Abbotsford, Coquitlam, Langley, Maple Ridge, Mission, Port Coquitlam, Surrey, Vancouver Central
Reviews
Katya & Christopher
Joanna Sheppard was wonderful, she made our ceremony very personal and professional at the same time. She made us cry and laugh at the same time along with some of our guests. I would definitely recommend her to anyone looking to have a once in a lifetime experience. Couldn't have asked for a better officiant.
Eugene & Michael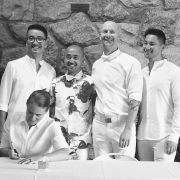 Julie & Ryan
Joanna Sheppard was the perfect officiant for us. Easy going, professional and fun.
Sam & Matt
Joanna is the creme de la creme of officiants. We couldn't have chosen anyone better. She was well versed in the execution of the ceremony. Even with a few hiccups along the way, she knew exactly how to deal with everything. The ceremony script brought tears to everyone. It was beautiful and elegant, just the way we wanted it. We highly recommend Joanna to those who are searching for the perfect officiant. Joanna is also hilarious and just a joy to be around! You really won't find anyone better. Many thanks and all of our love.
Lisa & Sam
Joanna Sheppard definitely exceeded our expectations. She was easy to work with and incorporated everything we asked her to. She was funny and we were so happy she was part of our special day.
Baharak & Corvil
Joanna Sheppard has exceeded our expectations. We are glad to have found her and we couldn't have asked for anyone better to officiate our wedding. Thanks again.
Michelle & Trevor
Joanna Sheppard was great to work with. She was full of energy and our family and friends had nothing but good things to say about her.
Katrina & Shane
Joanna Sheppard was absolutely amazing. We just loved her, our guests and families did as well.
Stephanie & Emma
Joanna Sheppard went above and beyond everything we had imagined! She is an amazing officiant and we would recommend her to everyone we know.
Alexis & Tobias
Jo Sheppard was awesome! Everything we had been hoping for! We were so happy to have Jo as our officiant. She was accommodating and helped make our day that much more special!
Kurtis & Meghan
Joanna Sheppard was everything we cold have asked for! She was the perfect balance of fun and energetic while still being professional. She was able to capture exactly what we wanted in our ceremony and helped to make it one to remember. Our wedding guests raved about how much they loved her too. We will not hesitate in the future to recommend All Seasons Weddings and Joanna Sheppard to family and friends. Thanks! [April, 2018]
Bryson & Kelly
Joanna Sheppard was the perfect officiant for us, she was organized, professional, and made sure every detail was covered. From our initial phone conversation to the end of our ceremony Joanna kept things light and fun while making sure the ceremony was a true reflection of who we are as a couple. We would not have wanted to work with anyone else for our big day! [April, 2018]
David & Olivia
Joanna was great! We'd definitely recommend her. She was easy to work with and gave good suggestions. She's also fun and made everything flow smoothly. Thanks again! [June, 2018]
Hillary & Joshua
Joanna Sheppard was incredible! All of our guests raved about our ceremony, they all enjoyed it. Dr. Sheppard was very helpful in selecting a script for our ceremony and running our rehearsal. She helped organize everyone and was very professional. We would highly recommend her to our friends and family.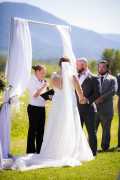 Erica & Carolyn
Joanna was absolutely fantastic and exceeded our expectations. She was professional, kind, thorough, and wonderful to work with. She ran a great rehearsal and made everyone feel comfortable, and on the wedding day created an atmosphere that made the wedding ceremony enjoyable and inclusive for everyone. Thanks Joanna for all that you do, we really appreciate you. Erica & Carolyn August 2018