Donna Baydak
Donna who lives in Beaverton is an experienced wedding officiant and a great people person. She has been active in the Girl Guide movement and the legion for many years in her past and has a keen interest in naturopathy. She is a good listener, has lots of patience and loves to help others. Donna is the kind of person who knows how to make people feel welcome and at ease. She would love to assist you in planning your perfect day whether it is a non–denominational or a spiritual wedding ceremony.
Request Donna Baydak
Areas served
Orillia, Sutton, Cannington, Pefferlaw, Brock, Bolsover, Brechin, Kirkfield
Reviews
Christine & Gary
Donna Baydak was amazing... she was professional, relaxed and created exactly the atmosphere we were looking for... she went out of her way to include our guests attending via Skype (from Ireland and Oregon)... and in fact included all of the attendees at our casual back yard wedding. She was perfect!
Gayle & Julie
Donna Baydak was brilliant. She was very personable and kept our ceremony intimate which is what we wanted. Donna was very professional and the manner in which she conducted our wedding ceremony was exceptional. We have only great things to say as she was an integral part of our perfect day. We would recommend her to anyone in need of an officiant. Thank you!
Peter, Alexandra and Kali
Hi Donna Baydak received this testimonial. "That's how a wedding should be" was the theme we heard from our guests on our June backyard wedding under a majestic pearly tent. Everyone enjoyed themselves and recognized how you worked with us to have a ceremony that was expressive and entertaining, yet elegant and simple. Thank you Donna for creating a sparking day for us, our family, and our friends.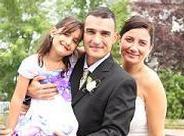 Colette and Tim
Tim and I both want to thank you Donna Baydak for the absolutely beautiful wedding ceremony you officiated for us; we were just thrilled that you incorporated everything so perfectly to make it very personal and lovely for us, for our kids and for our guests.No one could have done it better than you and we will always be grateful for that. And whenever we look back at this beautiful day in our lives, we will always remember the heartfelt joy you radiated on all of us, making our wedding day the most memorable day of our lives!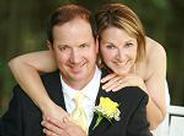 Suzanne and Maureen
To Donna Baydak.Thank you for being part of our special day. The wedding ceremony was everything and more than we had ever wished for. It was just perfect! You were also just the "RIGHT PERSON". We felt like you were one of our friends who had just dropped in to spend some time with us. Sending you a big hug ... Suzanne & Maureen