Colleen Bell
Colleen, a resident of Parry Sound, is an open-minded, caring, happy wedding officiant and is comfortable doing non-denominational or spiritual ceremonies. She is a people oriented person who is very active in her volunteer community. She walks, she hikes and loves crocheting. Colleen recognizes that a wedding signifies a wonderful new stage in a couple's life together. It is a time of hope, inspiration and love. Colleen would love to share your day with you and make your wonderful wedding ceremony all that you want it to be. Colleen loves to get to know people so that she shows up at your wedding as a friend, not a stranger.
Request Colleen Bell
Areas served
Parry Sound, Mactier, Mckellar, Dunchurch, Ahmic Harbour, Whitestone, Magnetawan, Nobel, Rosseau
Reviews
Sara and Dan
Hi Colleen! Sorry it has taken so long for me to get back to you! It's been busy trying to get things back to normal here, but I think we're getting pretty close. Thanks again for such a beautiful ceremony !!!!!!!!!!!!!!!!!!!!!!!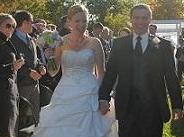 Lindsay & Richard
Colleen Bell was absolutely wonderful. During our pre-wedding planning she was warm, pleasant and always helpful and she certainly delivered on the day. We were thrilled with the ceremony and would recommend Colleen to anyone without hesitation. The office staff was not only professional, but friendly and extremely helpful. We were very well taken care of by the staff at All Seasons.
Colleen and Mike
Colleen Bell was our officiant for our wedding in Seguin, Ontario. As part of the planning process, Colleen sent us a draft of our ceremony and she was open to our alterations. In the end, the ceremony reflected Mike and I perfectly! Thank you Colleen for all your help!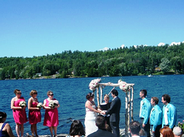 Jo and Mike
Hi Colleen, Thank you so much for being a part of our wedding, everything was perfect and we could not have asked for a better ceremony. Thanks so much and hope you have a wonderful August!
Vivian and John
On behalf of John and myself I would like to say "Thank You" for being our Wedding Officiant on June 2nd and tell you that we appreciate very much how easy it was to connect and communicate. Your professional yet pleasant and relaxed manner made our day go smoothly and as planned - meaningful but simple and short! This may sound funny but, you were part of our day and your presence was missed at dinner. I regret very much that I did not follow my own intuition and invite you, even on Saturday. Be in touch. Best,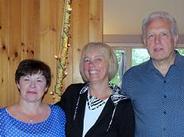 Denise and Angelina
Good morning Colleeen, We want to thank you for performing our ceremony on Friday, you did an amazing job. By being there and doing such a nice service you made the event even more special for us . Thank you for all you did for us.
Kristen and Ryan
Thank you again for all your help with adding to our special day. Our ceremony was exactly what we wanted it to be and I think it really was evident once I saw the photos! Thanks again,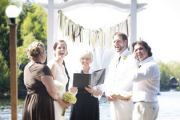 Sarah & Bill
Colleen Bell was fantastic! Thank you All Seasons! We couldn't have asked for a better day!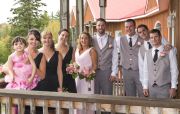 Carey & Aaron
Colleen Bell was a wonderful officiant. Very easy to talk to and very knowledgeable. We added a knot tying to our ceremony. At our meeting she helped us figure out where to put it in our ceremony; she helped everything make sense. She made our ceremony run very smoothly and guided us through with the ease of a consummate professional. I would highly recommend booking Colleen... she was lovely.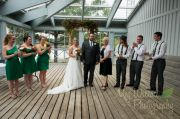 Sarah & Pat
Colleen Bell was extremely professional, flexible and warm — everything we were looking for in an officiant. Her sense of humour was appreciated in the lead up to the ceremony and during it as well. She was a dream to work with.
Jess & Cody
Hi Colleen! We were so pleased with the ceremony and yes, the announcements went very well. Everyone was thrilled to hear the good news! We are actually having after-the-fact pictures done in July, when we get the pictures back I will send one your way to add to your collection! Thank you again for being part of or day, it was absolutely perfect!
Anna & Marty
Hello Colleen, I hope you're having a wonderful day. Thank you so much for helping us and being a part of our wedding ceremony! I've attached a photo of the ceremony. Me and Marty picked the one where everyone smiles :) I hope you will like it! Thank you again. Best Regards,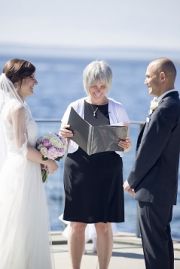 Kimberly& Richard
Richard and i would like to thank you for being our wedding officiant. You did a great job i am so glad you married us on our special day of July 25th 2015. You were so patient even though we started later than anticipated. We are so truly grateful. Thank you very much for being such big part of our day. Kimberly& Richard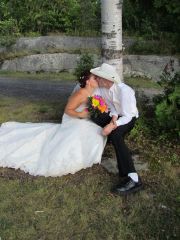 Tammy and Michael
It was a great day and thank you very much Colleen Bell for performing the ceremony for us we greatly appreciate it. Of course you can use the pictures on the internet we would be honoured.