Cindy Taleski
Cindy serves Chatham and surrounding areas. She is empathetic, compassionate and enjoys working with people. She will bring professionalism and creativity to your wedding day. She has a professional nursing background and seriously enjoys photography as her main hobby. Cindy will do whatever it takes to help make your wedding ceremony all you want it to be. She also serves Comber, Tilbury, Leamington.
Request Cindy Taleski
Areas served
Puce, Belleriver, Stoney Point, Essex, Cottam, Comber, Leamington, Tilbury, Wheatley, Chatham, Blenheim, Ridgetown, Thamesville, Dresden, Wallaceburg, Kingsville.
Reviews
Bobbi & Jacqueline
Cindy Taleski is very professional! Beautiful ceremony, couldn't have asked for a better officiant!!!! I've already referred Cindy to other friends with who have up and coming weddings :)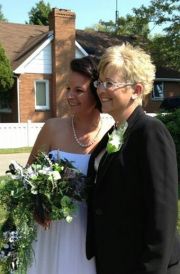 Craig & Ashley
Cindy Taleski was a pleasure to work with!
Jennifer & Andrew
I would just like to say that Cindy Taleski did an amazing job at our wedding. She was very professional and our ceremony was beautiful. I would recommend her to anyone getting married.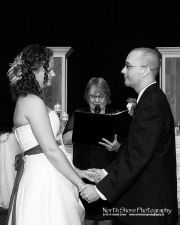 Danielle & Kyle
Cindy Taleski was absolutely amazing!!!! Very professional and very caring to all our wants and needs. All Seasons would be the first place I would recommend.
Alicia & John
Cindy Taleski went above and beyond our expectations for an officiant. She made sure our ceremony was personal and just the way we wanted. We had many compliments about how personal and perfect the ceremony was for us!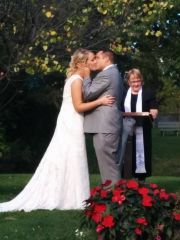 Donna & Robert
Cindy Taleski was very personable and took the time to make sure everything was perfect.
Nicole & Chris
Cindy Taleski was beyond incredible. We felt comfortable with her as soon as we met her and we truly felt heard during our meeting. She made the ceremony so personal and that was so touching for us. (She even shed a few years! !!) I would over and over again recommend you guys and Cindy. She helped make our day so perfect.
Kim & Tony
We loved Cindy Taleski. She added our personal touches to the ceremony and our guests loved how our service told a story. Thank you for making our special day awesome!
Gwynivere & Kenneth
"I just wanted to give you my sincerest thanks and appreciation for the absolutely amazing ceremony you performed. I feel like it really reflected Ken and I, and I know I heard over and over again how personal it was. I can't thank you enough. Honestly, such a great, amazing job. I will remember our ceremony forever in my heart."
Tracie & Darry
Cindy Taleski is a wonderful officiant. She is warm, friendly, and made our ceremony extra special. I would highly recommend Cindy to anyone
Jessica & Richard
I want to say Cindy Taleski did an amazing Job with our wedding it was very personal and sentimental. She was a wonderful part of our ceremony and was as accommodating if there were any changes we wanted to make to the ceremony at any time. I would recommend her to anyone needing an officiant!
Dan & Peggy
Cindy Taleski was excellent, she helped us a lot, we set up our wedding on a limited time scale. She was very knowledgeable and came up with several ideas that made things easier as well as using her experience to guide us to keep it simple and elegant.
Steven & Kelly
Cindy Taleski She was absolutely amazing! Thank you for everything Cindy . Steven & Kelly July 2019
Kevin & Sonja
From the moment we met Cindy Taleski we hit it off. We had so many laughs at our first meeting. She made us feel so at ease while remaining very professional. Cindy arrived early for the ceremony and all of our guests commented on how much they enjoyed the ceremony. We were so lucky to have her and her husband join us for the dinner. We hope to remain friends. Kevin & Sonja July 2019
Kyrstyn & Steven
Cindy Taleski is one of the sweetest people I have ever met, she has a way about her that automatically uplifts you and brings a smile to your face. She helped us feel at ease with everything but still remained very professional. We had many compliments on how beautiful the ceremony was and we owe that to Cindy and her ideas for incorporating our story and more personal details. We couldn't imagine having anyone else play her role on our special day. Kyrstyn & Steven September 2019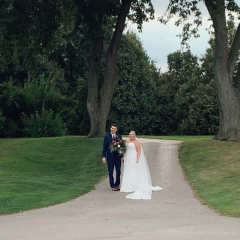 Matthew & Rachel
Cindy Taleski personalized our ceremony and she is an absolute delight! She was definitely meant to marry us , we had so much in common. Cindy went above our expectations! Thank you for everything. Matthew & Rachel October 2019