Christine Libon
Christine is from Ottawa, married and has two independent adult sons. She embraces all the seasons through outdoor activities such as cross-country skiing, kayaking, cycling and hiking. She has a diverse background as a criminologist, horticulturalist and funeral minister. Through her ministry and as a volunteer Christine has served the community in various capacities relying on her creativity and strong interpersonal skills. Her world view embraces the full variety of faiths and traditions. She brings to the table a blend of professionalism, enthusiasm, grace and respect for all unions including same-sex. On your wedding day Christine will, with a calm compassionate presence, guide you through your genuinely meaningful and memorable wedding ceremony.
Request Christine Libon
Areas served
Barrhaven, Carp, Kanata, Kenmore, Manotick, Nepean, North Gower, Orleans, Ottawa, Ottawa Central, Ottawa East, Ottawa West, Ottawa South, Richmond, Stittsville
Reviews
Beatriz & Thiago
It was a pleasure to have Christine Libon as our wedding officiant. We had a small and simple ceremony and it turned out to be even more special with her beautiful words and exciting text. The way she conducted the wedding was so lovely! Thank you for everything Christine! Beatriz and Thiago, April 15, 2017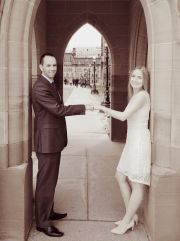 Barbara & Ralph
Hi Christine (Libon), Thank you for such a wonderful service. The wedding was professional but warm. Exactly what we wanted, and then some!! You are great at what you do. Most sincerely, Barbara & Ralph 08/12/17
Amir & Julia
Christine (Libon) was our officiant for our wedding at Restaurant E18hteen. She was very flexible and accommodating to our needs and helped incorporate elements of our culture into a beautiful ceremony. Thank you Christine!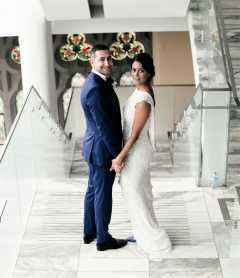 Gillian & Randy
Christine Libon is very kind and personable. She is accommodating and a pleasure to work with.
Michelle & Joel
Thank you for all your help. A big thank you for having prepared those lovely little cards with our vows. They were a life-saver given I had forgotten mine in my bag! They also are a lovely souvenir that we are keeping to cherish. It was a day we will cherish for years to come.
John - Guest officiant
You provided the calm assurance that made it possible to all of us to prepare for the day knowing that we were anchored by your calm professionalism. My heartfelt thanks to you for creating the space that allowed me to craft a text knowing what I could and should have in it. It was a great day and you made it so. Many thanks again and all the best.
Lillian & Alex
It was a day that we will treasure forever. Christine (Libon), we can't thank you enough for making it perfect.
Anya & Boris
Thank you Christine (Libon), You did a great job! Thank you for providing structure and beauty to our ceremony. Our guests thoroughly enjoyed your officiating of our marriage. It was symbolic of our relationship and the adventures to come. We also sincerely appreciated the meetings with you as you guided us with the creation of our vows. You were welcoming, calming and sweet. We sincerely appreciated your hard work. We will definitely recommend you to family and friends as your positive energy is contagious. [21/07/2018]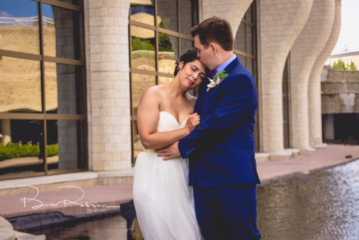 Jennifer & Abdel
We were so blessed to have Christine as our officiant. She was exactly the calm, confident, open hearted person we needed to help us bring together the diverse faiths and cultures of our families. What an amazing day! [14/07/2018]
Heather & Ben
It was wonderful working with Christine to create our ceremony. She provided the structure we needed, and the flexibility for us to personalize it to make it our own. We were very happy with how it went on our big day. Thank You! [Aug 18, 2018]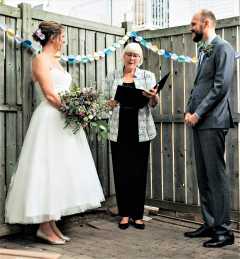 Sara & Stephen
Christine, we cannot thank you enough for being a huge part of our special day. All of the comments we received from the guests were how great, intimate and relaxed the ceremony was. It was absolutely perfect and just what we were looking for. Thank you! [Aug 25th, 2018]
Terry-Guest Officiant
Christine Libon was a pleasure to work with. She had many great suggestions for the ceremony and the wedding script. And as the guest officiant, she made my job much easier. I appreciated how flexible she was, and that she was right there if anything unexpected happened. Thanks again Christine. Terry [October 6th, 2018]
Sarah & Chad
Thank you so much Christine. We are still flying high from our amazing wedding. We wouldn't have changed a thing. We had the best time and we couldn't have done it without you! Everyone told us afterwards how much they enjoyed the ceremony and how warm and special you made it for us and we couldn't agree more. You truly went above and beyond and it showed. We are very appreciative of your attention to detail and calm demeanor. Thank you from the bottom of our hearts for making our day incredibly special, unique and above all, filled with love. Sincere thanks for sharing our special day with us. It was truly a pleasure working with you. Sarah and Chad Oct. 12th, 2018
Shawna & Michael
We want to thank you so much for helping create our perfect wedding ceremony! We can't thank you enough for facilitating Mike's dad (guest officiant) marrying us which was a very special part of our wedding. We appreciate all the hard work and time you contributed. We love the cards you made for our vows which was such a great idea; they will be kept in our memory book and re-read with happy thoughts of our 'big day'. Thank you for being there for us, sharing the day, and helping to create the ceremony we wanted! We also really appreciated you holding the umbrella😉. It felt very natural having you up there with us. [Oct 6th, 2018]
Rachel & Nick
Christine Libon, we are so grateful that you were our officiant on our special day. You went above and beyond to personalize our ceremony and to make it so special. You stuck with us through the cold, the rain, the snow, and the hail, all in great spirits! You are so lovely and wonderful and we can't thank you enough! You added something so special, that no one else could have!! Rachel & Nick Oct 19/2018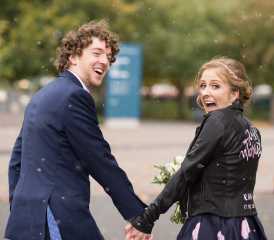 EunJoo & Vincent
Christine We cannot imagine our wedding with anyone else but Christine (Libon). She was very engaging throughout the whole process and conducted such a beautiful and meaningful ceremony. We felt that Christine grasped our personalities incredibly well and chose her words perfectly. Our guests also loved our ceremony and appreciated her calm vibe and beautiful words. Thank you so much, Christine!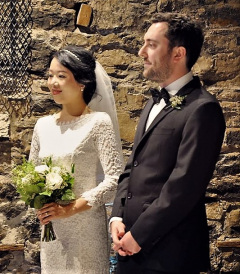 Lisa & Joey
Thank you so much for everything, the ceremony was so beautiful. (October 13th, 2018)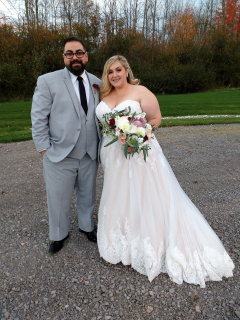 Claire & Jane
I would like to write a review of my experience with Christine recently. On short notice, two very good friends, Claire and Jane needed to complete their wedding vows. Claire has an advanced cancer and is not expected to live much longer, so it was imperative that the ceremony proceed as soon as possible. I found Christine on your AS website, contacted her through email, gave as many details as I could, explained the urgency of the situation and left it with her. She came through in amazing fashion. Jane and Claire were thrilled with her personality, consideration, professionalism, sensitivity and warmth. Christine went over and above any expectations we could have conceived under such unfortunate circumstances. I will recommend Christine and All Seasons Weddings whenever the occasion should arise. I am very thankful that this experience turned from an anxiety-filled situation to a positive, memorable celebration of love. Thanks, in part, to Christine Libon. Sincerely, Bonnie