Rev Christian Sawka, B.B.A. (Trinity Western)
Christian, an Ordained Minister with Clergy Support Memorial Church, was born, raised, and currently lives in Coquitlam. After completing a degree in Business Administration at Trinity Western University, Christian worked as a youth worker for five years before switching professions. He's passionate about being an active member in his community, whether it is coaching or playing soccer, running youth nights or organizing a financial literacy camp for kids. Christian's an experienced speaker, laid back, adaptable and his main goal is to help make your day about both of you. No matter the type of wedding ceremony, he will feel right at home in whatever setting you choose. Caution. He books up early and is very popular. Talk with him and see if you agree !
Request Christian Sawka
Areas served
Abbotsford, Burnaby, Coquitlam, Langley, Maple Ridge, Mission, North Vancouver, Port Coquitlam, Port Moody, Richmond, Surrey, Tsawwassen, Vancouver, White Rock
Reviews
Allie & Cody
Christian Sawka went above and beyond to customize our wedding ceremony and make it the most memorable day ever. He vastly exceeded all our expectations. Christian met with us one-on-one prior to the wedding to walk us through his process. He also took the time to get to know our thoughts, desires and expectations for the ceremony. He really understood us as a couple and adapted accordingly - he was funny, yet sincere. Informative and confident, yet flexible. Multiple guests were so impressed by Christian, they reached out to him after the ceremony. Since the wedding, I have had the opportunity to talk to friends, as well as reviews through third-party sites to refer Christian as an officiant. Thank you so much, Christian, for playing such an imperative role at our wedding. You truly made it a magical day, full of memories, vows and words spoken that we will always remember.
Kathleen and Ryan McNabb, from March 24th 2018
The moment we met with Christian we knew he'd be a great fit for us. He was so prepared and helpful and made the ceremony process and planning less stressful and more fun. Our ceremony felt custom and true to us and we could not be more thankful!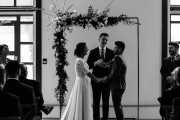 Paula and Chauna
Christian was an amazing Wedding Officiant for our wedding on July 7, 2018. We met him a few times prior to the wedding date and he was very organized, thorough and helpful. We exchanged a few phone calls and emails prior to our wedding date. He also provided a few templates as ideas and we modified them to our style. Christian is a very captivating speaker and he really made sure that the ceremony went very smoothly. I would recommend Christian to anyone planning a wedding ceremony, absolutely fabulous wedding officiant. We were very lucky to have chosen Christian :)
Sheldon & Amanda
It was the best day of our lives. Thank you. Christian Sawka was a wonderful person with a kind heart. We are so blessed it was prefect and everything was what we wanted and more. We would like to have Christian Sawka in our future plans. Please let him know how grateful we are to have him come marry us and that the Ceremony was beautiful ! Thank you so much. January, 2018
Hannah & Robert
Christian Sawka was amazing! He looked after us so well and went above and beyond to make sure our wedding was perfect! June, 2018
Chauna & Paul
Christian Sawka was absolutely fabulous from beginning to end. Very organized, charming and his level of service and preparation went above any of our expectations. Thank you so much Christian for being a part of our wedding day ⭐️⭐️⭐️ Awesome in every level, thank you 😊 June, 2018