Carly Popenko
Your wedding ceremony is more than just a legal union, and it deserves to be treated with the same warmth, honesty, and trust that brought you together in the first place. I live in Hamilton and have a passion for the written word and performing arts. I am unbiased, respect all forms of faith, and firmly believe that love is love. As your officiant, I will get to the heart of your love story and ensure that whether it be intimate or upscale, your wedding ceremony is a reflection of you. In my spare time you will find me exploring the City's conservation trails or snuggling up to binge-watch the latest Netflix series with my husband and corgi. I can't wait to join your celebration!
Request Carly Popenko
Areas served
Hamilton, Albion Falls, Waterdown, Dundas, Ancaster, East Hamilton, Flamborough, Stoney Creek, Burlington, Oakville, Binbrook
Reviews
Chris & Maria
Thank you so much, Carly! Everyone we talked to commented on how unique and meaningful the ceremony was, and how perfectly it reflected us as a couple. Thank you for making our day so special.
Kate & Andrew
We couldn't have been happier with the way the ceremony went. It was everything we could have hoped for. Many of our guests commented on what a beautiful job you did. We are so happy we chose you to officiate our wedding. Thank you for everything!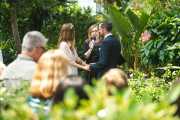 Cheryl and Evan
Thank you so much for facilitating our ceremony. We had multiple guests come up to us and ask us how long we've known you and comment on how amazing you were. We definitely agree. We clicked with you right from the get go and we were so lucky to find you. Our ceremony was warm, intimate and most importantly very "us" and that's all because of you. Thank you again.