Bruce Wheatcroft
Dr. Bruce Wheatcroft, who serves many Quebec and eastern Ontario communities, believes it a great honour and privilege to be invited to share in one of the most intimate and joyful moments in the life of any couple and their families. Bruce's gracious country home, The Abbey for the Arts, is located in the Lancaster/Alexandria area of Eastern Ontario. Bruce's career as a teacher, internationally-known classical musician, noted public speaker has prepared him well for his role as a wedding celebrant.All his wedding ceremonies bring both dignity and graciousness on every occasion.
Request Bruce Wheatcroft
Reviews
Vanessa & Eric
Hi Bruce Wheatcroft, Everyone had a great time & the whole evening was perfect & just the way we wanted it. Many people are still talking about the great food. Thanks for all your help!!!!!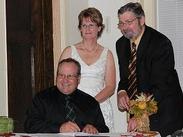 Jennifer and Tom, Morgan, Paige and Tom
Hello Bruce Wheatcroft .... Let me just start by saying a great big thank you for our wonderful wedding ceremony. You did a fantastic job in guiding us through both before and during the ceremony and we loved it. Thanks you for all your great suggestions to include Morgan and Paige. They have both expressed how they felt like they were a big part of the wedding. Thank you once again for a terrific ceremony!! ...It was a pleasure getting to know you and we will be sure to recommend you to anyone we here about that needs an officiant. All the best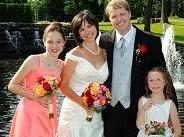 Andrea and Rene
Bruce Wheatcroft was great. He walked us through the whole process and coached us on the content. We would recommend him to anyone!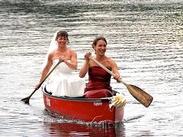 Vanessa & Eric
Bruce Wheatcroft was very flexible & accommodating. Our wedding was held at his Abbey & it was perfect. Everyone attending thought so too. What a wonderful wedding venue and perfect officiant. Everything was perfect!
Stephanie & Timothy
Dr. Wheatcroft far exceeded our expectations. He was very friendly, kind hearted, funny and a very calming presence on such a hectic day! We thank you and him for making our wedding ceremony so memorable. Many of our guests commented on him as well, and said what a fantastic job he did. Thank you!
Lisa & Perry
Bruce Wheatcroft was wonderful and made our day even more special. He made it all so easy and we weren't nervous because he walked us through everything. We would absolutely recommend All Seasons Weddings and Bruce for sure. Thank you very much!!
Lauren & Ryan
Dr. Bruce Wheatcroft was unbelievable, he was amazing! He made our day extra special! Thank you so much!
Sandy & Robert
Bruce Wheatcroft was very professional and made us feel comfortable on this important day. I loved that we were able to pick and choose the words for our ceremony which made it so very personal. We were lucky to have had him officiating. Great experience!
Jim & Marlie
Dr. Bruce Wheatcroft - Living at pace as we do, it is rare to find someone willing to 'stop, look and listen'. Bruce Wheatcroft did this for the marriage of my daughter. He was key. It was a small, intimate wedding and we were all very much there for them. I feel privileged he was ours for that brief occasion. Thank you, Jim & Marlie
Erica and David
Dear Bruce, I just had to write to you this morning to express our thanks for the most beautiful wedding ceremony we could have imagined. All day long, our guests came to us to tell us how lovely it was and how great you were. Our day was exactly what we hoped it would be and your guidance helped make it so. With our best wishes for a happy, healthy and safe New Year for you and yours,
Maya & Mugheer
Hello Bruce (Wheatcroft), Mugheer and I wanted to take a moment to thank you for being part our special day ! Thanks again for making us feel so at ease and so comfortable. We loved how you delivered our wedding ceremony and so did our guests. We have received a lot of positive comments about your performance and your speech. The ceremony could not have been better and you really were able to provide us with a dream like ceremony. Wishing you all the best!
Kelsey and Jason
Just wanted to send you a quick email to say thank you for everything yesterday! We were blown away by your ceremony. We couldn't have asked for a better officiant. From our first correspondence we Knew you were the right choice for us. Everyone commented on how much they enjoyed you. Thank you a million times.