Brian Fairbrother
Brian lives downtown at QueenE and Woodbine. He has been the recipient of two awards from the prestigious Wedding Industry Experts Awards including the best wedding officiant in Toronto. He is easy going and approachable, with a gentle sense of humour. He believes that, no matter how you define sacred, the joining of two lives together is one of the most sacred things to be shared in this lifetime. He makes sure the celebrations are joyful and can be dignified and reverent, or 'lighter' and can be tailored to fit most tastes. It is very important to him that you both feel comfortable and to ensure your celebration is special and memorable. He looks forward to meeting with you to discuss your dreams and wishes for your day and help you make them come true. He is the second most requested officiant on our Toronto team by couples that have seen him in action.
Request Brian Fairbrother
Areas served
Downtown Toronto
Reviews
Preyah & Jonathan
Brian Fairbrother's personality, wit and humour fit our wedding to a tee - we try not to take ourselves too seriously and didn't want a wedding ceremony that was overly serious, stiff and boring, and Brian helped us achieve our goal. The ceremony was lighthearted and fun and yet so meaningful to us - we received so many compliments about it! Such a wonderful, professional team and an absolute pleasure to deal with from start to finish. So glad that we chose to work with All Seasons Weddings. Brian - thank you for helping make our wedding day an incredible memory for us!
Rick and Sara
Hi Brian, Rick and I wanted to thank you so much for everything you've done for us throughout the wedding planning process as well as during the rehearsal and ceremony. We both had a great time at both the rehearsal and ceremony and couldn't have been happier with how everything went - it was great! We loved how you made the ceremony fit us so well and all of the humour was perfect!! We've attached a few pictures here! Thanks again so much - for everything!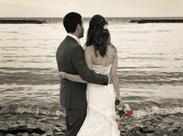 Samantha & Andrew
Brian Fairbrother was beyond our greatest expectations, he was a joy to work with and helped us through the process of creating a ceremony that fit us perfectly. We really enjoyed working with him and would suggest anyone who is considering choosing him to not think twice. Once the big day arrived he kept up with our original opinion with his professionalism and decisiveness. I would suggest All Seasons to anyone who happens to ask about wedding ceremony services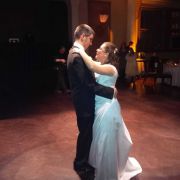 Natacha & Marko
Brian Fairbrother did an exceptional job! He met with us a few weeks before the wedding and spent a considerable amount of time with us, walking us through the steps of the ceremony. He's very personable and made use of this time to get to know us a little and get a feel for what we would find meaningful. He made some excellent recommendations and he delivered a seamless ceremony! Brian was recommended to us through a friend and he will also be officiating our friends at the end of June! We received many compliments on our ceremony - I would recommend Brian in a heartbeat!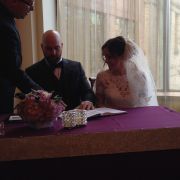 Carolyn & Peter
Brian Fairbrother did a fantastic job and really made our ceremony fun and informal. I would recommend his services to anyone looking for an officiant.
Danielle & Geoff
Brian Fairbrother exceeded our expectations! We loved how he personalized our ceremony and was so friendly! He added a light-hearted touch to the ceremony! I will be recommending him to everyone!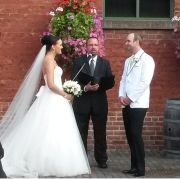 Seena & Paul
Brian Fairbrother was friendly, supportive, and accommodating. So many compliments to the ceremony from our guests. He was amazing! When I had questions, the office's email responses were quick and helpful! Brian was great and it felt like we knew him and it was a great fit for us as a couple. It was all an easy process. While we were a calm couple and didn't stress, it was nice to have you help guide us through the process. Thank you!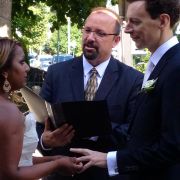 Devin & Shantal
Brian Fairbrother often went above and beyond for us - continually asking throughout the process how he could help and if we needed anything. The support was greatly appreciated!!
Heather & Andrew
Brian Fairbrother was excellent! He made us feel at ease and relaxed throughout the whole process, and was a joy to work with.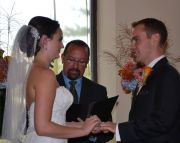 Shirley & Christopher
Brian Fairbrother was amazing. He listened to what we wanted and was willing to help make the ceremony unique to us. On the day of the wedding he was beyond amazing. He even learned a few words of Chinese for my family. It was awesome. He delivered what we wanted, a balance of sweet and humour. Brian was great and the process with All Seasons was quick and simple. Thank you for helping make our day perfect.
Carly & Brogan
Brian Fairbrother was amazing (although we knew he would be from the great reviews)! We loved that we were able to personalize our vows (and that he in fact encouraged this), and we also loved how down-to-earth and passionate about weddings he was. Overall great experience and would totally recommend both Brian and All Seasons - thank you!!
Julia & Paul
Brian Fairbrother was great! He worked well with us to accommodate our wishes. He made us feel so calm throughout the entire ceremony. He even ran away quickly once we had our kiss so our photographer could get a great unobstructed photo of the two of us. Thank you to Brian and All Seasons Weddings for making our day special.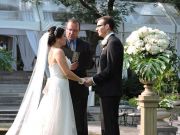 Alison & John
Brian Fairbrother was even better than we expected. He really cared about the details and gave us great tips and feedback on our plans and worked with the photographer and videographer to help us get the best shots. He was very nice, personable, fun and accommodating. Thank you for providing us with clear instructions and a reliable service. It was nice to know that if anything went wrong there was an emergency contact number and that the service would help us last minute. Luckily we didn't need to use that service but it's nice going through a service for the peace of mind that our officiant is legit.
Cherise & Edmund
We had the pleasure of working with Brian (Fairbrother) this past weekend (July 9th, 2016) for our wedding. We wanted to send a review about how amazing he was and how he made our day PERFECT! We couldn't have asked for a better officiant. Brian made our day and people are still talking about it. We would recommend him to anyone. We want to thank Brian for making our day incredible and more than we could ever ask for.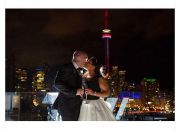 Sylvia & Mike
Brian did an excellent job helping us to prepare a ceremony that reflected our lives. He had great advice and examples for us and was open to all ideas. I would highly recommend him.
Andrew & Jocelyn
Brian Fairbrother was fantastic! He was patient, funny, and had a lot of great ideas. He truly made our ceremony unique and personal. Most importantly, he made us feel really comfortable and did a good job at calming our nerves.
Erika & Ryan
Brian Fairbrother was great, easy going and accommodating for us. He ensured that our ceremony was low stress and fit what we wanted. We would highly recommend Brian to other couples for their wedding day.