Bonny Thorne
Bonny resides in beautiful Kelowna, beloved by many as one of the world's most stunning panoramic backdrops for your special celebration. Bonny's background as a world class producer of major fund raising galas for causes she believes in, allows her to shine her gift of truly making your special day memorable, whether you envision your celebration at a local winery, your backyard, a yacht, a mountain top, or out in the lush Okanagan orchards. As an avid meditator with a daily mindfulness practice, Bonny has meditated with some famous celebrities and contemplatives from all over the world, (ask her about her adventures and deep treks in nature). Bonny's reputation as an exceptionally warm and authentic person proceeds her, audiences remark about her 'down to earth relaxed' presence. She welcomes all your ideas for your spiritual, interfaith or cultural wedding ceremony, or how she could contribute to your ceremony in a way that resonates for what you have in mind.
Request Bonny Thorne
Areas served
Kelowna, Westbank, Upper Mission, Lower Mission, Joe Rich, Lake Country, Winfield, Peachland, Summerland, Vernon
Reviews
Caroline & Dennis
It means the world to us to have had you Bonny (Thorne) as the officiant for our wedding! Gratitude for making our wedding so absolutely divine! You were awesome and we loved the special intimacy you created, just because of who you are. We knew we were in good hands!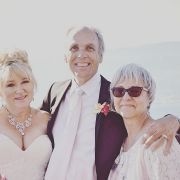 Jojo & Kevin
We couldn't have found a better or more amazing lady to officiate our wedding! Bonny (Thorne) helped make our wedding unique to us and spent the time to guide us through all the details that can so easily be missed in the midst of all the wedding planning craziness. It simply wouldn't make sense not to have Bonny as part of your wedding, she truly made our special day just that little bit more magical. Thank you for marrying us Bonny!!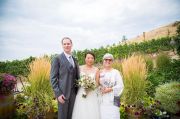 Jacqueline & Ryan
I want to sincerely thank you for being a part of our day. Your enthusiasm and support of our decision to marry like we did was most appreciated. You were so sincere and excited for us, I was very grateful. I was drawn to you immediately and while we were only together for a very short time I feel connected to you somehow. I think that's pretty special. I couldn't have asked for anyone better.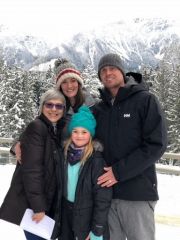 Connie & Kenji
Bonny's (Thorne) bubbly personality put all our guest at ease for our small, casual and intimate wedding. Held in a private home, Bonny directed our wedding ceremony. We appreciated all the guidance she provided and would certainly recommend her for a small wedding party
Dan & Dani
Bonny Thorne understood our vision of a short, meaningful ceremony and made it come true! Bonny worked with my (bride) anxiety and kept planning the ceremony easy and stress free. The warmth, love and calmness Bonny exudes made our moment magical. Our day was perfect, thank you Bonny! Thank you so much from both of us!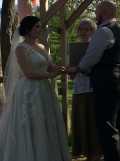 Sam & Fi
We are so glad we asked Bonny to be our wedding officiant. She came highly recommended to us and we could see why after our very first meeting! Her personality naturally put us at ease and made us feel so comfortable during the ceremony. The ceremony words she put together were beautiful and many of our guests commented on how moving it was. She let us have some creative freedom also which let us have a very personalized and authentic ceremony. Thank you so much for being with us for our special day. Love Sam & Fi XXX

Beata & Jared
Bonny (Thorne) was great- she made us feel so special and kept my crazy guests under control too:) Thank- you so much Bonny for the beautiful poetry and words during the ceremony.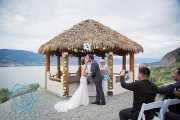 Roxane & Martin
Bonny (Thorne) was such a pleasure to work with! She did a fantastic job on putting young couples like us at ease. She was flexible and made accommodations when we needed it. Her presentation was excellent for our conservative families. It must be ✨stardust ✨that we found her! Thankfully, she was available over the long weekend!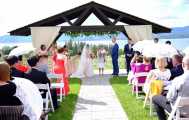 Erin & Riley
Bonny (Thorne) was an amazing officiant, and she made our special day all the more perfect. She was available to us whether it be via phone, text, or email and was happy to answer all questions we may have had. She conducted a beautiful ceremony and it suited my husband and I so well. She is a down-to-earth, caring, thoughtful person and I would recommend her as a wedding officiant to anyone! Thank-you so much again Bonny for making our day amazing.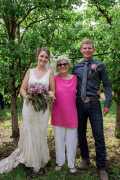 Dylan & Chelsea
Dear Bonny (Thorne), thank you so much for all your help and expertise in making our wedding ceremony unforgettable. When we contacted you through allseasonsweddings.com we were happy to find someone local to Kelowna and close to our venue. Being out of town, from Kamloops, we were happy with how open the communication was over phone and e-mail. We never worried about our ceremony leading up to the big day because we knew it was in very capable hands. Thank you for all the support and love. We could never thank you enough for the amazing experience you provided us. Lots of love from Dylan and Chelsea