Bonny Thorne
Bonny resides in beautiful Kelowna, beloved by many as one of the world's most stunning panoramic backdrops for your special celebration. Bonny's background as a world class producer of major fund raising galas for causes she believes in, allows her to shine her gift of truly making your special day memorable, whether you envision your celebration at a local winery, your backyard, a yacht, a mountain top, or out in the lush Okanagan orchards. As an avid meditator with a daily mindfulness practice, Bonny has meditated with some famous celebrities and contemplatives from all over the world, (ask her about her adventures and deep treks in nature). Bonny's reputation as an exceptionally warm and authentic person proceeds her, audiences remark about her 'down to earth relaxed' presence. She welcomes all your ideas for your spiritual, interfaith or cultural wedding ceremony, or how she could contribute to your ceremony in a way that resonates for what you have in mind.
Request Bonny Thorne
Areas served
Kelowna, Westbank, Upper Mission, Lower Mission, Joe Rich, Lake Country, Winfield, Peachland, Summerland, Vernon
Reviews
Caroline & Dennis
It means the world to us to have had you Bonny (Thorne) as the officiant for our wedding! Gratitude for making our wedding so absolutely divine! You were awesome and we loved the special intimacy you created, just because of who you are. We knew we were in good hands!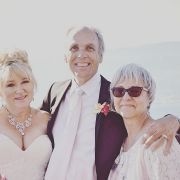 Jojo & Kevin
We couldn't have found a better or more amazing lady to officiate our wedding! Bonny (Thorne) helped make our wedding unique to us and spent the time to guide us through all the details that can so easily be missed in the midst of all the wedding planning craziness. It simply wouldn't make sense not to have Bonny as part of your wedding, she truly made our special day just that little bit more magical. Thank you for marrying us Bonny!!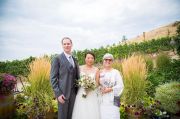 Jacqueline & Ryan
I want to sincerely thank you for being a part of our day. Your enthusiasm and support of our decision to marry like we did was most appreciated. You were so sincere and excited for us, I was very grateful. I was drawn to you immediately and while we were only together for a very short time I feel connected to you somehow. I think that's pretty special. I couldn't have asked for anyone better.