Barbara Kovatch, BA, BEd, MEd (U Calgary).
It would be my privilege to be invited into your life to conduct your wedding ceremony. My extensive background in music and the arts helps me recognize how important music and the correct delivery can affect a ceremony. I am comfortable speaking to a large or small gathering, in the location of your choice. You can be confident I will deliver your ceremony professionally, with warmth and heart, and a touch of humour. I would welcome being a part of your joyous day. I am credentialed with Clergy Support Church.
Request Barbara Kovatch
Areas served
Calgary, Airdrie, Chestermere, Cochrane, Crossfield, Dewinton, High River, Langdon, Okotoks, Priddis, Strathmore, Turner Valley
Reviews
Ali and Ryan
Rev. Barbara (Kovatch) was absolutely fantastic. She sat down with us in our home town over a coffee to discuss what we wanted for our day. She took the time to perfect the vows, most importantly she made sure our son was included on our big day. Barbara printed off a separate certificate that our son got to sign with us for a keepsake. His eyes widened when he was asked to sign. For that reason right there, it was our perfect day. I can not describe in words how much we appreciated everything that Barbara did for us. She went above and beyond. She made our ceremony smooth, with a few jokes and laughs, everyone had a blast. From the bottom of our hearts Barbara, thank you!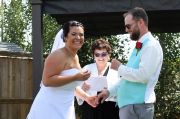 Drew and Laura
My wife and I just wanted to make an additional note about how pleased we were with Barbara (Kovatch) as our officiant. Not only did she conduct an incredible ceremony, but she even helped me with my boutonniere (those things are tricky to attach!). Everything at the wedding went perfectly, and a big part of it was thanks to Barbara. Drew & Laura Onia
Chris and Troy
Our officiant was Barbara Kovatch. The service that she gave was absolutely amazing and was exactly what we wanted. She is kind, professional, and funny. Made our day absolutely perfect.
Courtney & Enda
Barbara Kovatch was amazing thank you for the wonderful ceremony. Payment and instructions along with a sample ceremony for reference provided by the reservations office was very helpful.
Aaron & Angelie
My husband and I planned a wedding literally in the span of a week and miraculously pulled it off with the help of All Seasons Wedding Service. Our Officiant Barbara Kovatch was incredible to deal with. She truly understood how to make our very intimate and very private ceremony still a very memorable one. Thank you so much for making our day so special! Aaron & Angelie Jan 10th, 2018
Rebecca & Marc
Rev Barbra Kovatch has an incredible personality, she zoned into who we "are" and gave an "us" ceremony. Very special, very memorable. August 24th, 2018
Chris & Kelly
Rev Barbara Kovatch was fantastic, we gave her the revised version of our wedding not even two days before and she didn't mind at all. She was wonderful and I would suggest her to anyone that asked! August 18th, 2018
Jim & Heather
Barbara met all of our expectations. August 25th, 2018