Arthur Pagett
Art was recently voted by his peers as the 'Most Popular Wedding Officiant in Oshawa' at the prestigious international Wedding Industry Experts 2016 Awards. Art was born and raised in Peterborough and while Oshawa has been home for the last 25 years he has recently relocated to Kincardine. Art has extensive knowledge and skill in officiating weddings. Professional, experienced, and highly organized, Art desires to work with couples to ensure your wedding ceremony is creative, unique, memorable and worry-free. He enjoys meeting people and helping to create memories that last. Art will be honoured to conduct your wedding ceremony the way you want it.
Request Arthur Pagett
Areas served
Kincardine, Goderich, Port Elgin, Southampton and Walkerton.
Reviews
Pamela and Davis
Art Pagett was our officiant for our Renewal of Vows and we were absolutely thrilled with him! He offered a fantastic blend of warmth and ease together with a keen sense of spirituality which we deeply appreciated! Well done…we have nothing but positive feedback on him. I would hope other couples have the opportunity to meet and use him for their ceremonies…and my husband and I can only wish we had used him the first time around as well! He was very warm, professional and supportive…we would definitely recommend him to our friends and family.
Rob and Cheri
We were so happy with everything, and our day could not have been more perfect. Thank you for all your work, you were great! It was a pleasure meeting you too. Thanks again, and enjoy the rest of your summer.
Laura and Robert
We wanted to thank you for making our day perfect. We were so pleased with how everything went that day. We managed to pull everything off as a surprise and all our guests had a great time. They all commented on what a great job you did. Thank you again. Laura and Robert
Christine and Carlton
Good Afternoon Art! Carlton and I wanted to thank you so much for your beautiful baptism ceremony for Lia. We were so pleased with how it went and cannot thank you enough for helping make our little one's day so special. The ceremony was perfect and we love the suggested personal details you added. Thank you again. It was a pleasure to meet with you. Best Regards,
Kristine & Nathanial
Art Pagett absolutely exceeded all of our expectations. He was so personable and took the time to really give us what we wanted. He was very organized and efficient. We were so impressed with Art and are so happy that he performed our ceremony. He was very personable and easy going and his organization and attention to detail was much appreciated. We are recommending him to all of our newly engaged friends. We were so happy with him.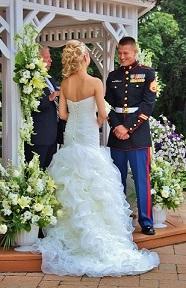 Melissa & Kyle
Art Pagett went above and beyond to meet our expectations and make our day special and unique to us. He was kind, giving and thoughtful. All Seasons got back to all my emails and questions quickly and efficiently. Everyone was kind and caring to ensure our day was special and ran smoothly. I would recommend All Season's without hesitation. Thank you for all you did to help our day be successful! Art truly was amazing and we feel lucky to have had him officiate our wedding.
Barbara & Tyler
Art Pagett was just wonderful! He was very genuine and very good with involving our guests. Everybody was just so amazed and impressed with his service and made our ceromony just beautiful.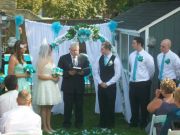 Lina & Graham
Art Pagett was excellent from the beginning and delivered a perfect ceremony service. Great delivery during the ceremony. Guests spoke very highly of him!! We were so very happy with having Art as our officiant. Great work Art, thank you!
Susan & Walter
My niece had Art Pagett officiate at her wedding and was so satisfied, she referred him to me. At our meeting there was a connection. Art was pleasant, professional & engaging. He helped us with decisions to make our wedding the best..he reminded us it was "our day". We will refer Art and your company for sure.
Julie & Ricky
Art Pagett did an amazing job at our unique wedding! Center Ice! We can't thank Art enough!!!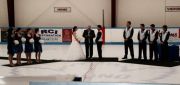 Angela and Douglas
Dear Art, We wanted to express our sincere Thanks for officiating Tyler's Baptism. We were very pleased with the ceremony and it was a pleasure meeting you as well. Our family and friends were very impressed and everything went so well. Thanks again for making Tyler's Baptism a special memory for us.
Samara & Justin
We are so happy to have met Art Pagett. His warm nature and professionalism allowed us to feel comfortable and prepared on our wedding day. When we first met, he took the time to get to know us and was always available to answer our questions afterwards. He showed a genuine interest in helping us to feel comfortable and was more than willing to accommodate even last minute changes to our ceremony. We highly recommend Art Pagett!!
Tassy and Keith
Thank you for connecting us with Art - he was fantastic!
Shelley, David & Greysen
Art Pagett performed our daughters christening a few weeks ago. He made the day truly special. He personalized the ceremony and made everyone present part of the ceremony. Thank you all seasons and thank you Art Pagett for a truly special day! 06/11/2016
Matthias & Jessica
My husband and I chose Arthur (Pagett) to be our wedding officiant after reading many wonderful reviews about him and I'm happy to say that he exceeding our expectations! We planned our wedding in Ontario while living in Alberta and first spoke with Arthur over the phone. In that first conversation he answered all of our questions and put us at ease immediately. When we finally met with Arthur just a week prior to the wedding he sat down with us and went over our wedding ceremony in great detail to ensure that every detail was exactly as we wanted it to be. He made it very easy for us to personalize our ceremony by incorporating our own vows and ideas.The ceremony itself was beautifully performed, Arthur guided us through every step while engaging our guests and maintaining a sense of intimacy. We are so thankful that we chose Arthur to be our wedding officiant, he was fantastic to work with from start to finish! Matthias & Jessica Feb 4th, 2017
Shelly and Johnny
Hi Art, I would like to say a big Thank You for making our wedding ceremony so wonderful! From start to finish, it was a WONDERFUL experience working with you! You are always accommodating, organized, and friendly! The day of turned out to be so wonderful and the ceremony was so very well managed. We cannot appreciate more for all your great suggestions during our meetings and rehearsal! You are AMZAING, and I would highly recommend you to anyone who is looking for a wedding officiant! Thank you for everything!
Pat & Mike
Art (Pagett), on behalf of Mike and I, please accept our heartfelt thanks for being part of our day. You really did make it special. We had many comments on how lovely the service was and in particular having our children participate. The kids were extremely touched to have been included. It was perfect. You made us so comfortable from our very first meeting. Thank you again!!!
Douglas & Dawn
Hi Art, Thank you for everything you were spectacular we couldn't have found anyone as remarkable as you to perform the ceremony. Our family and friends were thrilled to participate and we loved that they were involved!! You made the day perfect!! Thank you,