Ann Harper
Ann lives in the Bloor/Yorkville area of downtown Toronto. She is a certified English (TESL) teacher whose last assignment was in Ulaanbaatar, Mongolia.Ann loves people and devotes most of her time to international volunteering for projects supporting the eradication of poverty such as Millennium Development Goals. Locally she volunteers with Canadian Red Cross in Disaster Management. Ann is an optimist. Her warm personality, ability to adapt to different cultures, her travel experience combined with public speaking through Toastmasters International makes her the ideal choice. She will listen, support and guide you wholeheartedly on this most auspicious occasion.
Request Ann Harper
Areas served
Downtown Toronto
Reviews
Peter & Catherine
Ann Harper went over and beyond, we are completely satisfied and would recommend her to any of our friends or family:) The office was extremely pleasant, friendly and professional. I highly recommend Ann Harper if anyone is looking for a wedding officiant! She is very friendly, pleasant and professional and very open to what you want for your wedding:) she was just perfect, thank you for everything Ann!:)
Julie & Hamilton
Ann Harper was very friendly and helpful. I am happy she was our officiant.
Mary-Claire and Melissa
Our wedding day was such an incredible day and our ceremony was the most memorable part for us and family and friends. Having Ann officiate our ceremony helped make it true to us and our relationship and something that we felt very connected with. Ann was such a pleasure to work with and we were delighted to share this very important day with her.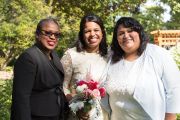 Michael & Julian
Ann Harper was sweet, professional, kind and understanding. She made our special day even more special with her genuine care for our union. Her professionalism was incredible as she kept in touch with us prior to the ceremony to make sure we got everything we wanted out of the experience. I would absolutely recommend her to other couples.
Pablo & Viviana
From the outset, we felt Ann Harper was like a friend who was part of planning an event with us rather than for us. She was assiduous and helpful and unobtrusively efficient and at all times on top of things. Prompting us without telling us what to do, it was a wonderfully gratifying experience to have worked with Ann.
Dan & Lauren
We loved working with Ann Harper. She was supportive in the planning process and very accommodating for incorporating our personal touches. The day-of she was very professional and we enjoyed having her as part of our wedding.
Kelly & Corey
Ann Harper was fantastic! She communicated with us on a regular basis and always knew what to say to ease our stress. Our meeting with her two weeks before the wedding went smoothly. She outlined everything very well, and she had so many things in common with us. I consider her a new friend. She went over and above - keeping us happy and informed throughout the entire process. Highly recommend to anyone.
Greg & Dianne
Ann Harper was a very warm and helpful presence in our ceremony. We appreciated her participation.