Ann Bonacci
Ann is a resident of Osgoode. She is fluently bilingual in English and French, and as a Bonacci, she also has a sprinkle of Italian. When Ann is not conducting wedding ceremonies or spending time with her family, she gives back to her community as treasurer for a non-profit group which supports aid to grandmothers in Africa. Ann's warm energy will put you at ease, and her goal is to make your ceremony memorable. She has a deep respect for other cultures and faiths. Ann is licenced in Ontario and Quebec, and she would be honoured to work with you both to conduct a memorable inter-faith wedding ceremony or a spiritual wedding ceremony of your choosing.
Request Ann Bonacci
Areas served
Barrhaven, Embrun, Hanover, Kanata, Kemptville, Kenmore, Manotick, Merrickville, Metcalfe, Nepean, North Gower, Osgoode, Ottawa Bilingual, Ottawa East, Ottawa South, Ottawa West, Richmond, Russell, Stittsville, Winchester
Reviews
Carolyn & Allan
Ann Bonacci was fantastic! We would highly recommend her. She was very accommodating and helpful. She helped make our special day memorable!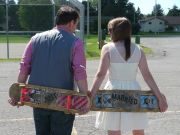 Melanie and Jonathan
Hi Ann Thank you so much for yesterday! Our family said that they really loved the ceremony and that you did a great job! Thanks again!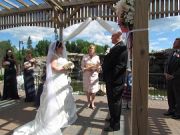 Lise & Tony
Thank you so very much Ann, for officiating our wedding. I don't think we could have picked a better suited person. Who knows we may run into each other at other functions; the odds are pretty good I would say. Thank you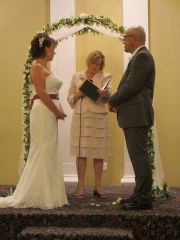 Dan & Lucille
Just a note to say dealing with your services was a wonderful experience. You answered all our questions and made us feel like whatever we wanted you would try and make it the best wedding ever! Ann Bonacci is a wonderful lady - I can't tell you in words how pleased we where with her. At our meeting befor the wedding she was wonderful accommodating and so helpful and by the time we left her we just knew all would go well. She made us fell like she was a real friend. Thank you for every thing, especially Ann. It was a great experience dealing with All Seasons.
Jenna & Jordan
Requesting Ann Bonacci to be the officiant for our wedding was the easiest decision we made during the wedding planning process. She is positive, organized and was insistent that we create a ceremony together that painted a picture of who my husband I are within the union of our marriage. She happily received our many corrections and revisions while offering suggestions and support throughout the creation of our ceremony. An important suggestion which we absolutely agreed with was to request that friends or family members be the ones to perform the readings. We asked two family members who we knew would be comfortable in front of the crowd and who we, more importantly, wanted to be a part of uniting us through our selected readings. On the day of she was flawless, her ability to recite our final script was natural and without a hitch, before we knew it we were sealing it with a kiss and off to dance the night away. I highly recommend Ann's services as an officiant, she is an amazing woman and will be dedicated fully to you, your fiancé and your special day.