Toni Ellwand
Request Toni Ellwand
Secteurs desservis
Toronto, Yorkville, Rosedale, The Annex, Forest Hill, Lawrence Park, Lytton Park, Deer Park, Moore Park, Casa Loma, Garden District, St. Lawrence, Corktown, Wychwood Park, East York, Etobicoke, North York, Old Toronto, Scarborough, York, St. James Town, Regent Park, Moss Park, Alexandra Park, Parkdale, Kensington Market, Chinatown, Leslieville, Cabbagetown, Riverdale,China town, Greektown, Little Italy, Portugal Village, Little India, Crescent Town, Thorncliffe Park, Weston, Oakwood–Vaughan, Willowdale, Downsview, Toronto Harbour, Don River, Distillery District
Commentaires
Jeff & Jehane
Toni Ellwand was wonderful, she was Expressive, amusing, creative and friendly! thank you Toni! Jeff & Jehane May 2019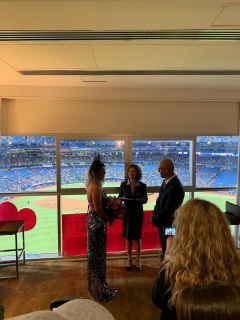 Steve & Alyx
Toni Ellwand was such a wonderful presence all the way through the process. She talked us through creating our own ceremony using the All Seasons templates and advised us about how to make the ceremony fully our own. She was calm and clear and wise and generous and made sure we understood what would happen at every step. On the day of the wedding she adapted to some last minute changes we had to make due to the weather, and her beautiful, clear voice spoke the ceremony beautifully to the gathered crowd. Many of our guests spoke about how wonderful she was. She helped us make the wedding day what we wanted it to be - simple, easy-going, loving and warmhearted. Alyx and I can't recommend her highly enough. All the best, Steve & Alyx Aug 2018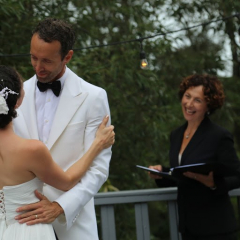 Maddy and Tay
Thank you Toni (Ellwand) for everything. What a magical whirlwind this has been. Thank you from the bottom of our hearts. Warmest regards, Maddy and Tay Sept 8th, 2018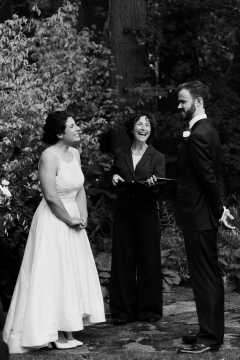 Claudia & Riccardo
We are extremely pleased with our officiant from All Seasons Weddings. Toni's composure was joyous throughout and her deliverance of our ceremony was clear and concise. Her big smile warmed the atmosphere and her dual language skills made our ceremony feel all the more special to us and our guests. Our special day was everything we wanted it to be. August 18th, 2018
Alyx & Steve
Thank you again Toni - lots of people remarked on how great your were - your clarity and projection over the wind and traffic and waves and your calm presence. Thank you for guiding us through this. It was a real joy to have you a part of our day. - Aug, 2018
Mike and Meagan
Hello Toni (Ellwand) Meagan and I both wanted to sincerely thank you for the beautiful ceremony at our wedding yesterday. So many people commented on what an amazing job you did, and it is something both of us will always remember for the rest of our lives. We want to personally thank you for all of your support and understanding. I was getting so nervous and anxious waiting up there with you, but you were able to put me at ease and just enjoy the moment :) So thank you again for everything... we will definitely recommend you to any of our friends and family who will be getting married in the future. Have a great evening Mike and Meagan
Sandra & Scott
Hi Toni (Ellwand) Thank you so much for the wonderful service you performed. Several of our family members complimented us on your energy and enthusiasm. Thanks again. Sandra & Scott April 7th, 2018
Mike
Tony (Ellwand), thank you so much for the very professional way you helped out. It was reassuring for me to know that you could step in and do a beautiful job. Thanks for the heads up on the standing audience :) it wasn't on the script and I'm catholic and we love to make em suffer a little bit, so it wasn't on my radar :) I would not hesitate to recommend you an officiant as I have total confidence in your abilities and experience. Cheers, and thank you once again.
Mark and Joanna
Dear Toni (Ellwand), Joanna and I wish to extend the warmest thank you to you for performing our ceremony. It was such an enjoyable and successful occasion. In fact, the ceremony really was our favourite part of the entire wedding day. You truly made it a uniquely special moment that we will never forget. Moreover, many people in the audience, including my family, also felt that you did a fantastic job. Thank you for everything! Best wishes, Mark and Joanna
Josie & Joey
Hi Toni (Ellwand)! Thank you so much being a part of our day, you were FABULOUS and my parents are still talking about how perfect your Italian was.
Candace and Giles
Toni Ellwand was the officiant at our wedding and was great throughout. From our first meeting to discuss what we were looking for to the day itself, when she was a welcome oasis of calm professionalism, Toni was a pleasure to work with. She caught the particular spirit of both of us and our event beautifully, striking exactly the right balance between seriousness and laughter, and she has a great voice which can be easily heard in a crowded room. Our wedding was lovely, and she played a key part in setting the tone from the get-go. Thank you again, and a strong recommend.
Robyn and
I got to see Toni's (Ellwand) excellent officiant skills at work firsthand when she officiated my brother's wedding. When it was time for my wedding, I immediately contacted her. Planning a wedding is overwhelming and Toni was amazing; she guided us on how we wanted the ceremony to flow. We made slight changes to the officiant script to best represent us, our sense of humour and to include an explanation about the Huppah we were getting married under. Toni incorporated our changes flawlessly. Toni has a positive and warm energy you want at your wedding. I cannot recommend her highly enough!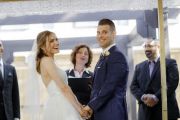 Joel & Adam
Toni was an exceptional officiant. It's been a few months since our wedding, and our family and friends are still talking about how wonderful she was. She was genuinely excited to be marrying us, and she made two nervous grooms feel comfortable and at ease as we exchanged our vows. So many of our guests were shocked to learn that we didn't know Toni on a personal level. Prior to the ceremony she was extremely informative, professional and helpful, and always responded to our e-mails quickly. All Seasons and Toni made the entire process seamless, and we could not have found a better person to marry us. Thank you Toni, you will always be remembered for creating such a special day for us.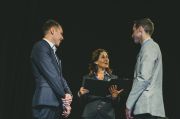 Kristen & Shervin
A big thank you to our officiant Toni Ellwand for doing such an excellent job officiating our wedding. Many guests commented on how well she spoke and how lovely the ceremony was! -Kristen & Shervin 06/03/2017
Kristen & Shervin
I am writing to thank you for recommending Toni Ellwand to be our wedding officiant. She did such a great job for our ceremony and we couldn't have been happier! We appreciated how professional she was throughout the entire planning process. She promptly responded to emails and walked us through the ceremony planning process step by step. All details were thought of and attended to. Take care!
Hilary and Leigh
Hi Toni (Ellwand), We were absolutely thrilled with your services! You did such a wonderful job and projected so nicely that everyone was able to hear. You are such a professional and a pleasure to work with. I knew we could put our trust in you to take care of us and guide us through the wedding ceremony. Thank you fro everything!!!!! Hilary and Leigh April 9th, 2016
Mirella & Pietro
Dear Toni, We want to thank you for your important part in our wedding ceremony. It was just lovely! Your Italian is amazing! Even the Italians were impress on how clear and correct you spoke. My friends who are not Italian but know enough when spoken slow and clear understood every word. You made the ceremony so warm and loving as if you knew us for years. Pietro and I are so pleased to have met you. I will definitely recommend you to everyone I know. Kind Regards, Mirella & Pietro
Trish and Christine
Hello Toni (Ellwand), We, and our family and friends, thought you did a great job. You were warm and welcoming, and the tone you set for the ceremony, as well as the pace and ease with which you performed it was all wonderful. Several family members and friends came up to us afterwards to praise your performance. So thank you for your very good work. All the best, and thanks again!
Michelle and Mark
Toni (Ellwand), Mark and I cannot even begin to tell you how happy we are with your delivery of our ceremony. It was absolutely perfect, and in turn, it's our favourite part of the whole day. It felt natural, joyous and perfectly us. Wishing you all the best,
Ilana & Dan
Toni Ellwand was great! Totally willing to help us with our vision of the ceremony (having a friend perform most of it), warm, sweet, and unobtrusive.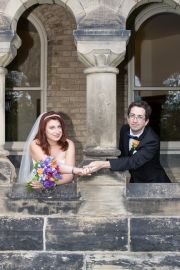 Silvana and Brian
I wanted to take a few moments to thank All Seasons Wedding for their services, and in helping provide the wedding officiant for our ceremony. Toni Ellwand performed our wedding ceremony this past weekend, and we could not have asked for a more perfect ceremony. The ceremony was performed with the utmost professionalism and perfection. She captivated all of our guests attention with her warm, delightful demeanor, and engaged us all. As well as her role in the actual day of the ceremony, Toni provided us with great direction and ideas on how to personalize the ceremony and make it "our own". Our experience with All Seasons Wedding, and with Toni, was delightful from start to finish, and helped us officially begin our marriage with great joy. Thank you once again!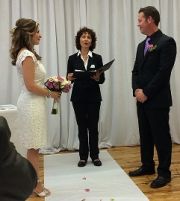 Christina & Daniel
Toni Ellwand was always around to answer questions and she performed such a wonderful ceremony. Everyone keeps telling me how amazing she was! She knew what we wanted and delivered that. She gave us lots of ideas of different ceremony's she had done in the past and answered all our questions and concerns. Toni was fantastic. She understood what we want and was able to deliver that for our wedding.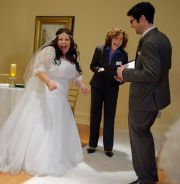 Laura and Rob
Toni (Ellwand), There is no way the wedding ceremony would have been the same without you. You were magnificent and so enthusiastic! We really appreciate you performing our ceremony and we will absolutely sing your praises to everyone. Your smile reflects the energy you have and you are so warm and welcoming! So yes we are extremely happy!!! Thank you a million times over! You are very good at this!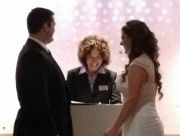 Trish and Collin
Hi Toni, we are so very grateful for the incredible job you did for our wedding ceremony. We got through everything and your patience was so fabulous as Collins Mom hadn't seen him in a few years and it made all the difference to us all to have her present. I will most definitely pass the word on about your amazing job and positive energy in your services. We were thrilled from start to finish! Best regards for a wonderful remaining summer :) take care and many many more thanks again!
Chandra and Myke
Thank you Toni for performing our wedding ceremony! You did a fantastic job and we are so pleased with the warmth, presence and authenticity you brought to our ceremony. It was an incredible experience. Thank you for sharing in the best day of our lives. :) We hope to stay in touch and perhaps collaborate creatively in other ways in the future. All our Love and Gratitude,
Stephanie and Lucas
Thank you so much for your email and thank you for performing our wedding ceremony! It was great! It's too bad I didn't get to talk with you at all really, it was just such a crazy busy day! We were really happy with everything and we were really glad to have you as our wedding Officiant. Best Wishes,
Natasha and Ryan
We received many wonderful comments after our ceremony on how captivating and enthusiastic Toni Ellwand was! She arrived early with time to speak with our families prior to the ceremony to answer any questions they had. She made me and my new husband feel comfortable and relaxed for our big day. When we met with her for the first time she provided great suggestions for the flow of the ceremony, specific wording we could use and how to incorporate friends and family. We're thrilled that we chose Toni to be a part of our special day!
Steven and Jana
Toni Ellwand exceeded our expectations. Her joyful and warm spirit suited our ceremony ideas. Her professionalism, knowledge and kindness made our wedding ceremony! The All Seasons office staff was very helpful and happy to help us with any questions we had.
Rob and Carlos
Hi Toni (Ellwand), Just wanted to say a really Big thank you for how you did our ceremony and for your patience with us on Saturday. We are extremely happy we chose you to conduct our ceremony. A lot of my friends and family had very good things to say about you. I also wanted to let you know that if you ever want to give me as a reference should anyone ask for one, i would be more than happy to povide it for you. Thanks again and I will be in touch as soon as we get our photos from the photographer! Rob & Carlos
Heather & Steve
It was such a pleasure working with Toni Ellwand. Her guidance and insight leading up to the event was incredibly helpful in providing us with direction on how we wanted our ceremony to flow. At the event she was enthusiastic, composed and completely audible to our guests. Toni is easy going, professional and kind. We couldn't be happier with her service. Thank you Toni!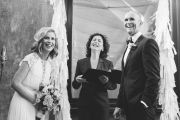 Leila &Jean-François
Toni Ellwand was amazing. We could not have asked for a better, nicer, or more friendly officiant. After meeting with Toni the first time, we knew we were in good hands. She came to our meeting with detailed questions, and she was organized, detailed, and was completely on the ball. Toni provided us with some samples and great suggestions for how we could personalize our ceremony. It is very clear that Toni takes her work seriously, and the ceremony went off with no problems. Toni rolls easily with the unexpected, when the bride got verklempt and ad-libbed part of her vows. Our ceremony was bilingual and Toni was great at switching back and forth between English and French. Thank you Toni!!!
Lauren and Oscar
Hi Toni (Ellwand), Thanks again for making our wedding ceremony such a great one. We will never forget the wonderful memories that you will always be a part of!! :)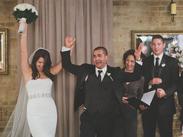 Laurence and Natsuko
Because of some unforeseeable circumstances, we had to ask Toni Ellwand to be our officiant only one week before the wedding. Despite the short notice, Toni was everything that we had hoped for. She was friendly and helpful before the wedding (helping us to design a personalized ceremony), and she was wonderful on the wedding day itself. Her delivery was warm and gracious, and it hit exactly the right tone for our wedding.