Ted Morris
Request Ted Morris
Secteurs desservis
Cooksville, Etobicoke, Mississauga, Peel, Toronto, Toronto Islands, Offshore Weddings from Toronto Marinas, Oakville, Port Credit, Scarborough, Streetsville, Cooksville, Longbranch, Malton, Haliburton, Paudash
Commentaires
Yuxiang & Haoxian
Mr. Morris was really nice to me any my wife. His smile on our "big" day was really touching and sweet. Moreover, he did bring his gorgeous gown to the ceremony which made us feel really respected. Every one of us felt super warm on the day of ceremony. I'd like to address my sincere appreciation to Mr. Morris! If you wanna choose one officiant for your wedding ceremony, Mr. Morris is the best for sure! January 2023
Victoria & Pedro
Hi Ted, I would like to say thank you for accepting being our officiant and making our wedding so special. It means a lot to me to have you marring Victoria and I. I hope to see you soon . Pedro and Victoria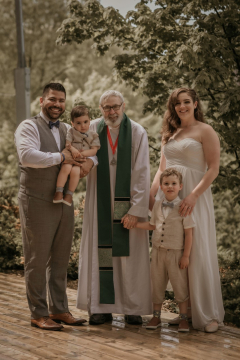 Benjamin & Marija
Ted Morris met all of our expectations. He happily answered all of our questions and called and followed up with us right up to the date of the ceremony. On the day of the ceremony there was A LOT going on! The script that Ted wrote, which he went over with us beforehand in detail, was very heartfelt and he put personal touches on it with some very pleasant suggestions that made both families feel connected on this special day. We would highly recommend Ted as an officiant! September 2021
Andrew & Rachel
Our wedding was on June 15th, 2019 and the day could not have gone better as planned. Ted Morris brought energy, passion and professionalism. He's a man who clearly has amazing values. He was everything and more we ever hoped for!!! His little touch he had with the 2 white roses which were presented to our grandmothers after we kissed was an amazing custom addition to our Ceremony . After the wedding i got so many great reviews from our guests about Ted and his service!! . After our ceremony Ted reached out to us to ensure that he was always a phone call away for any life advice and marriage advice! Thank you Ted!!! Andrew & Rachel June 2019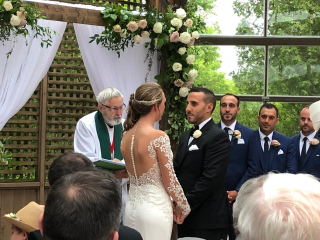 Liz and Alexandru
Dear Rev. Ted Thank you so much for officiating our ceremony. You took the time to meet with us in advance and made us feel very comfortable during an anxious/excited time in our lives. Your prayer worked for us as it held off raining until after the ceremony! Your presence made us feel the presence of God and filled our ceremony with love and goodness. With all our love and heartfelt thanks
Jim and Jen
It was a beautiful site for a wedding, and we will always have the memories of the day and many more good times to come. We will most certainly recommend your services and if anyone has any questions or need any ideas for planning a wedding in the area, we would be happy to provide our experiences. Thank-you again,
Brihana & Riley
Hi Ted, Riley and I just wanted to say thank you for officiating our wedding. Our ceremony was everything we could have hoped for. We hope you have an amazing Thanksgiving with your family. All the best,
Amanda and John
Dear Ted, Thank you so much for your incredibly kind words and well wishes! Those moments after the ceremony were a bit of a blur and I'm sorry we didn't have a chance to wish you a proper goodbye and thank you in person for the wonderful job you did. The ceremony was everything we hoped it would be and we can't thank you enough for the time and care you put into accommodating our every detail and making sure it went so smoothly. We'll be sure to recommend you highly to any and all friends and family in the future. Best Wishes, Amanda + John
Katy & Matt
Rev Ted exceeded our expectations. He was organized, friendly and thoughtful. He tailored the ceremony to our liking, which made the day feel even more special.
Julian & Yuan-Yuan
We highly appreciated Ted Morris' calm and professional presence especially because it was our first wedding and both of us got pretty excited and nervous.
Su Chin & Manoj
I was very glad to have Ted Morris as my officiant. I appreciate that he understands my husband's Indian culture and my Asian roots. He guided us through the steps and made the atmosphere relaxing. At the end of the ceremony, he held our hands together and gave us his blessing. I was deeply touched!
Brian and Sheila
We chose to have our wedding vows on Halloween when all of our guests came in costume and we kept the entire ceremony a secret. We did not want our friends and family to bring gifts and such so we planned a special Halloween party and Ted was magnificent at keeping our secret. Right up to when we were saying our vows. Our guests were in shock and awe as this was truly happening. Ted made it real by claiming our bride and groom costumes were so convincing that this was now a real ceremony and he had the license and rings to prove it. This was an event we will never forget and we thank Ted and highly recommend him to anyone with or without creative weddings. Thank you very much Ted for making this a wedding ALL of us won't ever forget! Brian and Sheila
Melanie and Shuhib
Thank you for being part of our ceremony. Your kind words and warm spirit made our day that much more special. We wish you a lifetime of happiness where you continue to bring joy to many other couples. Warmest wishes,
Annie and Julian
Dear Mr. Morris, Words can not express how grateful we are for the perfect ceremony we had. Thank you so much for making it happen. We will always and forever remember our vows and the wise and kind words you gave us. Thank you. All the best. The happily married couple.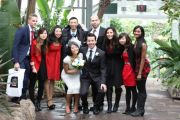 Lynda & Tom
Ted Morris more than met our expectations. He made it very easy for us and from start to finish he explained everything and walked us through, step by step. Our actual wedding ceremony was both spiritual and light-hearted and was appreciated by all of our family and friends. We thank Rev. Morris for making our wedding day very very special. The office staff at All Seasons Weddings was very helpful, timely e-mails were received and very helpful in explaining the order of things and the cost etc. We would most definitely refer others to All Seasons Weddings if they were considering getting married.
Martin & Athena
Ted Morris' warmth and humour made the day flow nicely. He was a fantastic choice for officiant on our special day.