Dr. Suzanne Pierson, B.A, M.Ed, Ed.D
Request Suzanne Pierson
Secteurs desservis
Picton, Wellington, Bloomfield, Prince Edward County, Cherry Valley, Milford, Black Creek, Hillier, Lake on the Mountain
Commentaires
Jonathan & Leanne
We honestly could not have picked a better wedding officiant! Suzanne Pierson was knowledgeable, passionate and caring. She guided us through the creation of our personalized wedding ceremony and her calming presence was felt by us and our family throughout the entire ceremony. Jonathan & Leanne Oct 2020
Diane & Linda
Suzanne Pierson was everything we expected and more!! Suzanne made our day extra special!!! Thank you!! Diane & Linda September 2019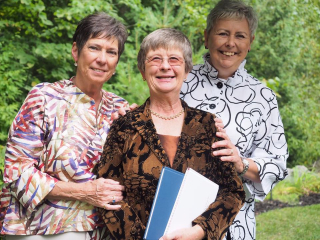 Steven & Kristen
Suzanne Pierson was a true joy to work with from the first emails exchanged, to our planning meeting, and through to the ceremony itself. She was patient and kind throughout the whole process, and worked with us to ensure we created a ceremony that perfectly met our expectations. Her calm personality helped to make us feel relaxed in the time leading up to the wedding and on the day of. We would highly recommend her to those looking for an officiant! Steven & Kristen June 2019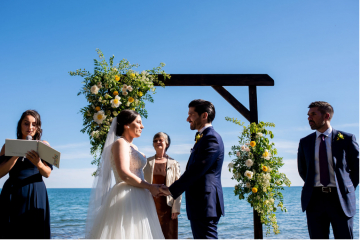 Sarah & Colin
We can't thank Suzanne enough. Susan Pierson was such a sweet, loving lady and made our ceremony perfect. She took the time and care to ensure the ceremony suited our relationship and personalities. August 10th, 2018
Ellyn & Rob
Suzanne Pierson met all of our expectations. August 25th, 2018
Vanessa & Devin
Suzanne exceeded our expectations. She kindly guided us through all the steps and she was very flexible. Having a bilingual ceremony was important to us (French and English) and we worked together to make that happen. She was open to having my closest friends involved in the ceremony and she provided great examples of wedding ceremonies. She also gave us feedback to make sure our day was special and a reflection of ourselves. I would recommend her to anyone in the Prince Edward County region. Vanessa & Devin, July 2018
Lacy & Christopher
Suzanne Pierson was a wonderful officiant from start to finish during the wedding planning. She was easy to communicate with through email, and when we met with her she understood what we wanted and was very organized making sure it turned out perfectly. She offered suggestions and advice which helped tremendously. I would refer her as well as All Seasons to anyone getting married! Thank you Suzanne!! Sincerely,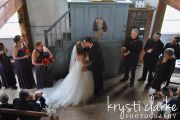 Shannon & Chris
Suzanne Pierson was absolutely incredible. I loved everything about her, from how easy she was to communicate with prior to the wedding, to the way she handled our wedding ceremony on the day of. She was so accommodating of our vision of our wedding ceremony, and I really did feel like she cared about us. She made me feel comfortable and I always knew if I had any questions or concerns she would be able to address them. Her level of professionalism is unmatched, and it is easy to see that she is a woman of high integrity. We were both so impressed with Suzanne and would highly recommend her to anybody with complete confidence.
Laura & Kristina
Suzanne Pierson was awesome!! She is a very sweet person and she made every effort to make our ceremony special. She was very accommodating organizing things for a couple from out of town.