Stoney Baker, B.A.(hons), MSW, JD
Request Stoney Baker
Secteurs desservis
Toronto (downtown), Alexandra Park, Cabbagetown, Casa Loma, Chinatown, Corktown, Crescent Town, Deer Park, Distillery District, Don River, Downsview, East York, Etobicoke, Forest Hill, Garden District, Greektown, Kensington Market, Lawrence Park, Leslieville, Little India, Little Italy, Lytton Park, Moore Park, Moss Park, Newtonbrook, North York, Oakwood–Vaughan, Old Toronto, Ontario Place, Parkdale, Portugal Village, Regent Park, Riverdale, Rosedale, Scarborough, St James Town, St Lawrence, The Annex, Thorncliffe Park, Toronto Harbour, Weston, Willowdale, York, Yorkville, Wychwood Park
Commentaires
Evan & Katrina
Stoney Baker went above and beyond, writing a beautiful ceremony that captured us as people. She was very easy to co-ordinate and work with. Stoney was warm, friendly, professional, and put us entirely at ease. She was able to intuit what we wanted in a ceremony after only meeting us once and create that ceremony with our feedback. We're very impressed and would highly recommend her. Evan & Katrina October 2019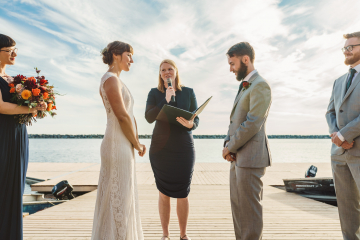 Marc & Irene
Stoney Baker exceeded our expectations! She was friendly, calm and professional and brought integrity and dignity to our ceremony. We feel so blessed to have her marry us. Marc & Irene November 2019
Peter & Jasmine
Stoney Baker was amazing, she was so warm and genuine. She was the perfect fit for our perfect day. We would highly recommend Stoney to anyone getting married! Peter & Jasmine October 2019
Eduard & Katherine
We LOVED Stoney Baker. She was warm and professional, and made our ceremony absolutely perfect. Thank you! Eduard & Katherine August 2019
Ilia & Gillian
Stoney Baker was very friendly and helpful. She made the process much more comfortable and reassuring for a couple nervous about all the extra attention. Stoney went above our expectations! Ilia & Gillian June 2019
Caleigh & Chris
Hi Stoney, Chris and I just wanted to write a quick email thanking you for the AMAZING service that you provided on Saturday! We had so many people come up to us afterward complimenting your officiating and the ceremony. Thanks again for making our day so special! With Kind Regards, Caleigh & Chris
Sarah & Luca
Stoney Baker was amazing! She worked so well with us to personalize our ceremony and truly make it our own. Her main goal was to make us feel that our ceremony represented us, and accommodated any changes we wanted to make. Communications with All Seasons were prompt and booking was easy! November, 2018
Julia & Sridhar
Stoney Baker was wonderful - both before and during the ceremony.
Sarah & Carson
Stoney Baker was fantastic! She helped so much with figuring out what we we should include in our ceremony. She gave excellent advice and she delivered on the day.
Darryl & Andrew
We really enjoyed working with Stoney Baker and she made our special day extra special. Highly recommend her!
Heather and Sam
We had the pleasure of having Stoney (Baker) as our wedding officiant in May 2017. From our first meeting in a coffee shop, I found Stoney to be warm, open, and well spoken - exactly what I needed as a nervous "non-bride" type of bride. I really appreciated her wisdom and advice. She offered a wealth of information without ever being pushy or judgmental. Stoney was happy to let us craft our own ceremony and didn't bat an eye when we sent our vows in the morning of. She was organised, professional, gracious, kind, and competent. She rolled with any changes we made. I found planning a wedding overwhelming, but Stoney was so helpful during the rehearsal that my mother asked if she was also our wedding coordinator! Honestly, many of our guests made a point to comment on what a great officiant we had and I agree with them wholeheartedly. I felt like Stoney was genuine, responsible, and dependable. I would not hesitate to recommend this officiant.
Natasha & Liam
Stoney Baker was absolutely amazing for our wedding! She was very professional and friendly and made us feel comfortable with her and everything we would have to do on the wedding day!