Shirley Reay
Request Shirley Reay
Secteurs desservis
Mississauga, Brampton, Etobicoke, Oakville, Downtown Toronto, Georgetown
Commentaires
Erind & Lisa
Shirley Reay was a wonderful officiant! She was warm and easy going, and comfortable with our quirky set up and minor humorous interjections. We certainly made the right choice by selecting Shirley to officiate our small, non-traditional ceremony. October 2022
Denise & Angelo
Shirley Reay, was so amazing. She was well prepared, professional and really made us feel comfortable on our wedding day. Thank you so much for making our day so much more special. November 2021
David & Katie
We had Shirley Reay as our officiant, she went above and beyond to met our expectations. Her service was warm, cheerful with a bit of humour. We would highly recommend her and we look forward to her being our officiant for other occasions. Thank you Shirley! David & Katie May 2019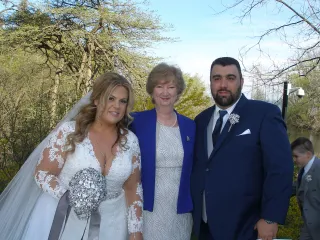 Chester & Natesha
Shirley Reay was very professional, punctual and has a sense of humor. We thank her and All Seasons on accommodating us in such short notice. The reading and words of endearment that she had departed on us is very touching, I was on the verge of tears. Even days after the ceremony my husband was talking about the words she quoted.
Michelle & David
Shirley Reay exceeded our expectations. Very professional, yet made herself a part of our ceremony with great ease. Our small wedding gathering greatly appreciated her demeanor. We were very pleased. Great service. Shirley communicated with us to ensure the planning was as we wanted. Great experience. Highly recommended.
Corey & Alexis
Shirley Reay was incredible every step of the way with us. She was so friendly and professional, and made us feel so confident and comfortable with the whole marriage process. Shirley was nothing but helpful and friendly. She was a great resource for us, and got along well with everybody.
Edward & Margaret
Shirley Reay exceeded our expectations, she was absolutely wonderful.
Moira & Alexander
Shirley was an absolute dream to work with! I was planning a wedding from out of province, and she worked with my schedule to meet in person and help ensure all my ducks were in a row. She is so friendly and sweet, and made us feel so comfortable! Everyone at our wedding said they were able to hear her, even folks at the back of the ceremony, despite being outdoors! I would recommend if someone is looking for an officiant to choose Shirley! She was just the best!
Cindy & Marcin
Shirley Reay actually surpassed ALL expectations of what we thought an officiant should be. She was kind and accommodating and patient beyond belief!!! She made us truly feel like she WANTED to be there for us and conduct our ceremony. She was so lovely to be around and everyone who spoke to her - especially my 100 year old grandpa - simply adored her! THANK YOU SHIRLEY!! We are so happy you were there!
Rhea & Devin
Shirley Reay and everyone at All Seasons were wonderful! Made the whole process so easy and comfortable. Thank you so much! We will definitely be referring you to other people.
Carol & Paul
Shirley Reay was amazing. We had so many compliments on the ceremony and how nicely Shirley made both of us so comfortable. It's was a great day the we will never forget thanks to All Seasons.
Sarah & Jeffrey
Shirley Reay was very lovely and made everything so easy for us. The whole process with All Seasons was great. Thank you!
Danielle & Jacob
Shirley Reay was very kind and helpful. We felt very comfortable with her from day one! She provided us with a beautiful ceremony. The office staff were very helpful, especially in the beginning stages of our search for the perfect officiant. Thank you very much! xo
Cammy & Kimberley
Shirley Reay was very friendly and extremely helpful. She provided a lot of useful suggestions we end up using for the wedding. From the readings to vow, and the ceremony line up. Shirley is a amazing speaker. She gathered everyones attention and did an amazing job. We are very happy with the service we got. The guests had no trouble hearing her outside because she is able to project her voice which is a plus because we didn't had stereo setup outside.
Kimberly & Blake
Shirley Reay was absolutely outstanding from the moment we booked with her to her follow-up afterwards. We couldn't be happier. All communications from the reservations office were clear and concise. I would definitely refer All Seasons as well as Shirley.